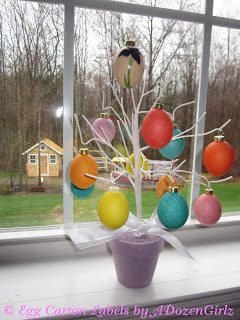 T'was the night before Easter. Ode on an Easter Egg Tree.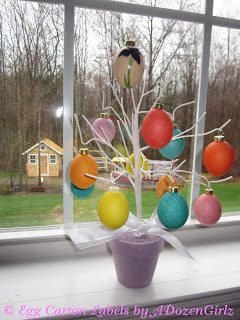 T'was the night before Easter. Ode on an Easter Egg Tree.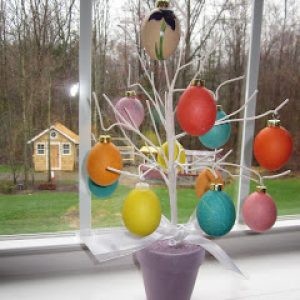 T'was the night before Easter, when from inside the house
"Will you hand me the Paas?" I asked of my spouse.

…or something like that. Being a backyard chicken keeper, one of the great joys this Easter season is coloring eggs collected from our own flock. While I'm perfectly happy to dye brown and blue and green eggs, I had been eyeing some GORGEOUS white egg layers for a while: Silver Spangled Hamburgs. We all know that "chicken math" demands some finesse with every spouse eventually, no matter how supportive they are of the hobby initially, and Easter was my excuse to get SSHs last year. Whatever works, right?
My girlz, Stella, Sally and Hazel, lay tiny, white eggs that remind me of Cadbury's mini eggs (well, at least the size I wish Cadbury mini eggs were.). Not great for quiche-making unless you want to spend all day cracking them, but ideal for coloring and tree-decorating. You heard me right. Tree decorating.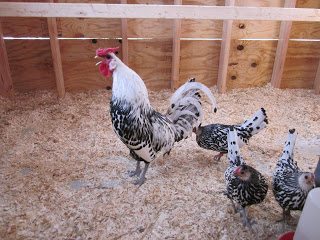 We used a double-dose of Paas this year to dial up the color: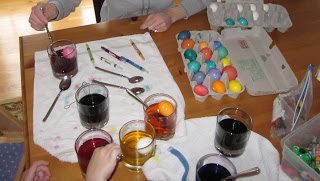 These eggs are for eating, the SSH eggs had a destiny of their own to fulfill.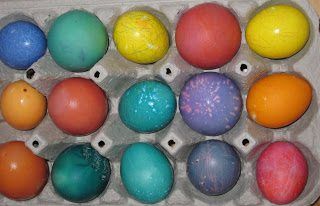 Since I made egg ornaments for our Christmas tree this year, I thought it only fitting that I decorate a tree for my Easter eggs. (Gratuitous view of coops in background.)  The eggs were blown before coloring; I was dubious about this tree's ability to handle the weight of the hard-boiled variety.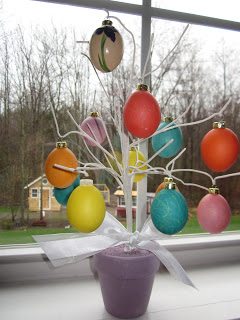 And so, I exclaim as I sign off tonight, Happy Easter to all… and to all: close the pop door tight!
–The Chicken Chick®