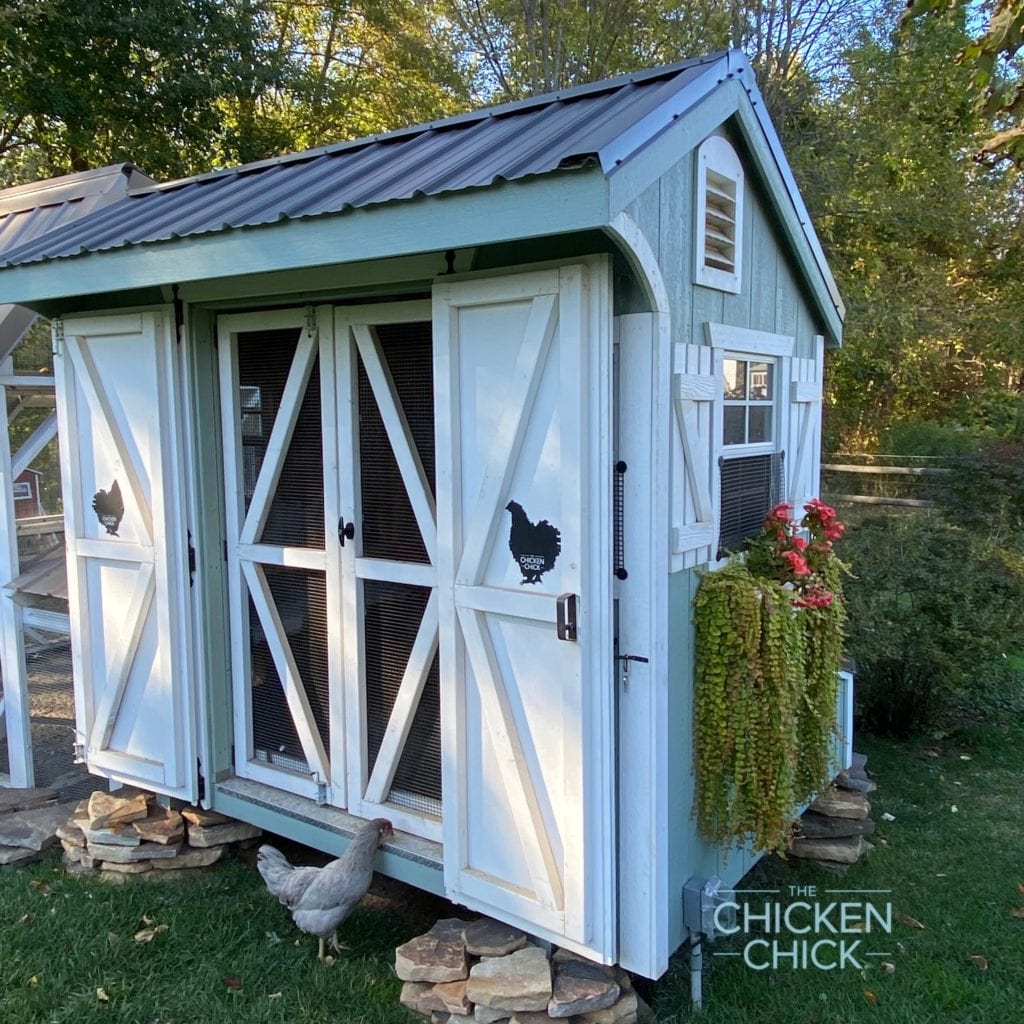 The Chicken Chick Essential Coop™ includes all the design elements I feel are necessary for a healthy, comfortable living space for your flock and to ensure easy access for cleaning and handling your chickens. Each coop is custom-made in America by talented Amish craftsmen using durable, high-quality materials and is delivered fully assembled.

COOP EXTERIOR
Standard Features
4'x8' Custom-built Chicken Coop, fully-assembled. Made in America by Amish craftsmen.
Color Option #1: The Rachel™ – Barn Red Paint with White Trim
Color Option #2: The Petey™ – Teal Blue Paint with White Trim
(2) Extra-Wide, Locking, People Doors
(2) Extra-Wide, Locking, Predator-Proofed Screen Doors
(5) Functioning Windows
Removable Litter Retention Board
Diamond Plate Metal Threshold
(4) Convertible Communal Nest Boxes with Removable Dividers
(1) Convertible Storage Cabinet/Nest box with interior access
(4) Removable Roosts
(2) Removable Droppings Boards
(2) Gable Vents
LP Smartside Siding
Insulated Metal Roof with Ridge Vent
Vinyl Flooring
(1) Window Flower Box
(2) Sets of Decorative Shutters
Choice of Pop Door placement on Left or Right Side of Coop
Pressure-treated Legs & Runners
Choice of 3.5" or 14" Leg Height

INSIDE THE COOP

Available Add-on Options
(2) Electrical Outlets
Electric Fan (requires outlets)
Cupola
Weathervane
Wheel System with Handle

Coop Dimensions
Floor: 4'x8′
Overall Interior Height: 85″
Overall Exterior Width (including flower box): 106″
Overall Exterior Depth (including nest box and overhang): 85″
Each Nest Box: 13″ wide x 16″ deep x 14″ high
Storage Cabinet/Nest Box: 35″ wide x 16″ deep x 14″ high
Opening of Storage Cabinet/Nest Box: 15″ high x 29″ wide
Double Door Opening with Screen Doors Open: 40″ wide
Door Opening Height: 68″
Droppings Boards: ~45″ x 42″
Roosts, each: ~42″ long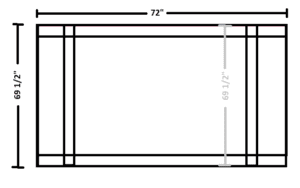 For DELIVERY details, click HERE.
Pricing information, click HERE
Questions? Contact us HERE!