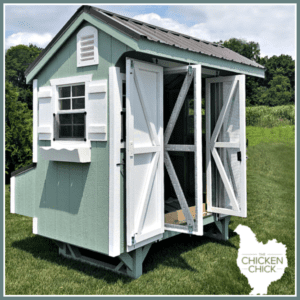 Delivery Rates
Delivery rates are based on location and can be calculated during the ordering process. Use the form below to contact us with any questions regarding The Chicken Chick Essential Coop™.

Order Processing & Delivery
Coops are only available for delivery within the continental United States.
Carefully select the correct Coop Shipping Region for your state during checkout to avoid delays in processing your order.
After submitting your order, you will receive a confirmation email.
Please email us immediately if you need to request a change to your order. No changes or cancellations can be made 48 hours after completing your order.
Coop production will begin within 1 to 2 weeks.
Delivery estimates range between 2-8 weeks depending upon location.
Approximately 1 week prior to arrival, you will receive a phone call from your delivery person with a arrival window. Please note there is no electronic tracking available.
Your coop will be transported on a trailer by specially qualified drivers experienced in residential delivery of fully-constructed chicken coops.
The driver will drive into your yard and slide the coop off the trailer into place.
The Chicken Chick Essential Coop™ is a small house and is very heavy. It cannot be lifted over walls, gates or steps.
Access into your yard must be the width of your chicken coop plus at least two inches. Please note the dimensions of your coop to ensure that there is adequate room for delivery.

For any additional information about The Chicken Chick Essential Coop™ or questions about an existing coop order contact us HERE.