For over a decade Kathy Shea Mormino has shared her unique perspective on backyard chicken keeping with countless fans worldwide through her award-winning Facebook page and blog, The Chicken Chick®, growing organically into the largest and most engaged backyard chicken-keeping community on Facebook.
Now, by popular demand, Kathy offers this gorgeous photographic tribute to her flock in a volume worthy of center stage on any coffee table. Inside, her beautifully reproduced full-color imagery showcases her meticulously landscaped chicken village and, of course her spectacular chickens, including unusual, rare, endangered, and otherwise breathtaking breeds and their eggs.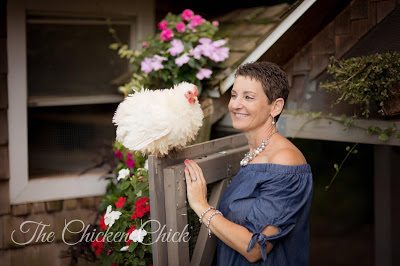 In sharing her daily adventures, Kathy has brought her chickens' individual personalities to life in front of the lens, making them household names including: Freida the White Silkie and mother-of-the-year for seven years running; Blaze, the dashing, Black Copper Marans rooster; and frizzled Bantam Cochin, Rachel, the habitually broody flock diva.

ABOUT THE AUTHOR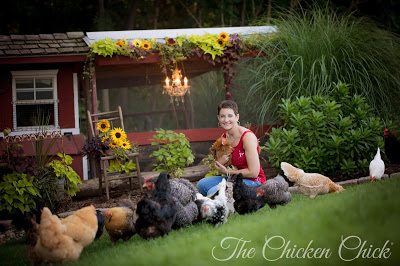 Kathy Shea Mormino is the author of the bestselling The Chicken Chick's Guide to Backyard Chickens. Her background as a litigation attorney, combined with the street-cred she has garnered from sharing personal chickening successes, failures, and gaffes online in real-time make her a relatable, trustworthy adviser readers depend on to deliver the straight dope on backyard chicken keeping issues. Having spent years fighting for the right to keep backyard chickens, Mormino has consistently put her money where her mouth is, educating lawmakers and changing zoning regulations proving that animal welfare and the right to keep chickens responsibly is foremost on her agenda.
In addition to being a brand ambassador for Purina Poultry, Tractor Supply Company, Vetericyn, and Sloggers, Kathy has become the trusted voice in backyard chicken-keeping, frequently sought out by media outlets and publications, including The Wall Street Journal, LA Times, and Associated Press, for her perspective on chickens. She appears on local and national television, radio, and podcasts, and is featured on Discovery's reality television show Coop Dreams, as well as P. Allen Smith's Garden Home.
Kathy lives in Connecticut with her husband and daughters Sophia and MaryKate where she is the personal assistant to 50+ chickens, honeybees, a Netherland Dwarf bunny, and a Yorkie with cattitude.


RAVES
"We love Mormino's endlessly entertaining (and informative) advice about raising backyard chickens who happen to live in a swank and gorgeously landscaped "chicken village." –LOS ANGELES TIMES, What we're into: 'Lifestyles of the Chicken Famous', July 13, 2018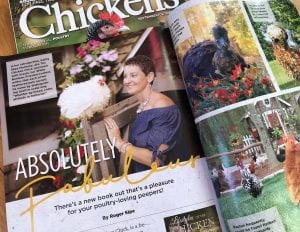 "There's a new book out that's a pleasure for your poultry-loving peepers!"
–CHICKENS MAGAZINE, Absolutely Fabulous, September/October 2018