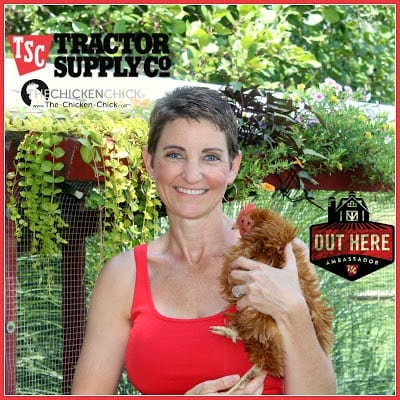 The Chicken Chick, Life Out Here Brand Ambassador for Tractor Supply Company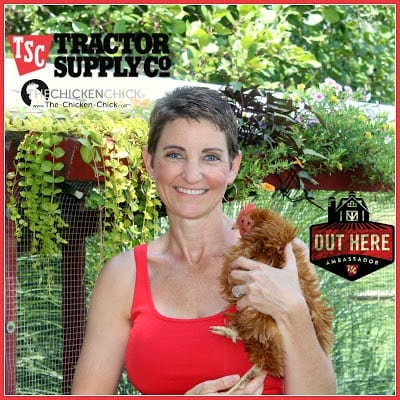 The Chicken Chick, Life Out Here Brand Ambassador for Tractor Supply Company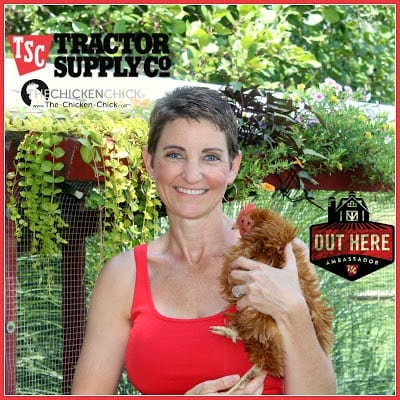 When I was asked to be an Out Here Ambassador for Tractor Supply Company, I knew it was going to be a good opportunity to connect on issues and ideas that are of shared importance to all of us: you, me and TSC. I was invited down to Nashville, Tennessee to the corporate headquarters to spend a few days getting to know more about Tractor Supply and the people behind the brand and what I learned was truly inspiring.
"Whatever it takes for life out here" is the motto emblazoned above the exit doors at the TSC Store Support Center in Nashville and it quickly became clear to me that they believe in and live that motto. The folks that ARE Tractor supply really strive to meet our needs as we live our colorful, poop-filled, food-producing, flower-growing, farming, chickening, gardening, goating, dogging, hunting, fishing, camping, working, playing, lives out here.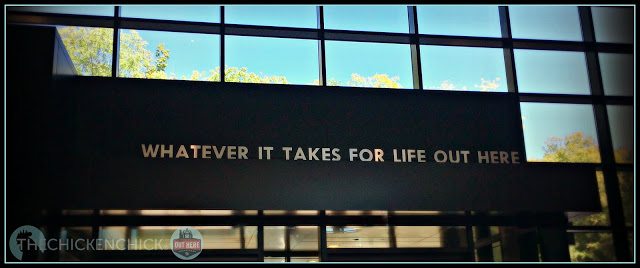 My objective in partnering with Tractor Supply Company is to facilitate communication between you, my peeps, and the people of TSC, so if there is some way I can help them better understand you and your needs out here, please let me know!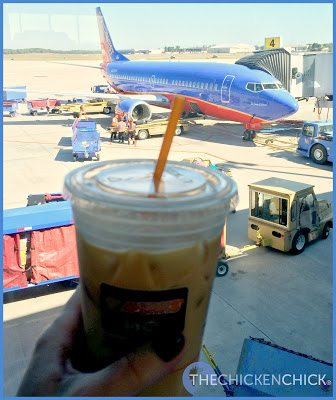 My trip to Tractor Supply HQ in Nashville began with a big honkin' cup of D&D iced coffee, as all good trips do! It bears noting that I dropped my iPhone in water on the last night in Nashville and thought I had lost all of my photos as a result of clumsiness. After five days of sitting in a bag of uncooked rice and a replacement charging port, my photos were retrieved from my phone!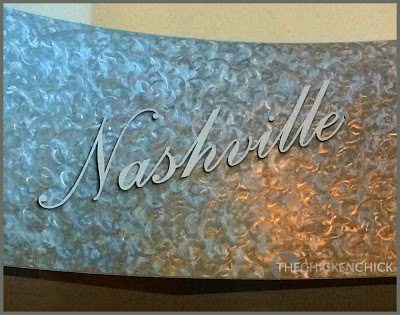 I arrived in Nashville to gorgeous pre-autumn weather and a spunky, little VW bug to zip around town in.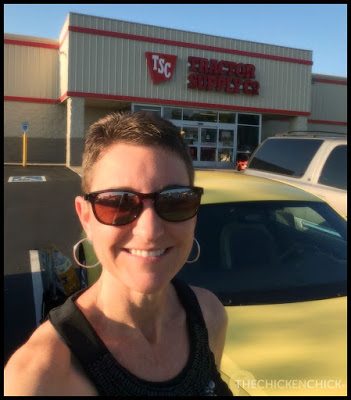 First stop was The Tractor Supply Store in Old Hickory where I got to meet the Digital Dream Duo, Amanda & Brettan who made me feel right at home the entire trip!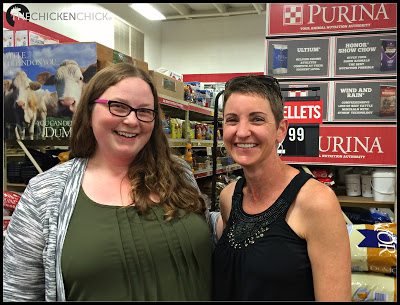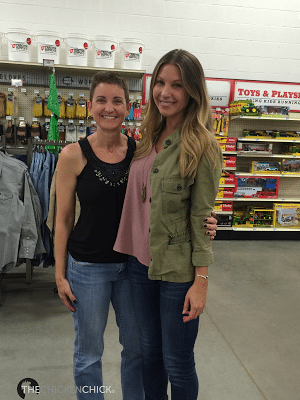 The most rewarding part of the trip was meeting with my Tennessee Peeps! Miss Shaylynn is a totally adorable 5 year old fan of Rachel's who traveled over two and a half hours to meet me with her grandma and great-grandma. She was the sweetest, most engaging five year old!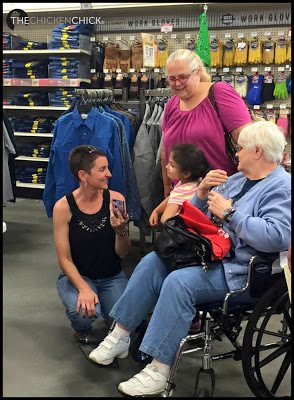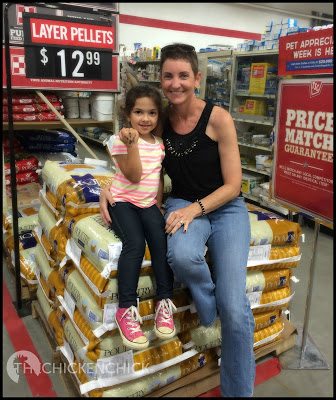 I had dinner with TSC Digital Marketing gurus Tim Putnam and Brettan Hawkins (far right) and Leanne Lauricella, (middle) of Goats of Anarchy on Instagram, also a TSC Ambassador. Puckett's had killer shrimp and grits in a cozy environment filled with live music.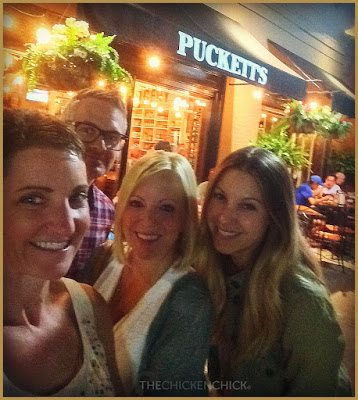 Our table at Puckett's was right next to the bar where Chicken Scratch beer was on tap.
Coincidence? I think not!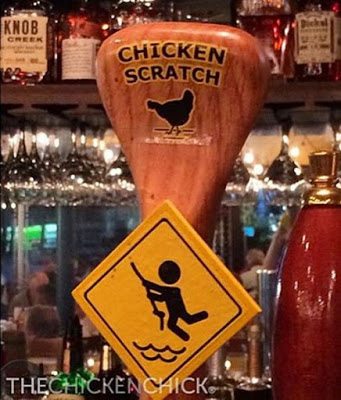 Leanne and I drove to the TSC Store Support Center (HQ) first thing in the morning to become acquainted with the people of TSC and the company's mission and values.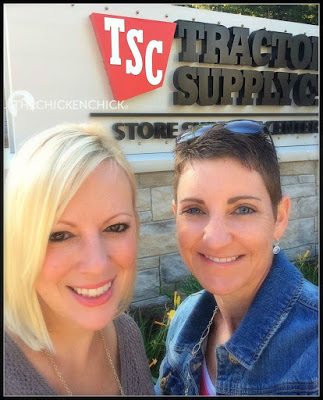 This Farmall tractor sits in front of the TSC Mission statement and Values statement in the foyer of the Store Support Center.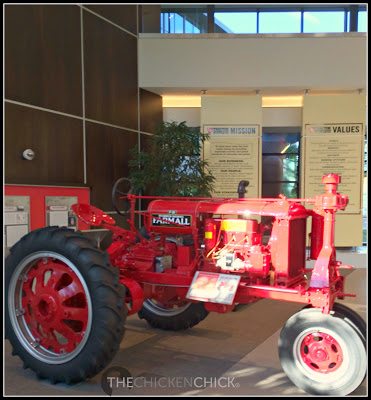 This was all I needed to know about Tractor Supply to assure me that TSC's values aligned with my own, but there was much more to learn about their beliefs and values from its employees.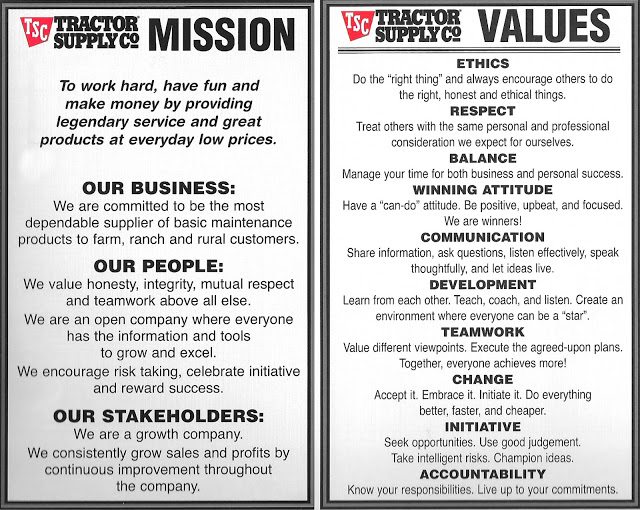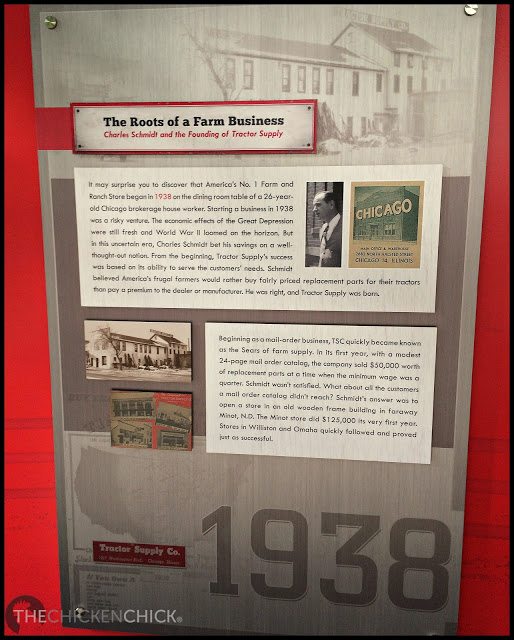 I visited Tractor Supply HQ during Pet Appreciation week, which culminated in a group photo of TSC employees, taken with the assistance of the Brentwood Fire Department!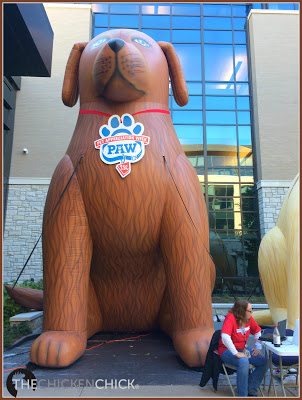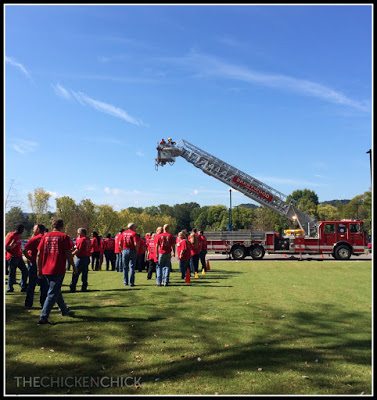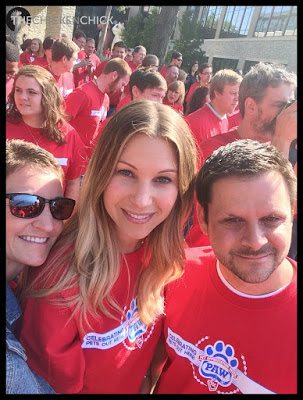 After arriving home from Nashville, Amanda sent me a copy of the photo. How cool is it that they gave everyone this token of their appreciation for their hard work & positive energy? Very. Game of Where's The Chicken Chick, anyone?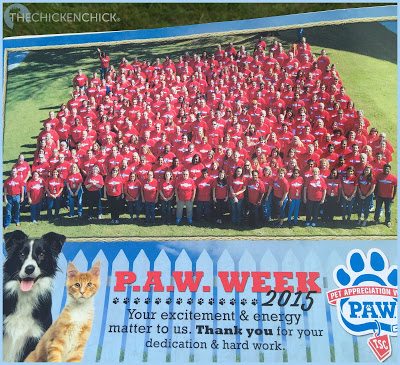 We spent the majority of the day discussing TSC history and philosophy, operations and programs. What I learned above all else was that the people running this company are passionate about the work they do, the company they work for and the customers they serve. Real passion, nothing hokey about it. Every individual I had a chance to speak to one-on-one said they loved their jobs and they really exuded positive energy and enthusiasm for it.
So, this was the view from the conference room where we spent part of the day. This was the spot I chose for the chicken coop I tried talking them into. I must say they were very receptive to the idea!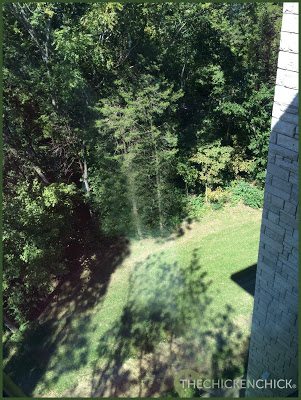 After lunch we were scheduled to visit a top secret location to see what was essentially the inside of a model TSC store. When we arrived at the location, it was an abandoned strip mall parking lot, at which point I was sure we were being kidnapped- or worse. The building's windows were all blacked out and there were no signs of activity, much less an active entrance. <cue the foreboding music>
Our guide, who shall remain nameless, wasn't sure this was the place or how to get into it. Swell.
With a little poking around, we found the secret door and were permitted access after showing the secret handshake and proper credentials.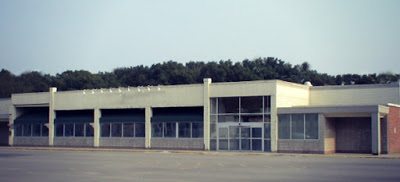 When we entered the building, the first room we saw in this former retail store had this sign on the door. Behind the door was the "Pitch Room," which consisted of a conference table (and other Top Secret cool stuff) where the TSC Big Dawgs hear pitches from potential vendors wishing to offer their products to us through TSC. Beyond that room and a few office cubicles, was like Alice dropping down the rabbit hole to Wonderland: it was TSC Mecca. Through the next doorway was an entire Tractor Supply store WITHIN that abandoned building and it was perfect- everything in its place, new products, proposed shelf presentations, model displays, etc. I wanted a shopping cart to fill!
I can't show you any more without having my security credentials revoked, (kidding) but it is the testing ground for every shelf, fixture and product that goes into local Tractor Supply stores throughout the company. Our tour guide, Greg Womack, Manager of Visual Presentation for TSC, aka: the dude in charge of that operation, brought us through TSC Mecca like a kid showing his pals his very own candy store- to say that Greg loves his job and has pride in that facility would be the understatement of the century. It was so cool to see that kind of passion, knowing that we are the beneficiaries of it at store level.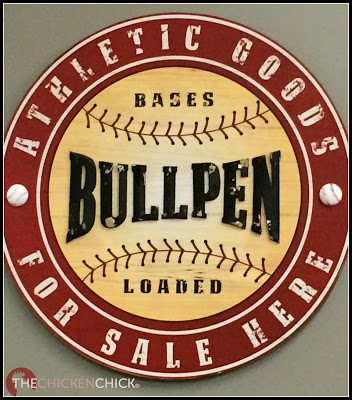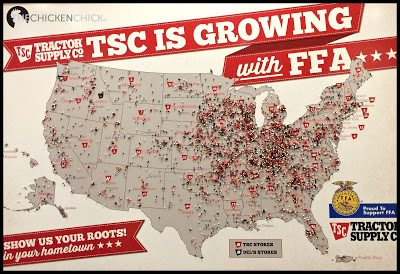 Here are some things I learned about Tractor Supply Company when I was in Nashville that I thought you might find interesting too (in no particular order):
TSC was started as a mail-order tractor parts & farm supply business in 1938 by Charles Schmidt in North Dakota.
The e-commerce/online business is kicking into high gear.
Tractor Supply has ~1,400+ stores in 49 US states
TSC has more than 11K full-time & ~10K part-time employees
There are 9 districts in the country and is growing every year with new stores across the country every month.
TSC has a special order program. If you don't find a product you need in store or online, they will get it for you. For real! Let 'em know!
TSC now carries bee-keeping supplies and equipment!
One of the Big Dawgs at TSC encourages all employees to email him using the subject line "THIS IS DUMB" whenever they feel it appropriate. I love that. Company executives with common sense trying to do the right thing for employees on the front lines.
Tractor Supply is super responsive to customer requests, needs and thoughts, so if you have something to share, speak up with a phone call or email.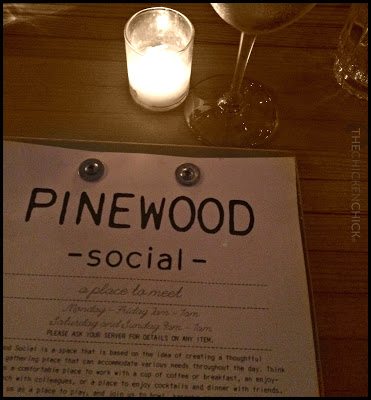 These pics are from my last night in Nashville. Brettan took Leanne and I to dinner at Pinewood Social, where we enjoyed getting to know each other, a glass of vino, some great music and hysterical people-watching!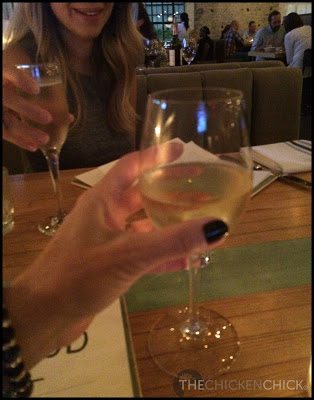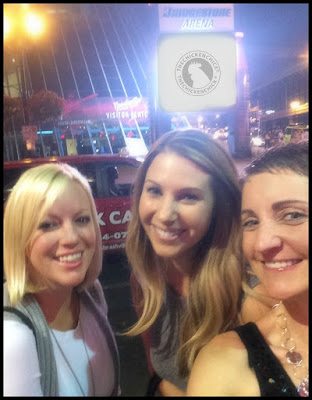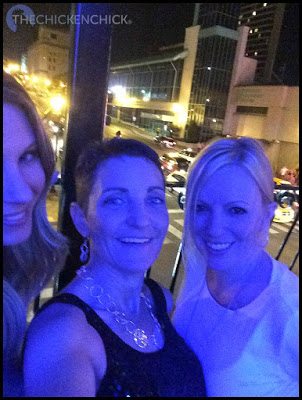 I returned home with some TSC swag, including this TSC branded Carhartt sweatshirt that Mr. Chicken Chick tried to swipe. ACCESS DENIED!