woven plastic Feed bag with top end cut off
garden soil/compost
chicken manure compost or potato fertilizer
When the potatoes arrive, they can be "chitted," or sprouted to give them a head-start in the growing process. Placing them in a bright location for a week or two will result in eyes that sprout to an inch or less. I didn't bother chitting mine because I'm impatient like that and they'll grow fine without it.
Before planting, the sprouted potatoes can be cut into pieces, each containing a sprout, (or eye) but the cut pieces must be dried for 2-4 days before planting to avoid rotting. I used whole potatoes.
1. Roll down a cuff on the feed bag 2/3 of the way down. I placed straw in the bottom for drainage.
2. Fill bottom 1/3 of the bag with high-quality compost/garden soil
3. Place 5 potatoes, eyes up, into the soil. They shouldn't touch each other or the sides of the bag.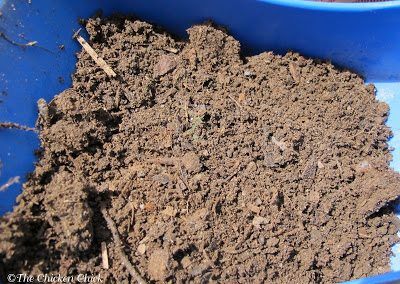 Compost, courtesy of my backyard pets.
4. Either add a layer of chicken manure compost (my material of choice) or sprinkle some potato fertilizer around the spuds (not on top of them).
5. Cover with ~4 inches of compost/garden soil to the top of the bag.
6. Using a sharp knife or pair of scissors, poke holes in the bottom and sides of the bag for drainage.
7. Place in a location that receives full sun. Water sparingly each morning. The soil should not be soaked, but should not dry out either.
8. When leaves are approximately 6 inches tall, roll bag up a bit and cover all but the top most leaves with compost/garden soil. Repeat as leaves grow.
9. Fertilize every other week until leaves turn yellow and begin to dry out.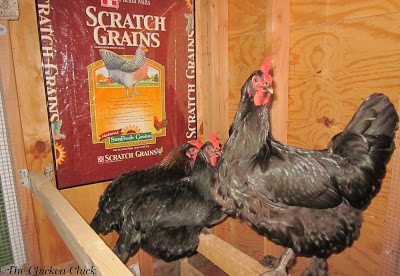 Feed bag coop art.