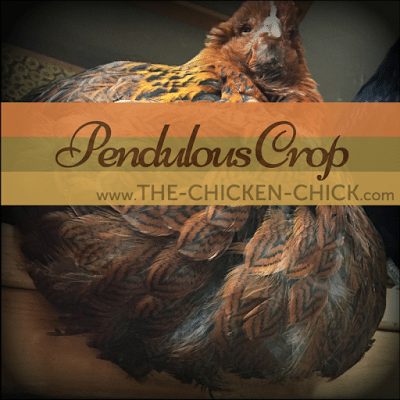 My Partridge Cochin hen developed a severe case of pendulous crop a few weeks ago, the severity of which required that she be put to sleep. There's not much that can be done to prevent pendulous crop, but its progression might be mitigated in some instances. This article is dedicated to sweet Bertha's memory.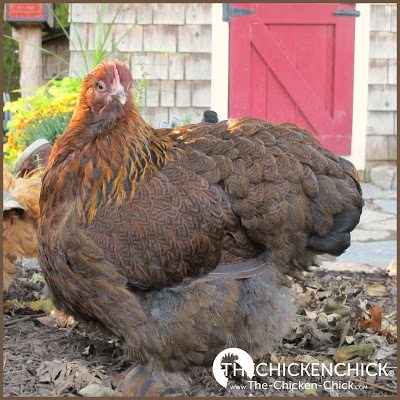 WHAT IS A CROP?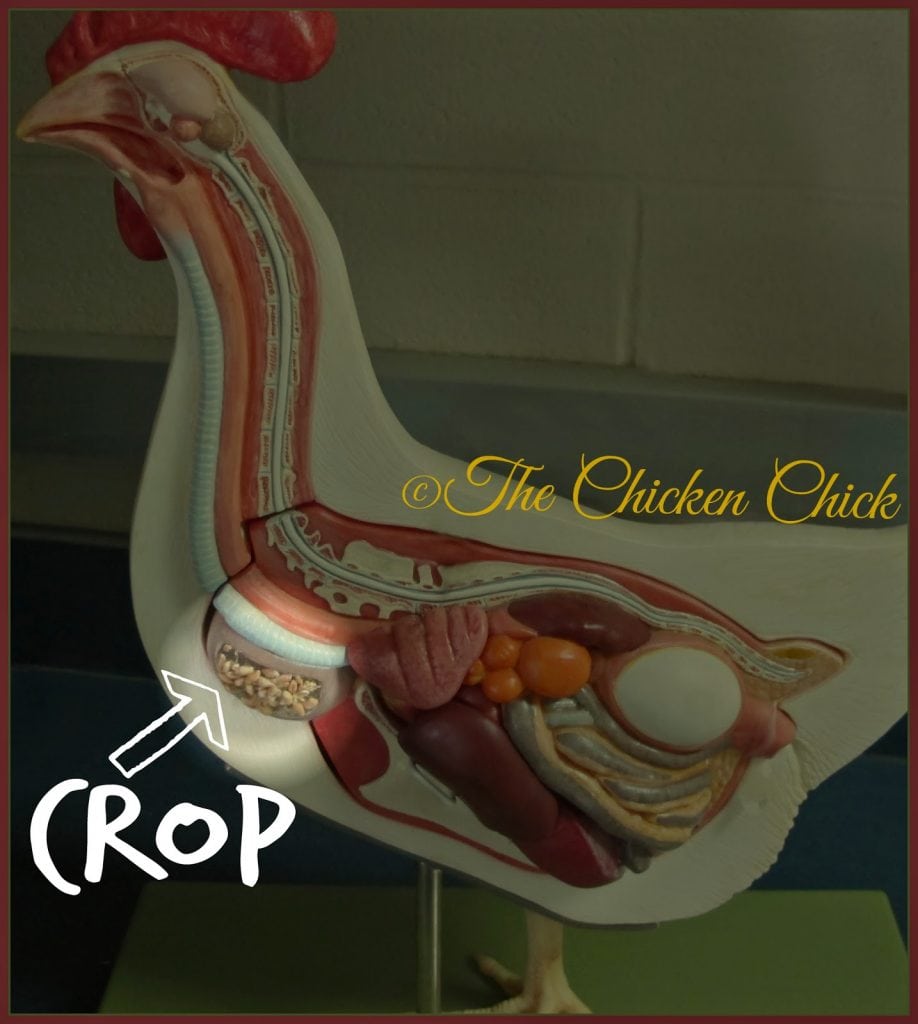 A chicken's crop is a small, pocket where food is stored before continuing down the digestive tract. It is located slightly to the side of its right breast muscle. When a chicken picks up food with its beak, the tongue pushes it to the back of the mouth into its esophagus. Think of the esophagus as a long water slide that extends from the mouth all the way down the neck, emptying into the crop. Food remains in the crop until it moves into the stomach (proventriculus).

WHAT'S NORMAL AND WHAT'S NOT?
It helps to know how a normal crop should feel when learning to identify crop problems. To examine a chicken's crop, pick it up with its tail facing you and beak facing away from you, (think: hug from behind/Heimlich maneuver) then reach around to the front of its breast, slightly to the right of center. If you can't feel anything, either the crop is empty or you're in the wrong spot- usually too high up on the neck.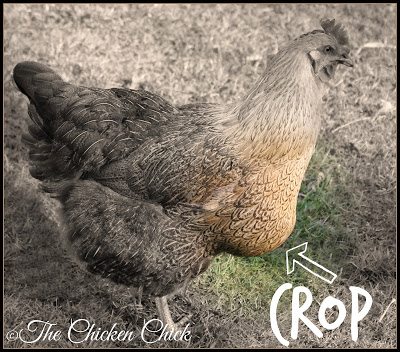 An empty crop stimulates a chicken's appetite and a full crop is the signal to a bird to stop eating. The capacity of a normal crop is approximately 1.5 oz (45cc), so a chicken eats in small increments often throughout the day. After eating, the crop feels swollen and slightly firm, but shrinks as food is digested.
NORMAL: the crop can't be felt when it's empty.
NORMAL: the crop feels swollen, full after having eaten.
NORMAL: the crop feels more swollen than usual, but swelling goes down overnight.
ABNORMAL: the crop feels hard and the swelling does not go down overnight. This could signal a crop impaction, which means food or other fibrous material such as straw is stuck in the crop.
ABNORMAL: crop feels squishy and the chicken's breath smells bad or sour. Sour crop, also known as thrush, crop mycosis or a yeast infection caused by a fungus.
ABNORMAL: the crop feels large and saggy or water balloon-like. Contents of the crop do not empty regularly. The crop is visibly distended and soft.
Video of Bertha- 3 year old hen with pendulous crop
WHAT IS PENDULOUS CROP?
A normal crop expands when food and water are ingested; its contents are then moved into the next section of the digestive tract and the crop shrinks back to its resting size. An abnormal crop that has lost its ability to shrink back to its resting size is known as a pendulous crop. A pendulous crop doesn't empty fully, which often results in infections, most commonly yeast (aka: sour crop/thrush/candida). The inability to digest properly causes dehydration, malnutrition, weight loss and ultimately, death. (see video, above and HERE)
CAUSES OF PENDULOUS CROP
Genetics is a widely suspected cause of pendulous crop in chickens that are fed regularly, but nobody knows for sure.
Advanced age may be a predisposing factor.
Binge-eating may be a contributing factor, if not the cause.
Nerve damage associated with the crop has been implicated as a possible cause

PENDULOUS CROP PREVENTION
Don't breed chickens with pendulous crops
Provide regular access to clean water and fresh feed to avoid overzealous gorging
Monitor crop size and contents periodically, particularly in heavily feathered breeds whose feathers may obscure bulging crops
TREATMENT FOR PENDULOUS CROP
Obviously, if a vet visit is an option, consult with a vet. If detected early, in some cases a sling can be fashioned to support the sagging crop muscle.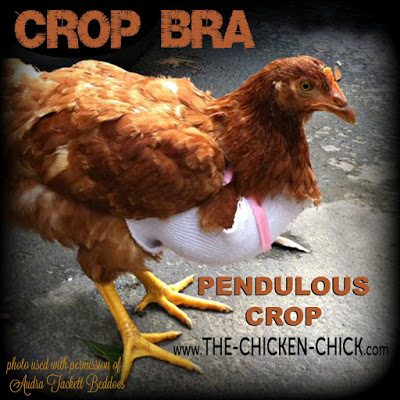 4″ Vetrap used to create gentle, even support can help keep the crop in its proper anatomical position. Chickens with pendulous crop remain at risk for sour crop (treatment described here). The support garment may create a welcoming environment for lice and mites, so the bird should be checked regularly for parasites. A crop bra or sling will not help in all cases.
Once pendulous crop is identified, the chicken's weight, feed and water intake and droppings should be monitored closely. If the chicken loses weight or eyes become sunken, it is dehydrated and malnourished and it's time to consider end of life options.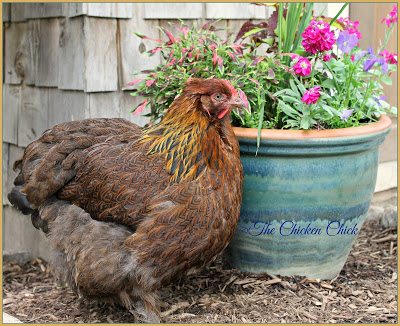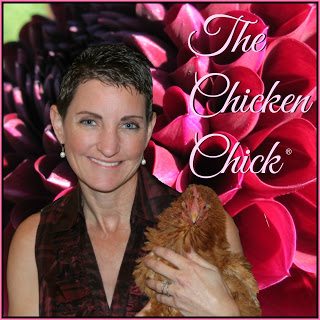 Sources and further reading:
Poultry Digestive System
Storey's Guide to Raising Chickens
The Chicken Health Handbook
The Chicken Health Handbook, 2nd Ed.
The Merck Veterinary Manual, 10th Ed