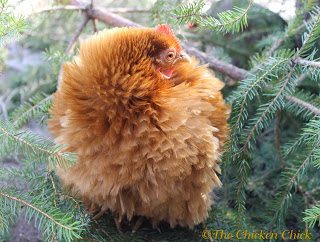 gratuitious cute chicken picture
a shutter
paint & brush
utility shears
ribbon remnant
a flexible branch
fresh greenery: pine, balsam fir, etc. (skip the poison ivy )
I rescued this shutter from the landfill last year and rescued it a second time from being tossed out by Mr. Chicken Chick in his semi-annual basement purge.
The mending brace was screwed to the back of the shutter to keep it from closing and the saw tooth picture hanger, attached to the top, back of the shutter.
The shutter was painted with some leftover paint I found in the basement.
Bend a thin, flexible branch into a circle and fasten together with floral wire.
Bundled little bunches of greenery together with floral wire (as shown below)
Wire each to the circle frame all the way around.
I added the berries after the wreath was assembled, but they can be bundled in with the greenery.
Attach an ornament to the top of the wreath with floral wire so it hangs in the middle of the wreath.
Happy Holidays!