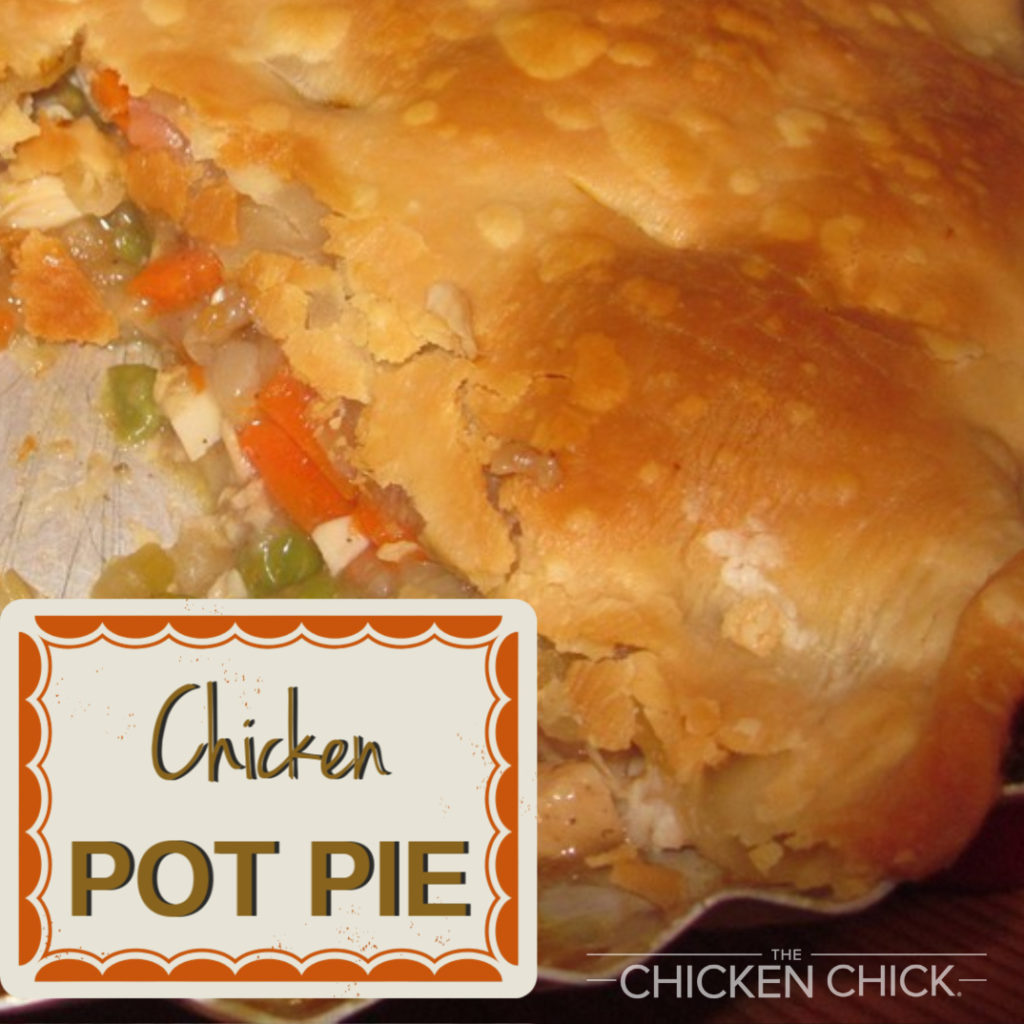 Chicken Pot Pie Recipe and Frozen Onion Prep Tip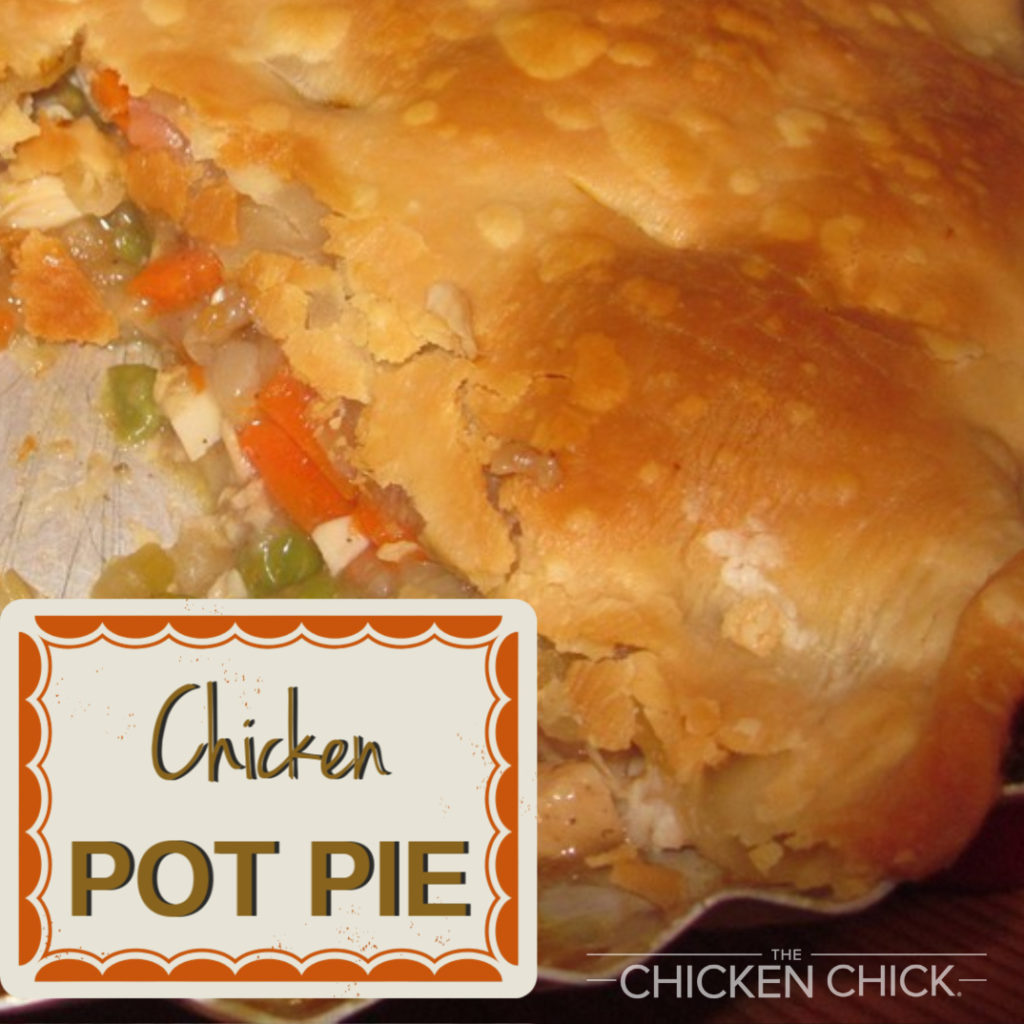 Chicken Pot Pie Recipe and Frozen Onion Prep Tip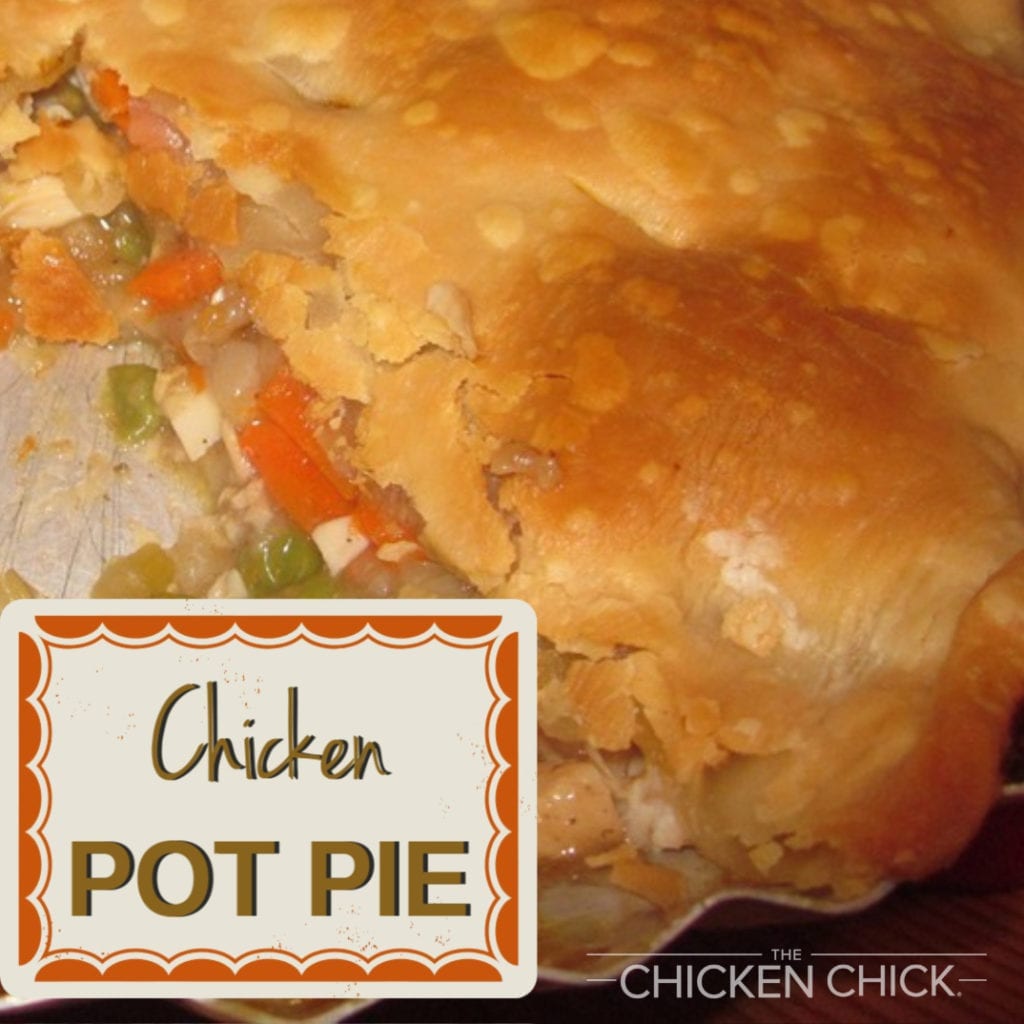 I have loved cooking since I was a little girl and coming from a family of 7, there were always opportunities to get in the kitchen and throw-down, mess-hall style. When I struck out on my own after college, I found it difficult to dial back my batch sizes to cook for one and there were always leftovers. Roasted chicken was one meal that gave rise to several others and I whipped up the following recipe to eat on nights when I was pressed for time.

In retrospect, I only thought I was pressed for time when I was single. Now that I have a husband, two small daughters, a dog, 40+ chickens, a house to run, a Facebook page, a blog, an Etsy shop, a YouTube channel, a small business and a non-profit corporation to run, I have come to understand what busy actually is. All the more reason to make roasted chicken. This pot pie recipe takes lots of help from the pantry, so if you're looking for a hearty, tasty meal to serve your family in a hurry, this one fits the bill.
This recipe is even easier if you use frozen carrots and frozen onion cubes (see recipe below)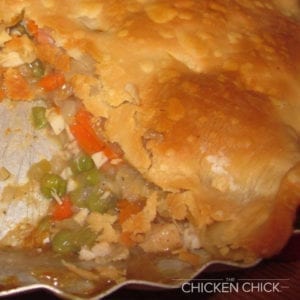 ---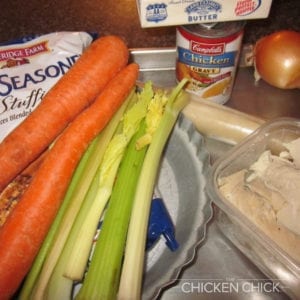 CHICKEN POT PIE
INGREDIENTS
2 large carrots, cut into coins
3 tablespoons butter
1 small onion, chopped or two frozen onion cubes
3-4 stalks celery, chopped
½ teaspoon of dried sage
Salt & pepper to taste  
1 ½ cups cooked, diced chicken or turkey meat  
1 10.5 ounce can of prepared chicken or turkey gravy  
½ cup water  
¾ cup of dry herb-seasoned stuffing mix  
1/2 cup of frozen peas  
1 refrigerated pie crust
LET'S MAKE IT!
Preheat oven to 350 degrees.
Steam or boil the carrot coins until they are fork-tender. Set aside until ready to use.
Melt butter in heavy-bottomed pot over medium heat. Add onions & celery and sauté until celery & onions are tender. Add sage, salt and pepper to taste.
Remove from heat. Add meat, gravy and water. Mix to combine. Add dry stuffing and frozen peas.
Spoon mixture into pie pan. Unroll pie crust and lay over top of pie pan. Cut several small vents in the top of the crust with a knife to allow steam to escape.
Bake for approximately 45 minutes or until pie crust is browned.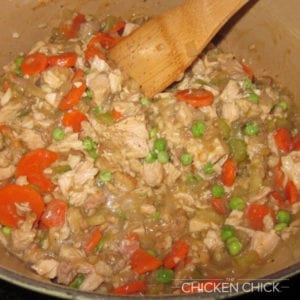 ---
PREP TIP: FROZEN ONION CUBES
I have found that most of my dinner recipes include sauteed onions and am always looking for shortcuts to make life easier. Chopping & cooking onions takes time and I figured if I had sauteed onions on stand-by, I could shave a good 10-12 minutes off of each recipe. So, here's how I do it: (this tip also works well for peppers)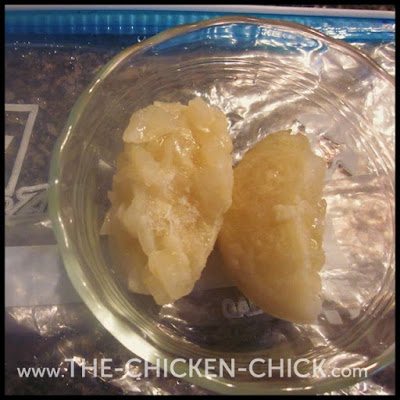 FROZEN ONION CUBES
INGREDIENTS
Large, sweet onions (I use 6-8 Vidalia)
2 tablespoons extra virgin olive oil
LET'S MAKE IT!
In a heavy-bottomed pot, add 3-4 tablespoons of olive oil. Dice up onions and sauté on medium to medium-low heat until translucent. Remove from heat and allow to cool. When cool, portion onions into ice cube trays and cover with plastic wrap. Place in freezer until hardened. Pop out of trays into a zip top bag and keep frozen until ready to use.
When ready to use onions, place in a microwaveable dish and cook on high for one minute. Voila! Instant onions! And no, they don't make your freezer or ice cube trays stinky.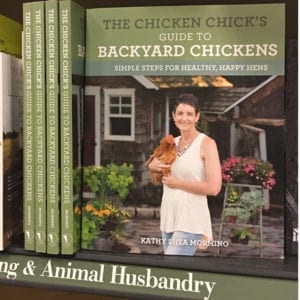 ---