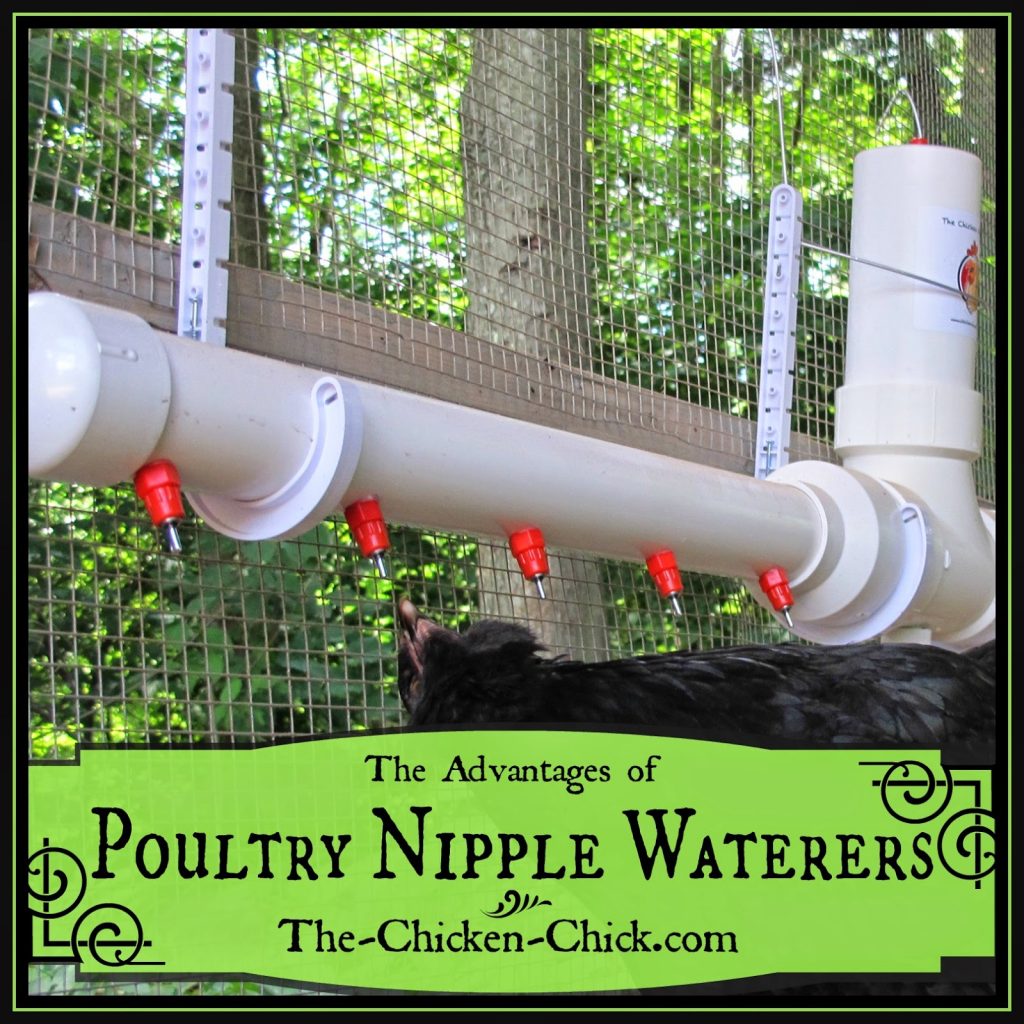 Access to clean, fresh water is vital to chickens' health as well as their egg production. Depriving them of water for even a few hours can halt egg production for weeks.

For Metabolism
Water is involved in every aspect of poultry metabolism. It plays important roles in regulating body temperature, digesting food, and eliminating body wastes. At normal temperatures, poultry consume at least twice as much water as feed. When heat stress occurs, water consumption will double or quadruple."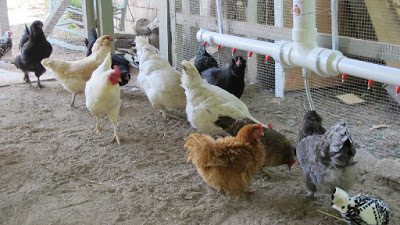 The Essential Nutrient
Water is often taken for granted, and yet it is probably the most essential nutrient. Water is by far the single constituent of the body, and, in general, represents about 70% of total body weight. Access to water is very important, and a lack of water for several hours will probably cause a decline in egg production. Hens are more sensitive to a lack of water than a lack of feed."
Amount of Water Needed
"Water and food consumption rates are interdependent, so reduced water intake can also lead to reduced food intake. There are other factors that affect water intake, with temperature being the most obvious one. For example, chickens drink between 30-50% more water when the environmental temperature is above 32oC compared with when it is 21oC. Water intake is also affected by the type of drinkers used. The rule of thumb for water intake is that water intake is usually 1.5 to 2 times feed intake."
For Digestion
"Water in the crop softens the feed so that digestion can occur. Without the water, dry feed forms clumps in the crop that can press on the bird's carotid artery, decreasing blood flow to the brain. This can cause paralysis and possible death. Poultry anatomy complicates matters. A split in the upper hard palate of the beak allows air into the nasal passages and prevents the chicken from forming a vacuum in its mouth. Hens, therefore, rely on gravity to draw water into the crop."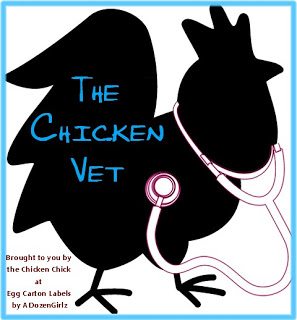 Poultry nipple waterers are without a doubt the best way to ensure the consistent delivery of clean water to chickens. Dr. Mike Petrik, aka: Mike, The Chicken Vet, a practicing chicken veterinarian in Canada, shared his thoughts with me about poultry nipple drinkers when he wrote:
"NOBODY who is raising chickens professionally has used cups, bell drinkers or troughs in the past 25 years….nipples have been used successfully on literally billions of chickens. The professional farmers across North America have made nipple drinkers the standard for all chickens and many turkeys (who are a little "slow" when it comes to finding water…even if it's right in front of them).
In fact, as a vet, I recommend that everyone raising hens change from open water sources to nipple drinkers….the hens get plenty of water, and the disease reduction is so striking that there is no doubt which is better."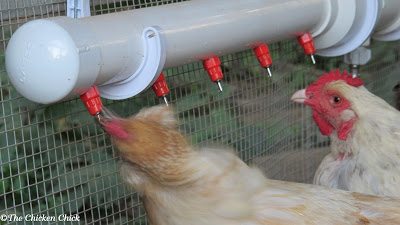 This photo illustrates how easy it is for my scissor-beaked hen to drink from The Chicken Fountain. She no longer needs to bend down, attempt to scoop up water into her severely twisted beak from an open waterer and hope that some of it drips back into her throat.The water flows effortlessly into her mouth, which is a relief to both me and Esther.

A research paper published in the scientific journal "Animal Welfare" in 2008* compared broiler chickens' preferences in different water sources, and had this to say:
"These results further support the hypothesis that chickens find nipple drinkers an acceptable means of drinking, provided they are at a height that the birds find comfortable and convenient. When nipple drinkers are presented at the same height as a bowl of water, then nipple drinkers are either preferred or there is no significant preference. The importance of comfort and ease of drinking is emphasized by the finding that when both the bowl and nipples are raised and the birds have to stretch to drink from either one, stretching to peck at nipple drinker is preferred to stretching to drink at a highly unusual angle from a bowl."
Another study on the biomechanics of drinking in laying hens from the Journal Zoomorphology in 1992** shows clearly that hens develop different body movements to drink from different sources of water, such as drinking droplets (such as found on a nipple drinker), or by immersing the beak and scooping water (as would happen in open drinkers). They found that developing these behaviors was not difficult or unnatural for birds, since they regularly will drink water that is suspended on leaves or blades of grass.
Basically, as long as you do not let your hens run out of water and make sure they are aware of the water source both nipple drinkers and open waterers provide plenty of water availability. You need to have about 3″ of open waterer space per hen as a minimum and 1 nipple per 9 hens, again as a minimum.
The advantage of a nipple system is that it is quite resistant to bacterial growth, unlike the septic soup that most open waterers quickly become. I cannot recommend strongly enough that backyard chicken keepers consider using a nipple watering system for their hens, if it is practical to do so.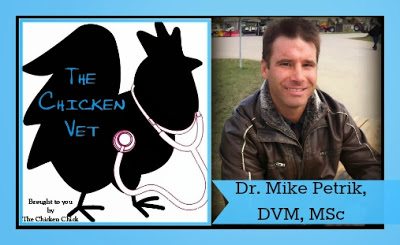 Make sure your hens get used to drinking out of nipples before you remove the open waterers, but once they are accustomed to drinking from nipples, they will be at far less risk of disease. Think of it this way….in third world countries, the most significant health improvements are gained when a village is able to drink water from a contained system such as a well, rather than from an open system such as a river or pond….your hens will respond similarly."
Dr. Mike Petrik, DVM, MSc
The Chicken Vet

I had been making my own poultry nipple waterers (PNW) when the inventor of  The Chicken Fountain, Frank Cardaropoli, contacted me to ask me to check out his waterer, which can fill automatically from a hose, a rain barrel or be filled manually. Frank personally delivered and installed one for my chickens and they began using it independently within less than 30 minutes!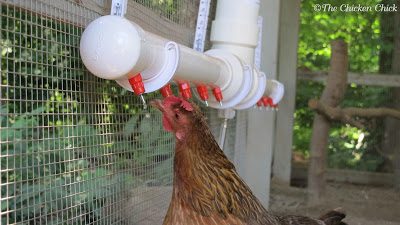 The Chicken Fountain Benefits at a glance:
-Hooks up to a regular garden hose & refills automatically- water cannot run out, get warm or stagnate and algae cannot grow
-Patent-pending, semi-sealed system provides a fresh, clean, cold water supply
-No need for constant refilling by the chicken-keeper during hot weather
–Stainless steel nipples will not rust, corrode or clog
-Nipples allow access to water on demand (one drop or a steady stream-user's choice)
-Water supply easily accessed for the addition of probiotics or medications
-Works in winter's cold after winterization.
Now let's take a look at The Chicken Fountain.  I had a lot of questions about how it worked and how it is different from other PNWs waterers, so I posed them to the inventor and these are his replies:
Q: What makes The Chicken Fountain different from a poultry nipple waterer I can make myself?
A: The Chicken Fountain is a semi-sealed, passive flow watering device. Typically the waterers that people make themselves are a bottle or bucket with some poultry nipples attached to the bottom. This works fine at keeping dirt and droppings out but, depending on the size, can result in algae growth. Those units must be manually refilled. If not refilled, your flock runs the risk of being without water. Long weekend getaways are a problem too because you have to get somebody to check the waterers.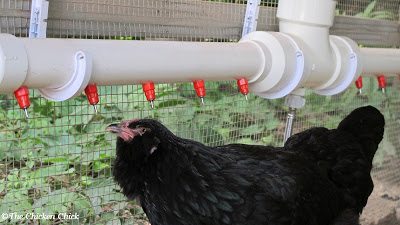 Q: I have large fowl & bantam breeds, will both be able to access the water or will I have to buy two?
A: Birds of different heights can all use The Chicken Fountain. Just take some bricks, wood, stones and put them under a couple of the nipples to allow the smaller birds to step up to access the nipples.
Q: How do I clean TCF?
A: I have had my fountain installed for over 2 years now and have never had to clean it. Our system turns the water at a high rate so water never sits stagnant in it. If you really wanted to clean it we recommend that you disconnect the water line open the access cap and dump the water out. Then take a light solution of bleach water and fully swish it around the fountain. Remove all of the cleaning solution and flush, flush, flush until there is no hint of a smell from the cleaner. Hook it back up and you are good to go…But again we have never had to clean out our unit in over 2 years!
Q: Will the nipples freeze up? Can the PVC crack?
A: An optional heater system is available that that will keep the water at 41°F and neither the water nor the nipples will freeze. Use common sense in installing your unit and don't place it where it will be buried in snow drifts or constantly subjected to high, freezing winds.
Because we have a semi sealed system, not a closed system, if the water should ever freeze it has room to expand in the unit. In other systems or in homemade dripper systems, the freezing water has no room to expand and the result is a cracked system.
Q: How big a unit will I need/ how many chickens do you recommend per nipple?
A: We recommend a maximum of 3 or 4 birds per nipple. We sell three different size units, our Mini system handles up to 6 birds our Standard system handles up to 16 birds and our Mega system handles 40+ birds.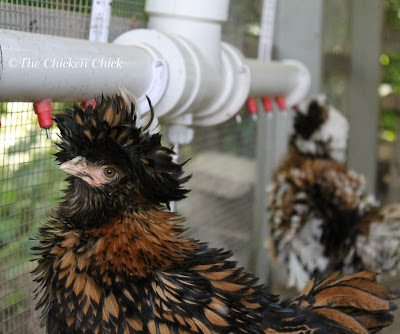 SIMPLE ASSEMBLY of The Chicken Fountain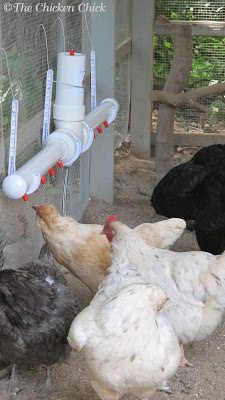 POULTRY NIPPLE WATERER TRAINING
My chickens were using The Chicken Fountain before Frank had left my driveway- there was no learning curve. As soon as Esther, my scissor-beaked hen, took a few hits off the pin, the other flockers soon followed. Switching chickens over to nipple drinkers should only be done in cooler temperatures in case there is a learning curve involved, however.
Some find it helpful to attach a rubber band in a slip knot formation around one nipple on the end of the unit to allow a stream of dripping water to draw the chickens' attention to it. Very quickly they learn that cool water is dispensed from the nipples and the rubber band can be removed.
If The Chicken Fountain must be introduced to chickens in warm weather, it should be used in addition to traditional waterers until the flock gets the hang of them.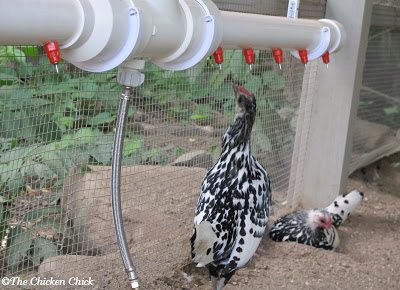 WINTERIZING THE CHICKEN FOUNTAIN
If you use a poultry nipple watering system, you're probably accustomed to packing it up for the winter due to frozen water and frozen pins, but The Chicken Fountain can be used all winter long with no worries about frozen water or frozen pins. Temperatures have gotten down to -25°F without ever freezing. Here's how we winterize our Chicken Fountain in Connecticut.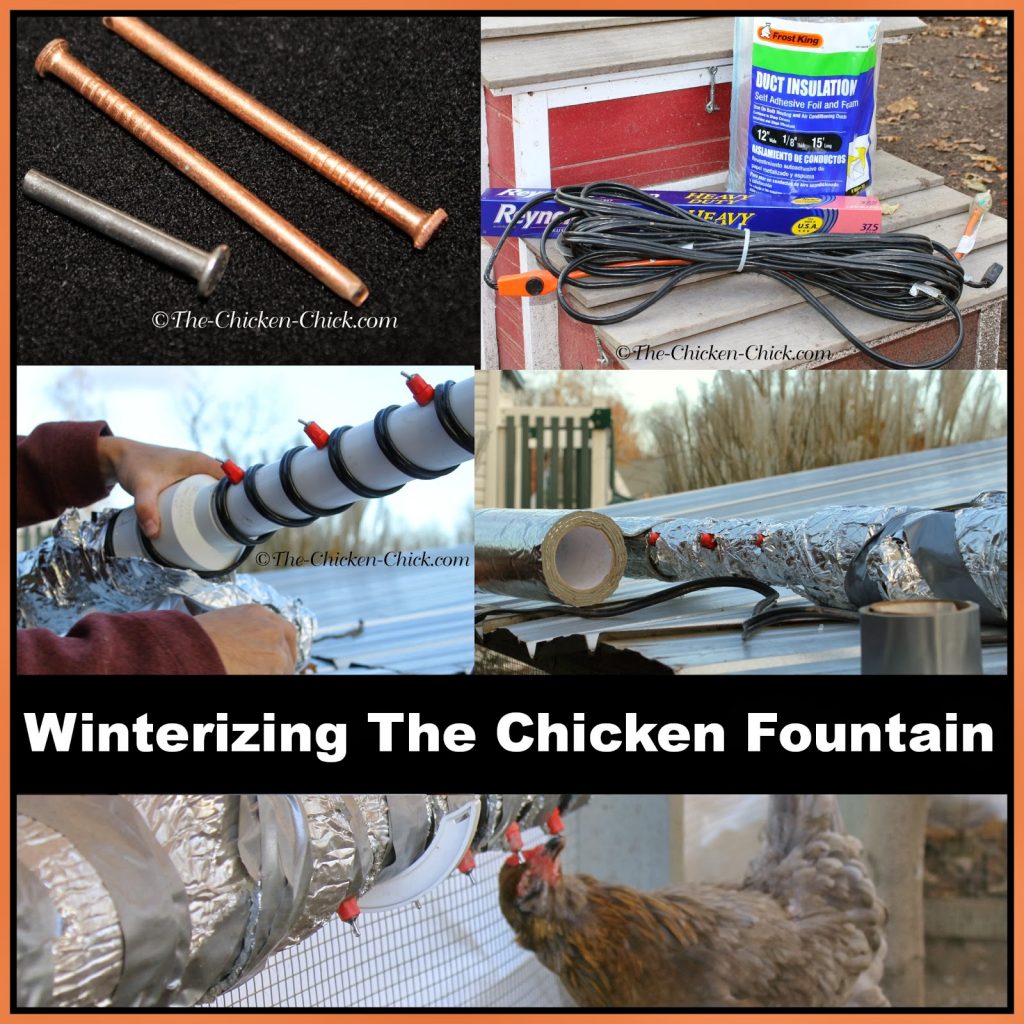 WINTERIZATION SUPPLIES:
copper pins and winter capheat tape
1. Disconnect The Chicken Fountain from hose and empty it. Cap the main housing unit where the hose attached to it because manual filling of the unit will be required in the winter.
2. Remove the stainless steel pins out of the
orange nipple housings
and replace them with
copper pins.
3. Wrap
heat tape
around The Chicken Fountain ensuring that the heat tape TOUCHES EACH PIN.
4. Wrap heavy duty aluminum foil around the entire unit, covering the heat tape, but leaving the pins and orange housings exposed.
5. Wrap The Chicken Fountain with
duct insulation.
6. Cover every inch of the duct insulation with duct tape. This step was necessary because our chickens began pecking at and eating the duct insulation.
7. Install The Chicken Fountain as usual. Fill unit with water and insert heater (optional). Place "winter cap"
seen here
on top of the main housing unit. Plug in heat tape and heater.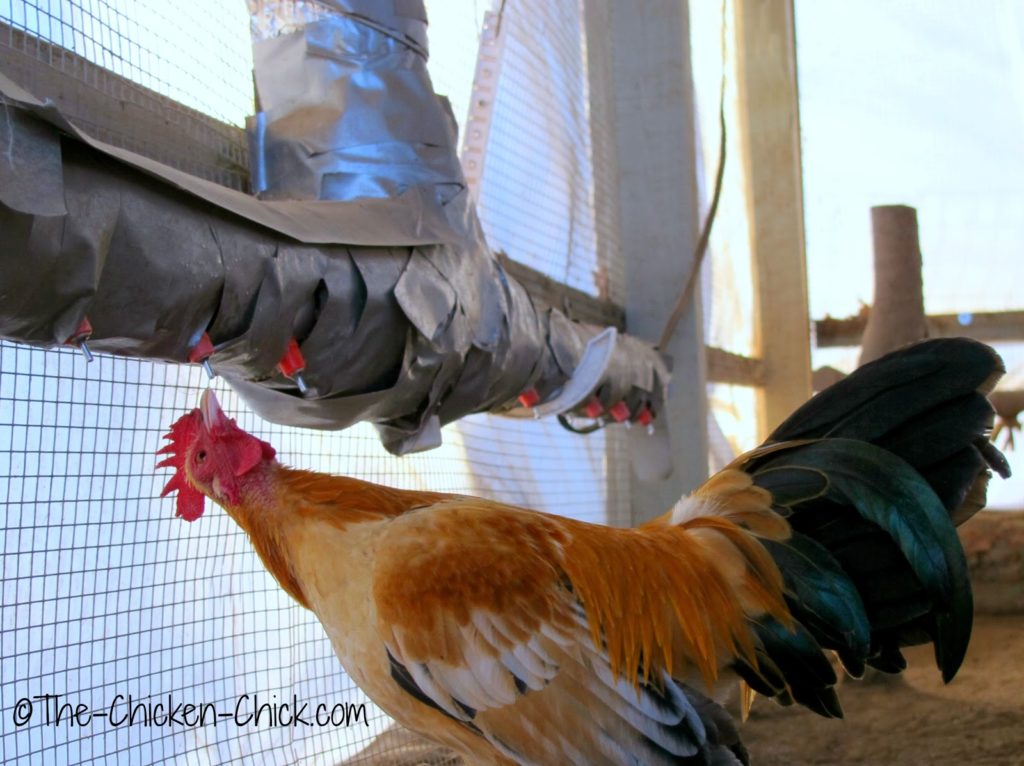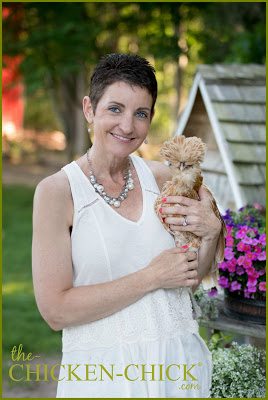 Citations/sources/further reading:
Welfare implications of nipple drinkers for broiler chickens

, 

E Houldcroft, C Smith, R Mrowicki, L Headland, S Grieveson, TA Jones and MS Dawkins* Department of Zoology, University of Oxford, South Parks Road, Oxford OX1 3PS, UK, © 2008 Universities Federation for Animal Welfare The Old School, Brewhouse Hill, Wheathampstead, Hertfordshire AL4 8AN, UK Animal Welfare 2008, 17: 1-10 ISSN 0962-7286

 
Flexibility of the drinking mechanism in adult chickens (Gallus gallus) (Aves), J. Heidwaller, J.A. van loon, and G.A., Zweers Animal Morphology, Zoological Laboratory, University of Leiden, Kaiserstraat 63, NL-2300 RA Leiden, The Netherlands,  Zoomorphology (1992) 111-: 141-159