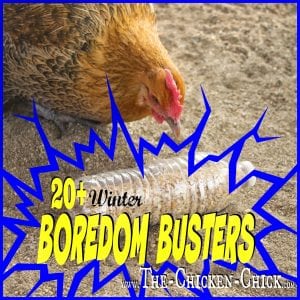 Snowy, sub-zero winter weather, hurricanes or severe weather of any type present challenges for chicken keepers and their flocks. Whenever chickens are suddenly confined to spaces smaller than they ordinarily enjoy, boredom and behavioral problems such as feather picking, and egg-eating can result. By having some go-to boredom busters up one's sleeve in lousy weather, chickens can be kept busy, entertained and happy until Mother Nature gets her act together.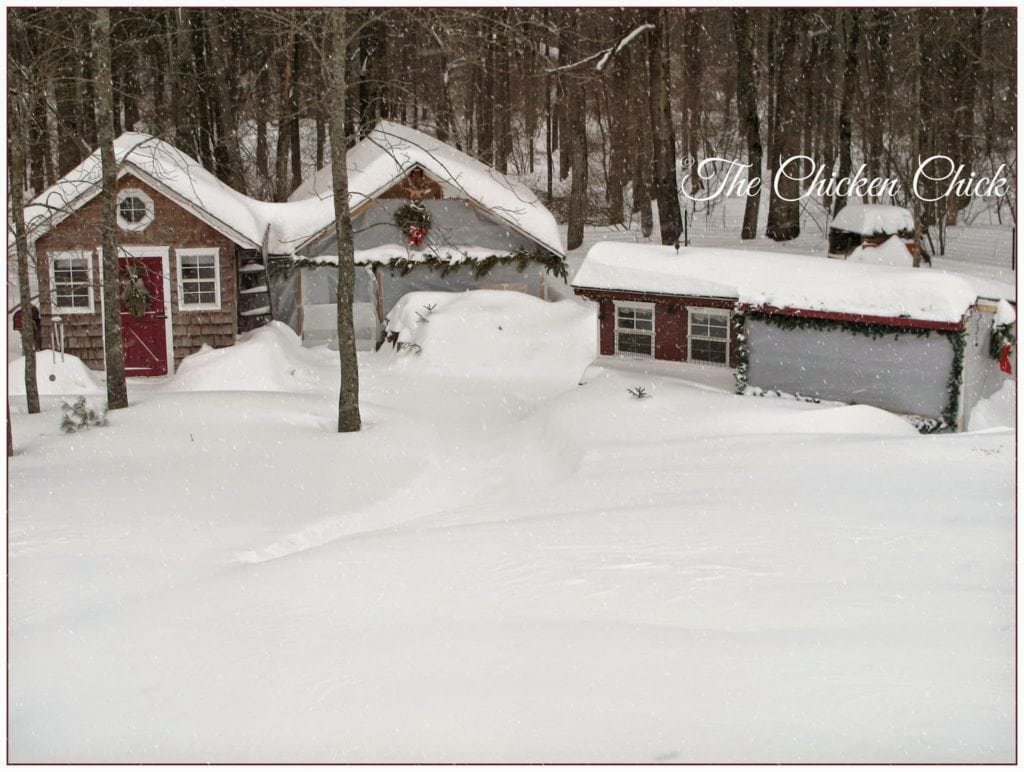 When personal space and normal foraging opportunities are limited by inclement weather, cabin fever can set in and chickens can get on each other's nerves. That can lead to aggression, feather picking, injuries and cannibalism. Any of these boredom-busting activities and strategies can help prevent behavioral issues from developing.
A word of caution: too many environmental changes at once can cause undue stress on chickens who are naturally suspicious of new things, so pace yourself with the number and frequency of boredom-busters.
A CAUTIONARY NOTE ABOUT EDIBLE BOREDOM BUSTERS/TREATS!
Limit edible treats to no more than 2 tablespoons per day per chicken and don't offer edible treats every day. Treats dilute the complete nutrition in a chicken's diet, reducing their ability to be optimally healthy, productive and live long lives. When I refer to treats, I mean anything they eat that is not their chicken feed (fruits, veggies, mealworms, scratch, table scraps, etc.)
---
IF YOU BUILD IT, THEY WILL ROOST
Chickens have a natural instinct to roost and perch up off the ground. Provide them with a variety of things to roost on and move them around from time-to-time to keep things interesting. By building up, the total square footage available to the flock is increases.
---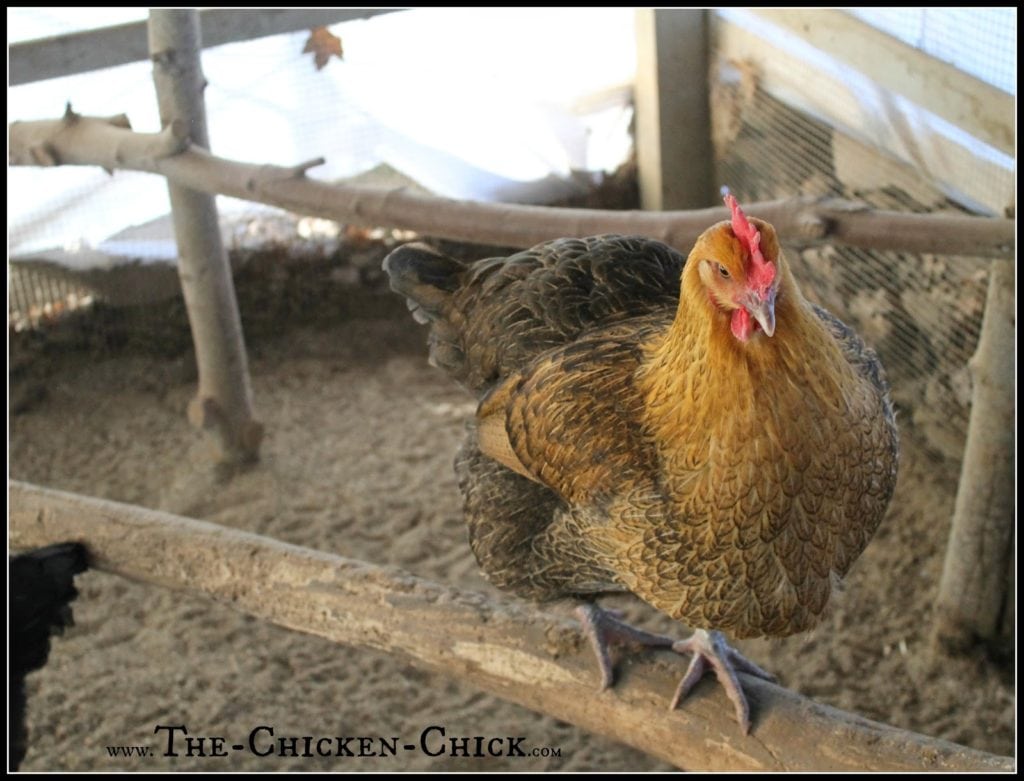 TREE BRANCH ROOSTS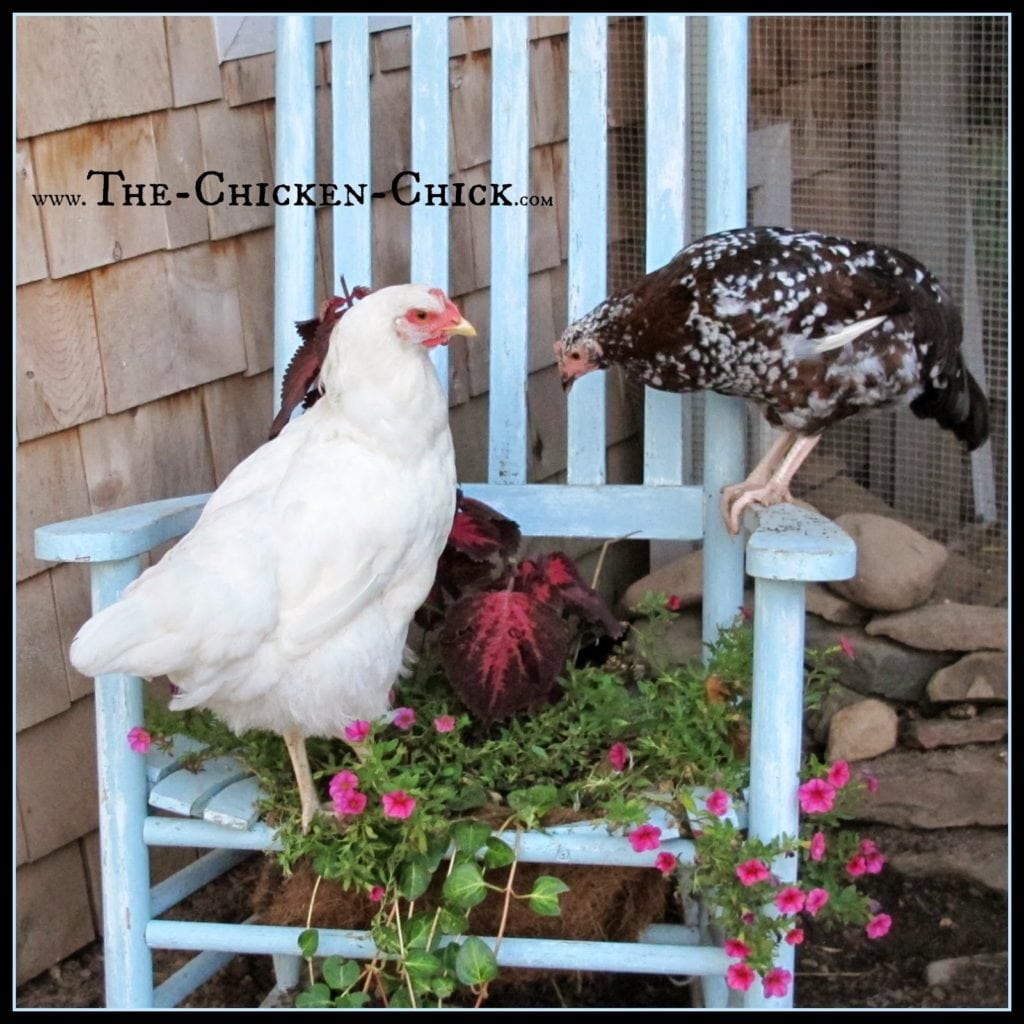 OLD CHAIRS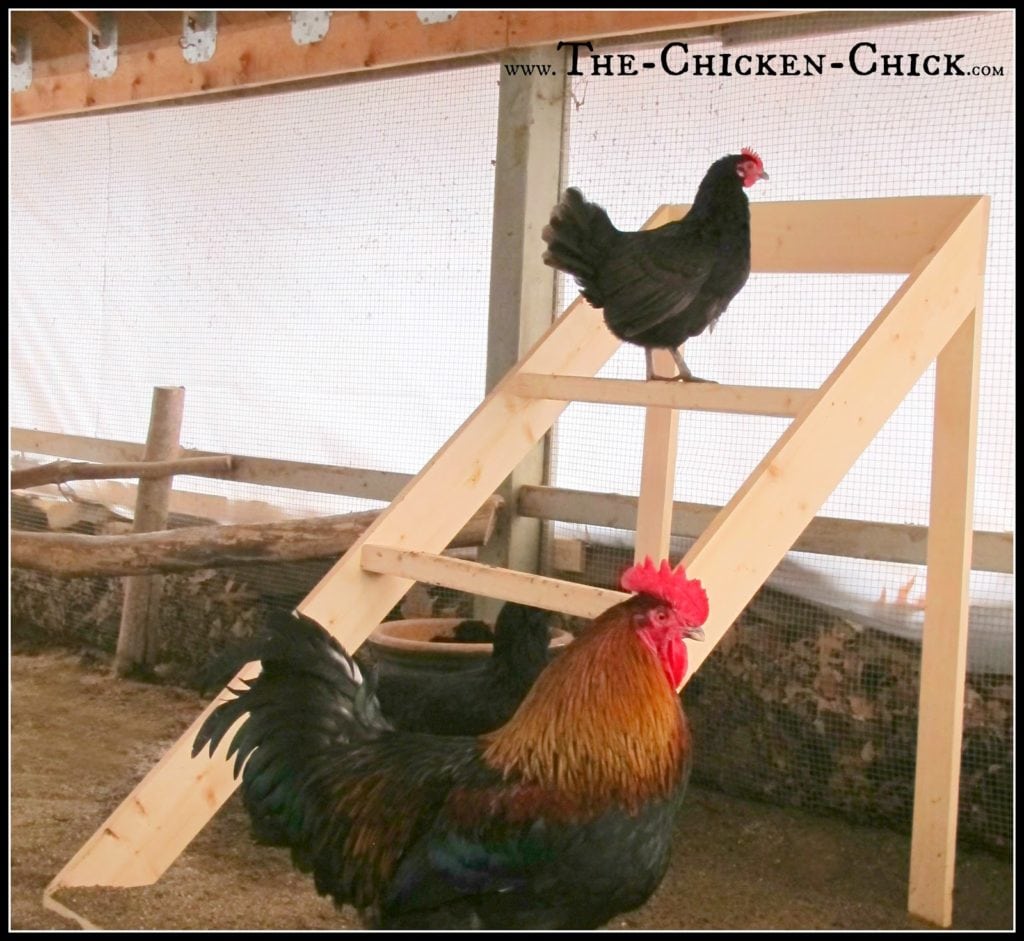 LADDER ROOSTS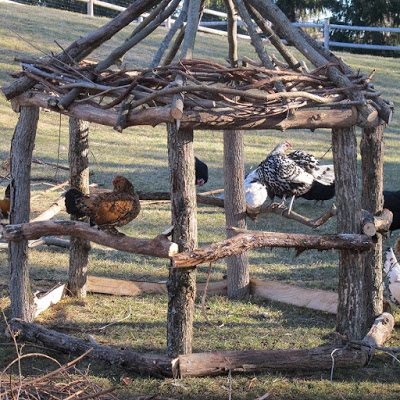 GAZEBO FROM TREE TRUNKS AND GRAPEVINES
(plans for this gazebo are available in my book, The Chicken Chick's Guide to Backyard Chickens)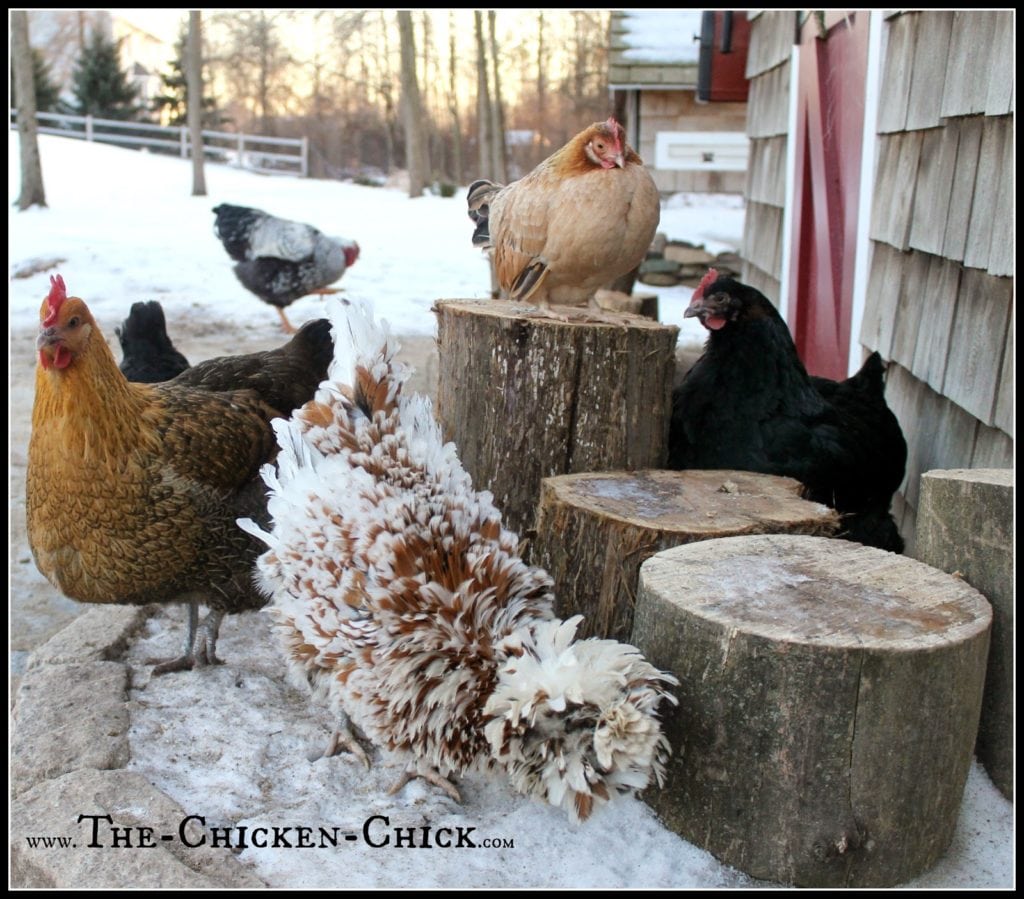 TREE STUMPS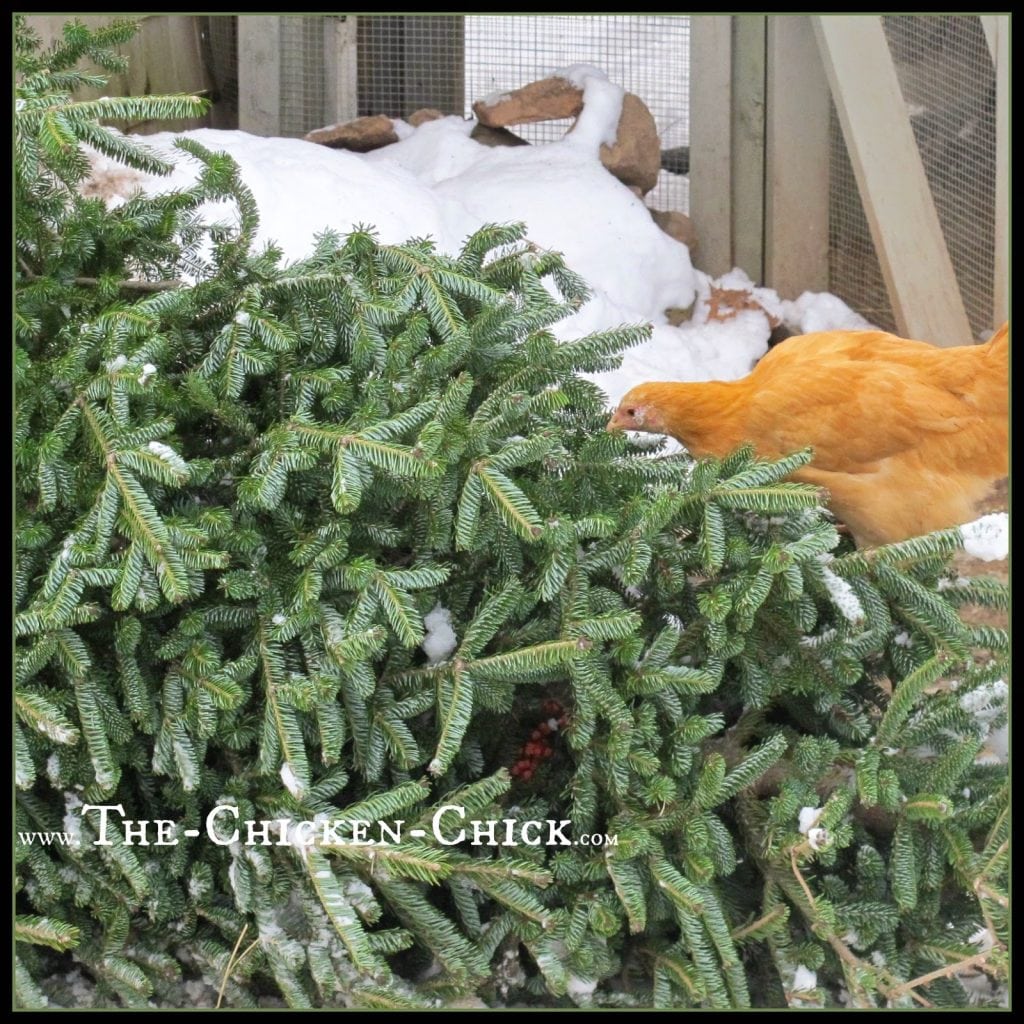 CHRISTMAS TREE JUNGLE GYM
Don't recycle that Christmas tree until the chickens have had a chance to use it as a jungle gym!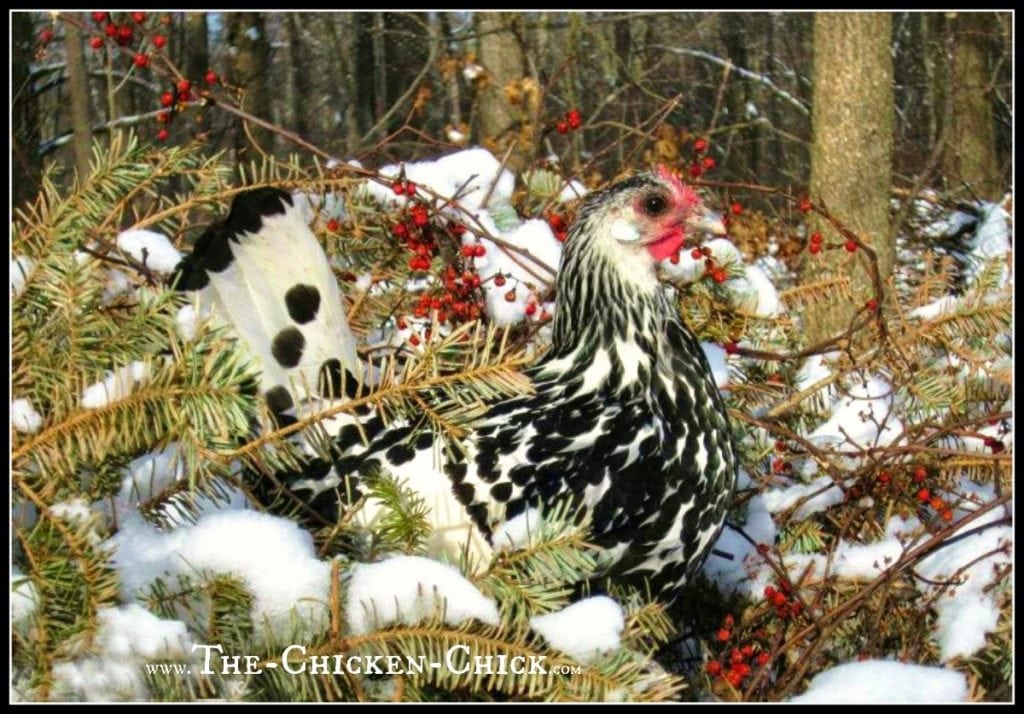 ---
Chickens care for their skin and feathers by dust bathing, which is as much a recreational and social activity as a functional one. Providing a variety of containers filled with potting soil, (without vermiculite or pearlite) peat moss or good ol' sand breaks up the monotony and keeps things interesting. Large flower pots, buckets or tubs are all big hits with my chickens.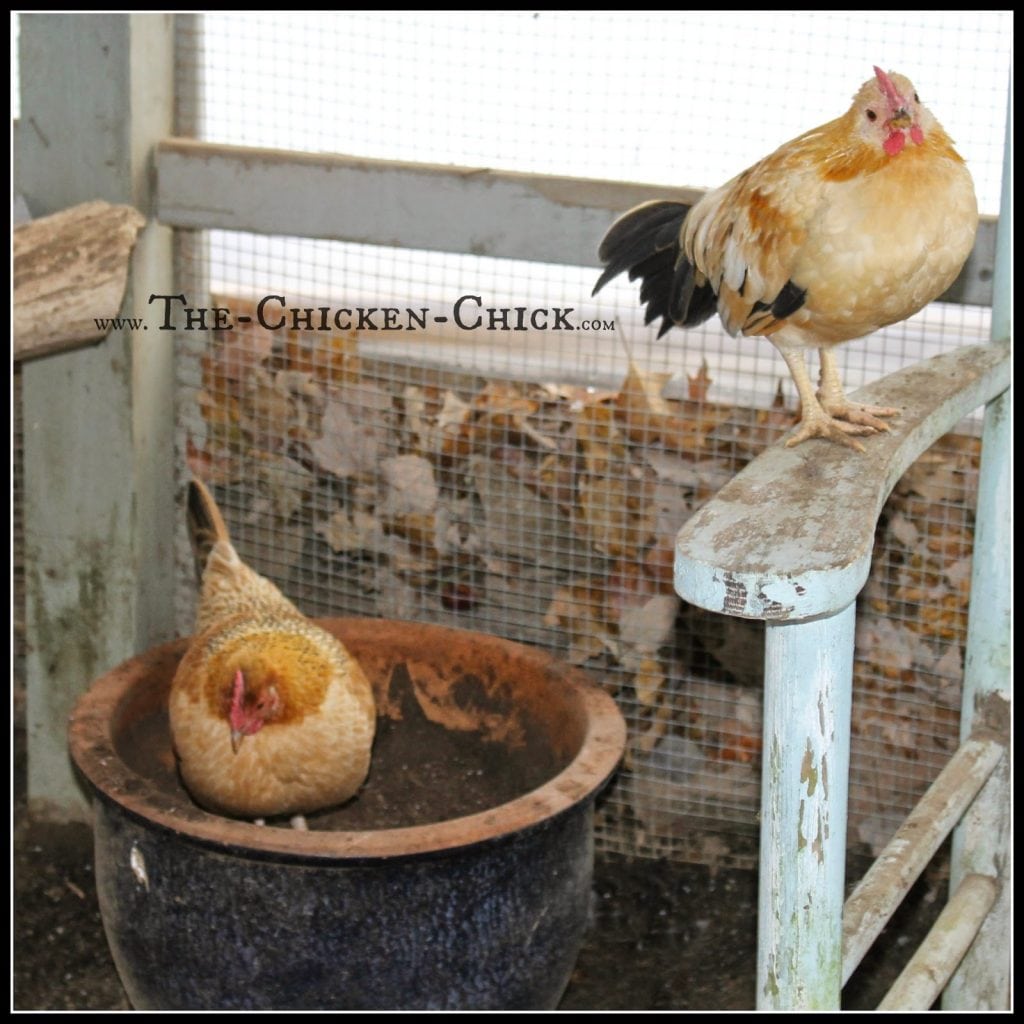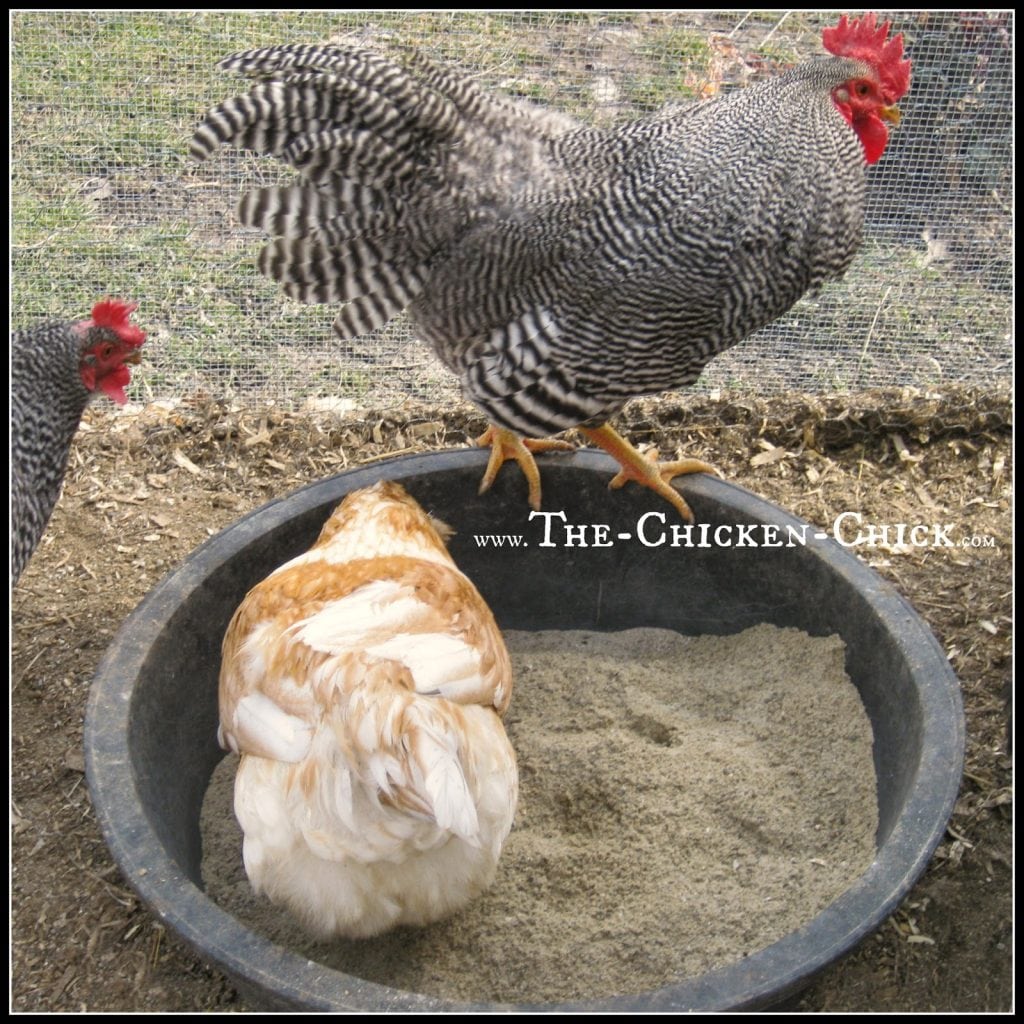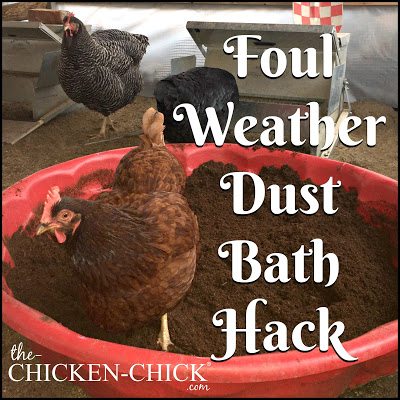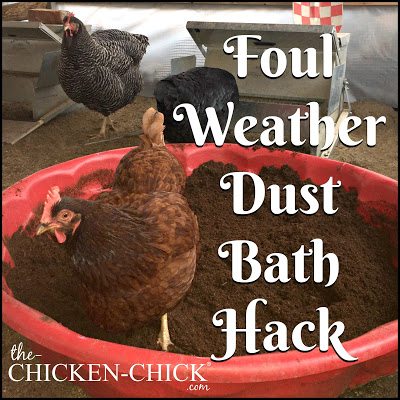 Try this Foul Weather Dust Bath Hack in inclement weather!
MIRRORS
Add an unbreakable mirror to the coop or run, making sure it is securely attached to the wall and cannot fall or break. This is likely to be more entertaining to you than them, but it can't hurt and is good for a few minutes of interest anyway.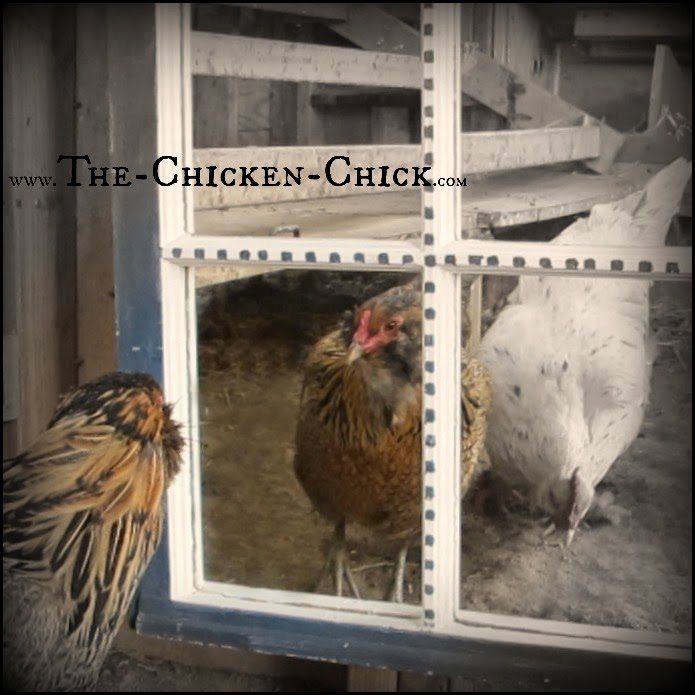 ---
MENU PLANNING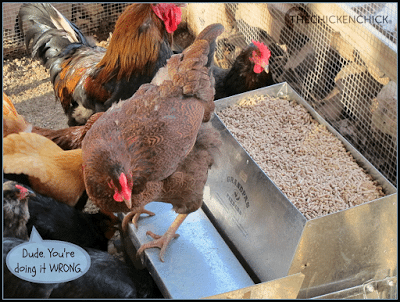 FREE-FEED
A chicken's full-time day job is eating. Literally. Provide a nutritionally-complete chicken feed to the flock all day, every day. Being allowed to pick up small amounts of feed often throughout the day eliminates competition for feed and provides the opportunity for a normal chicken activity with a purpose. Offer it in different containers, in different locations in the run and in creative ways!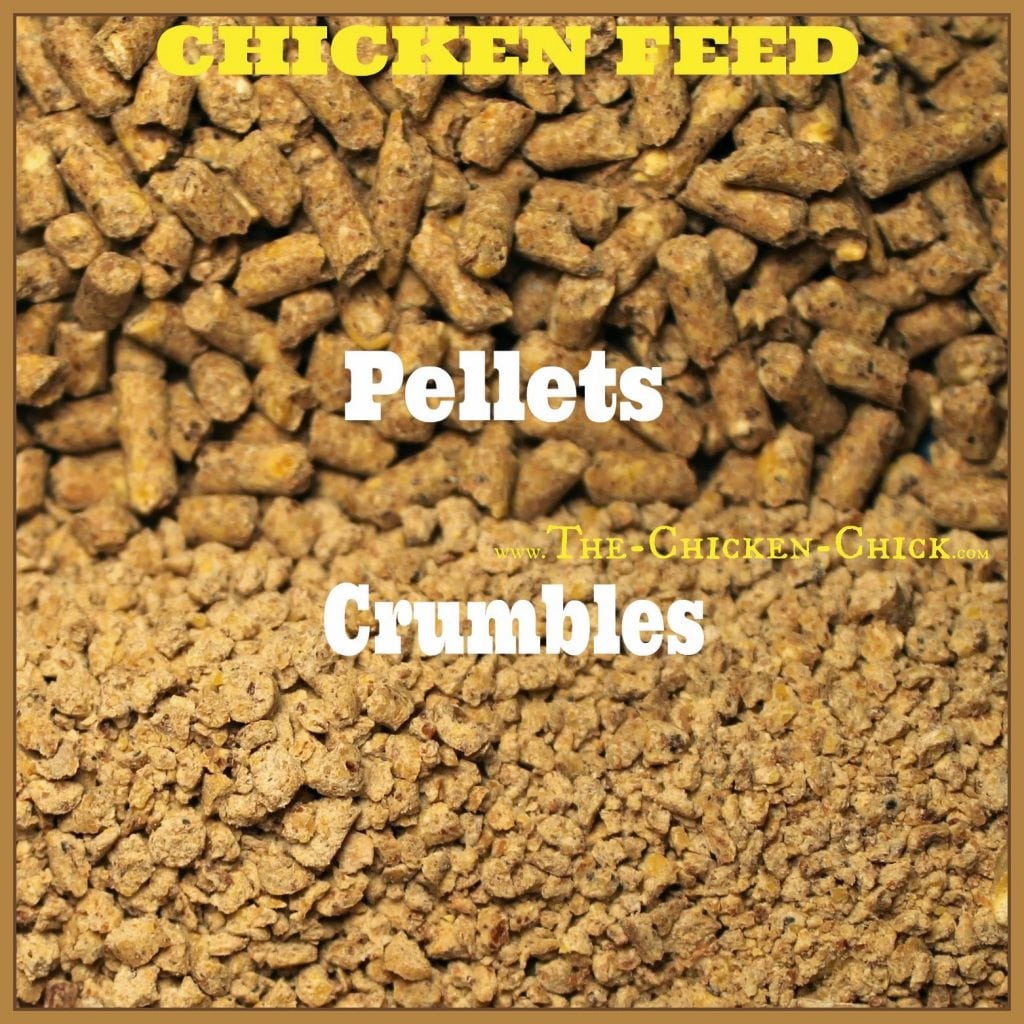 SIZE MATTERS
Provide feed in crumbles form instead of pellets to extend the amount of time birds spend pecking up feed to satisfy their appetites. Crumbles are simply crushed up pellets; one pellet is broken into approximately 7 pieces. 7 pieces take more time and effort to lift with the peck of a beak than one pellet. Let the birds spend the majority of their days focused on eating their nutritionally complete feed because that's what's best for their health.

---
TREAT 'EM RIGHT: EVERYTHING IN MODERATION

When chickens eat treats, (ie: treats/snacks/commercial supplements/fruit/veggies, kitchen scraps, leftovers, etc.) they're not eating chicken feed, which is their primary source of nutrition. Commercially prepared feed is formulated by poultry nutritionists who carefully monitor the composition of ingredients to ensure that a chicken's daily nutrient requirements are met in the correct balance. Supplemental foods replace a portion of those essential dietary elements to some degree. Excessive treats, even healthy ones, can cause any of the following: obesity, reduced egg production, malformed eggs, habitual laying of multiple-yolked eggs, vent prolapse, a protein deficiency, feather-picking, fatty liver syndrome, increased risk of heat stroke and heart problems. Treats should be limited to no more than 5% of a chicken's diet, which amounts to approximately 2 tablespoons of treats in any given day. Treats/scraps/snacks should not be fed to chickens daily due to the obesity-related health concerns which have reached epidemic proportions in backyard chickens. Poultry veterinarian Dr. Annika McKillop recommends removing any treats chickens have not consumed within 15 minutes.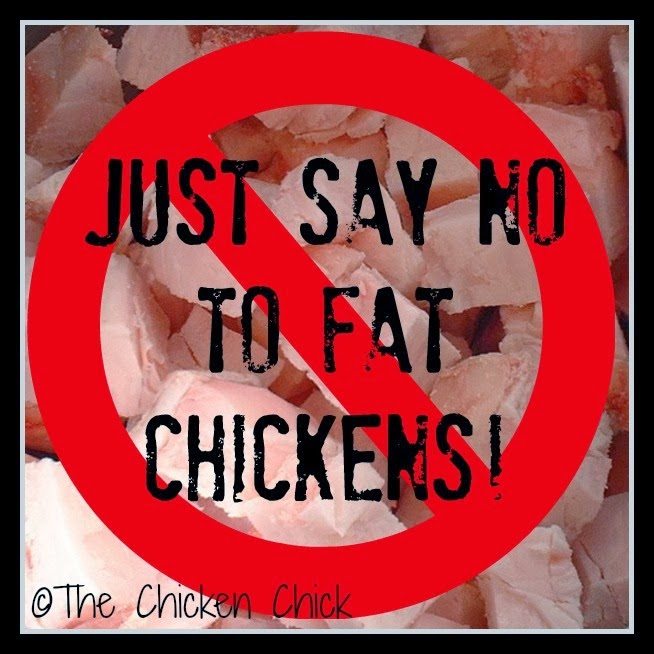 EVERYTHING IN MODERATION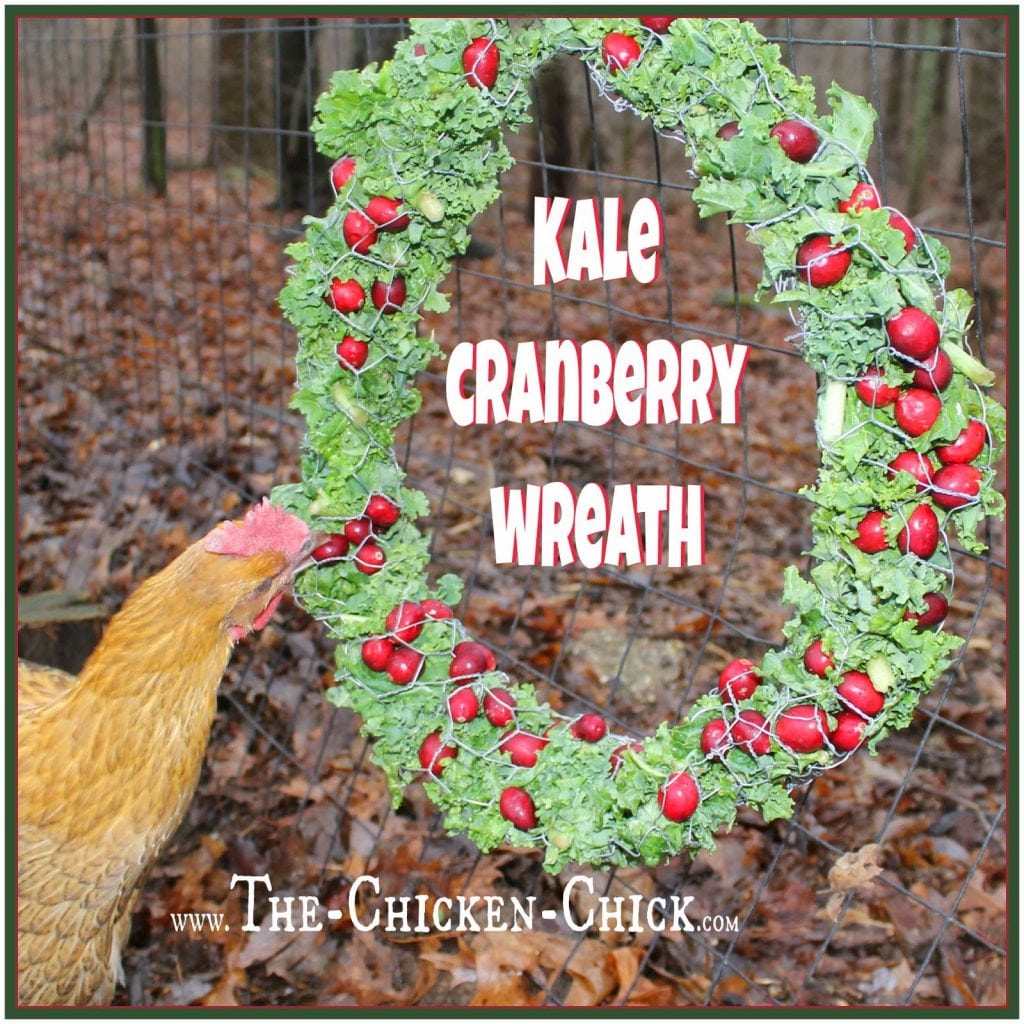 KALE CRANBERRY WREATH
Make a Kale Cranberry wreath for the chickens with a 44″ x 10″ piece of chicken wire. Roll the chicken wire into a tube and connect the ends. Bend back any protruding wire to prevent anyone from being poked. Stuff the wreath form with kale and cranberries and serve. My chickens loved it!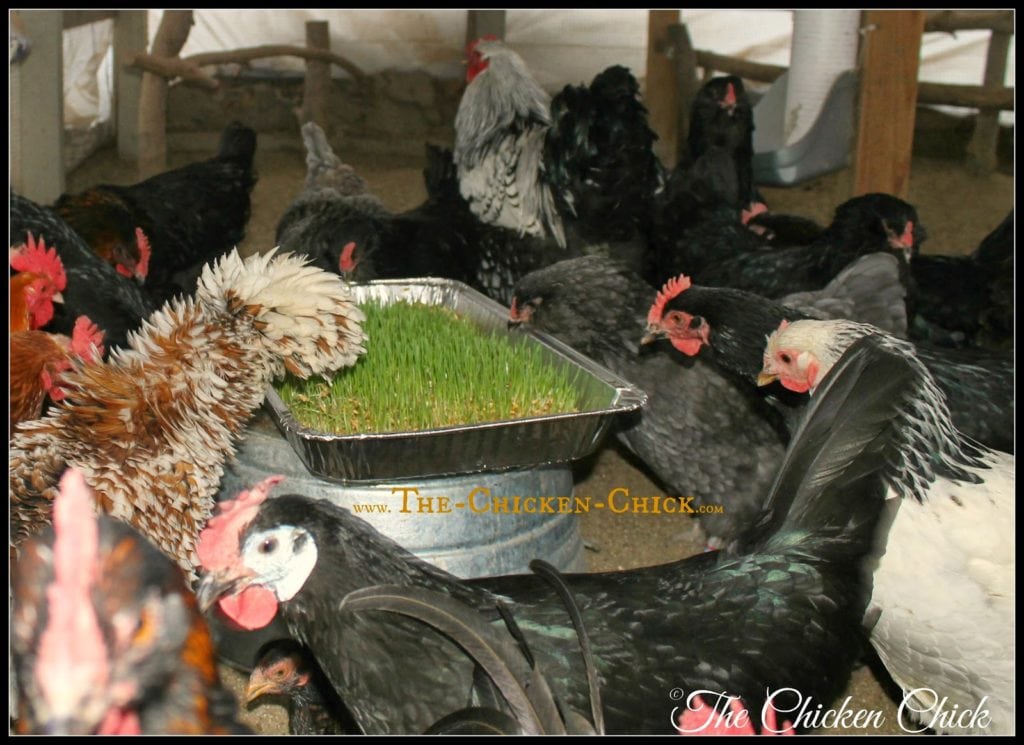 GROW SPROUTS
Provide several containers of sprouts to ensure everyone gets some.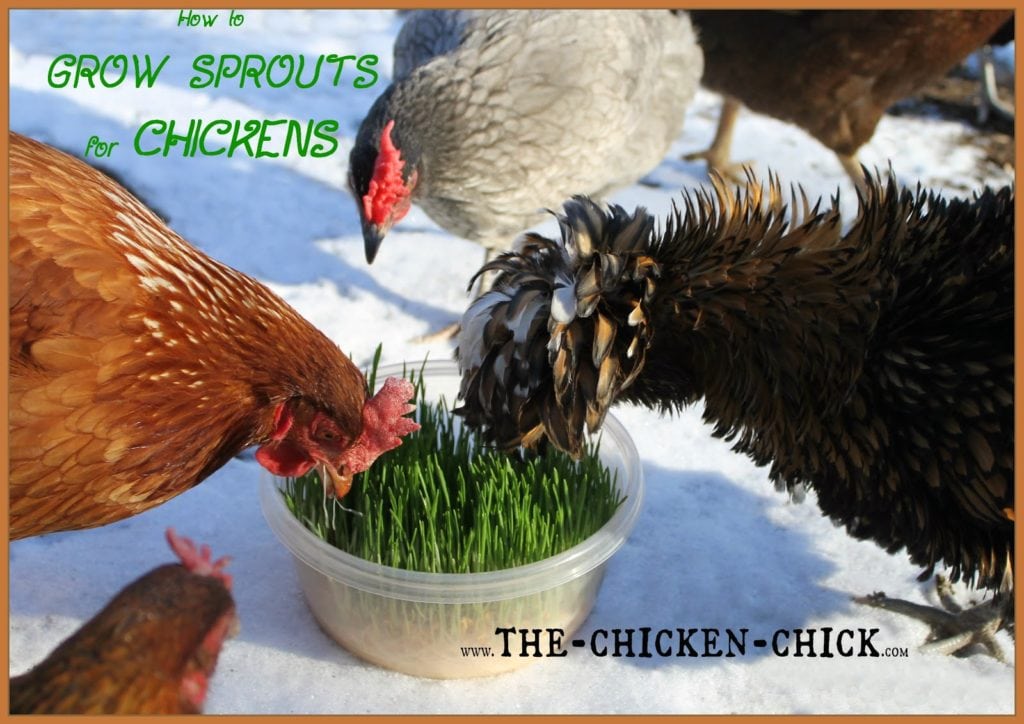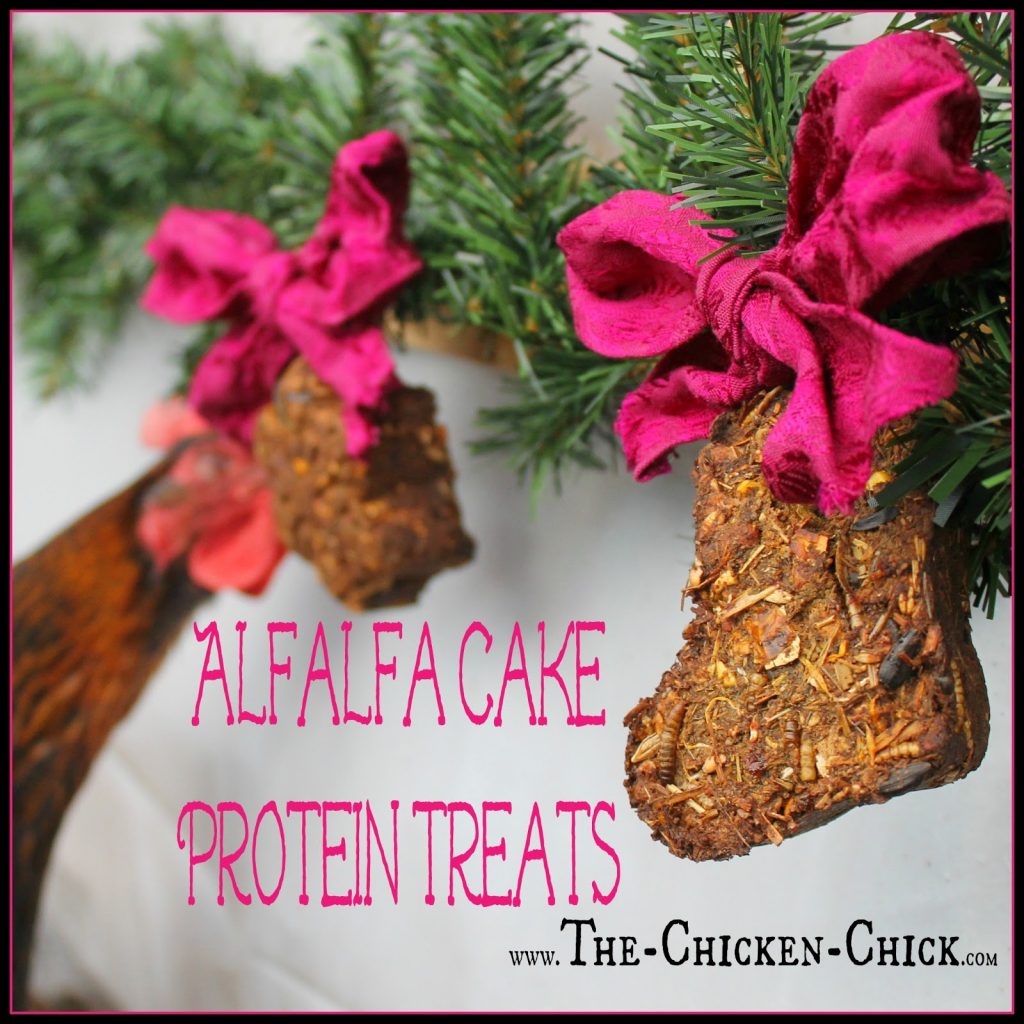 ALFALFA CAKE PROTEIN TREATS
This Alfalfa Cake Protein treat recipe keeps the peeps entertained and active.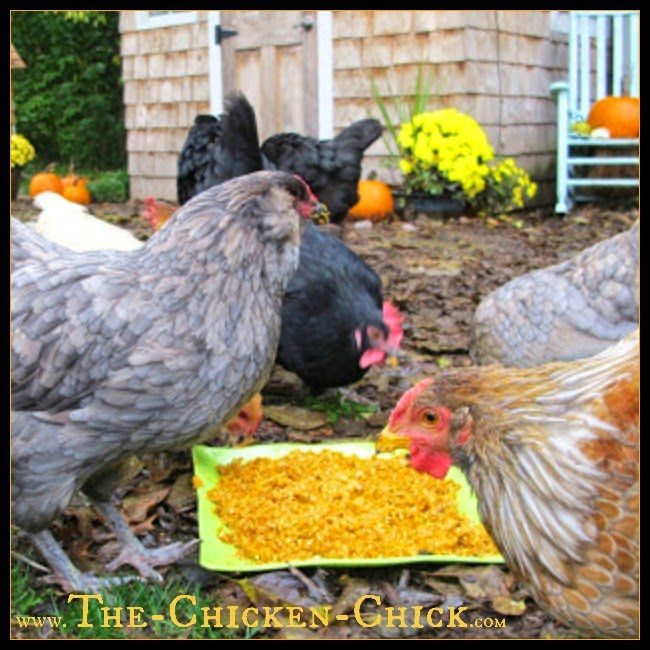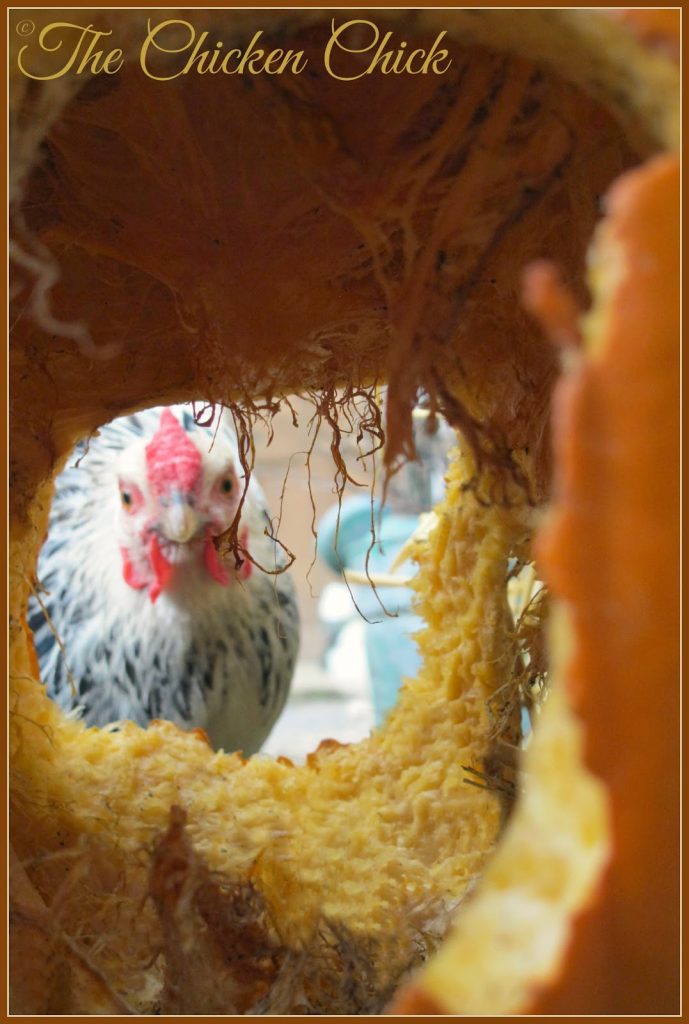 PUMPKIN IN THE RAW
A single pumpkin can provide entertainment for a flock of chickens. Remove it from the chicken yard before the birds have each reached their 2 tablespoon limit.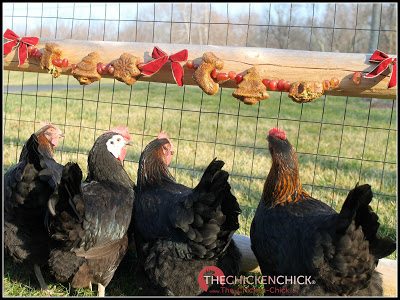 ALFALFA SOUFFLé GARLAND TREATS
This protein-packed Alfalfa Soufflé Garland is a delicious way to offer molting chickens several protein sources in one treat while keeping them entertained and active!

FLOCK BLOCK UNDER GLASS
A favorite enrichment activity in my flock is pecking at a Flock Block. I only offer this special treat in winter when my free-range flock is confined to the run during severe weather, and only for a couple of hours at a time.
I place the Flock Block on the inside of a Rubbermaid-type container to keep it off the ground/litter. After a few hours of pecking at the block, I revoke access to it by placing the container on top of the lid, over the Flock Block. This system serves several purposes: it keeps the block cleaner, it allows me to limit the amount of dietary extras easily, and it saves me from having to haul a 25 lb block of food-fun back and forth from the chicken run.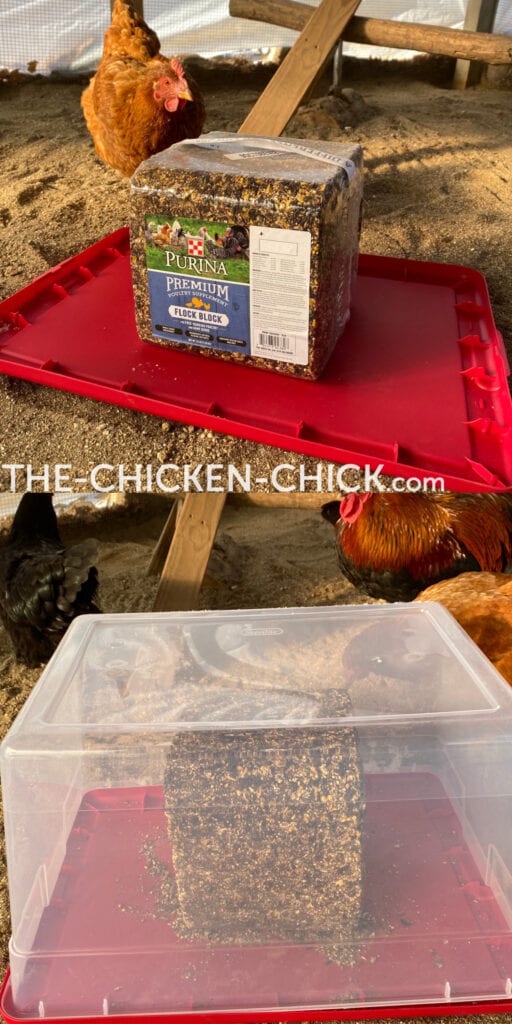 HOMEMADE FLOCK BLOCK SUBSITUTE
Get the recipe for my nutritious, Homemade Flock Block Substitute here!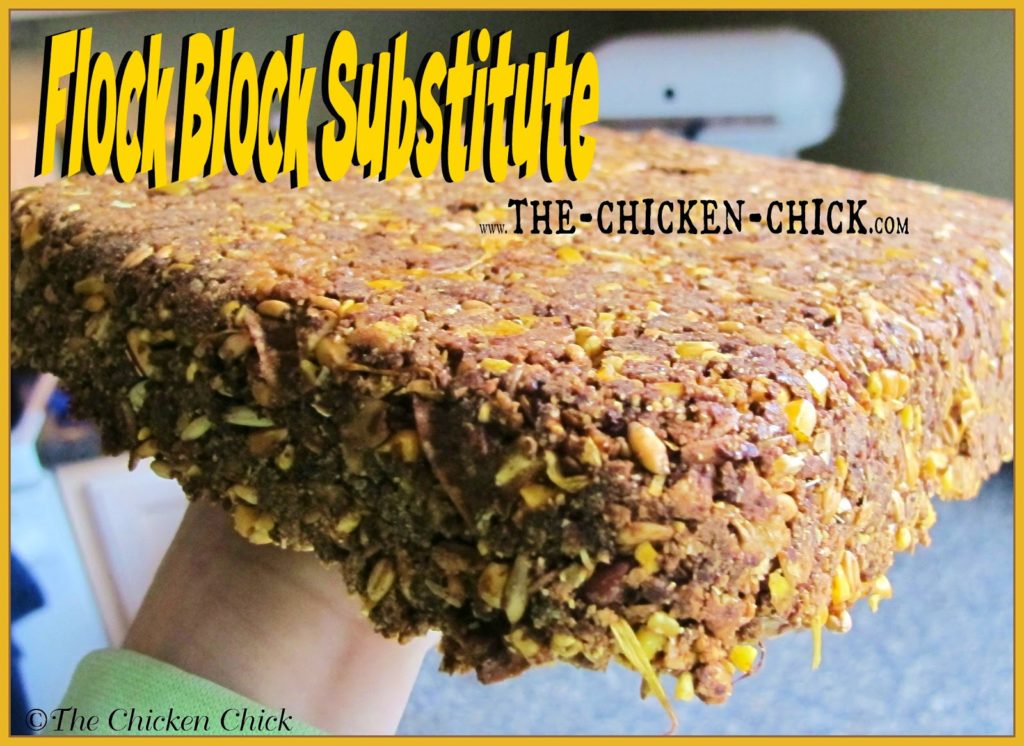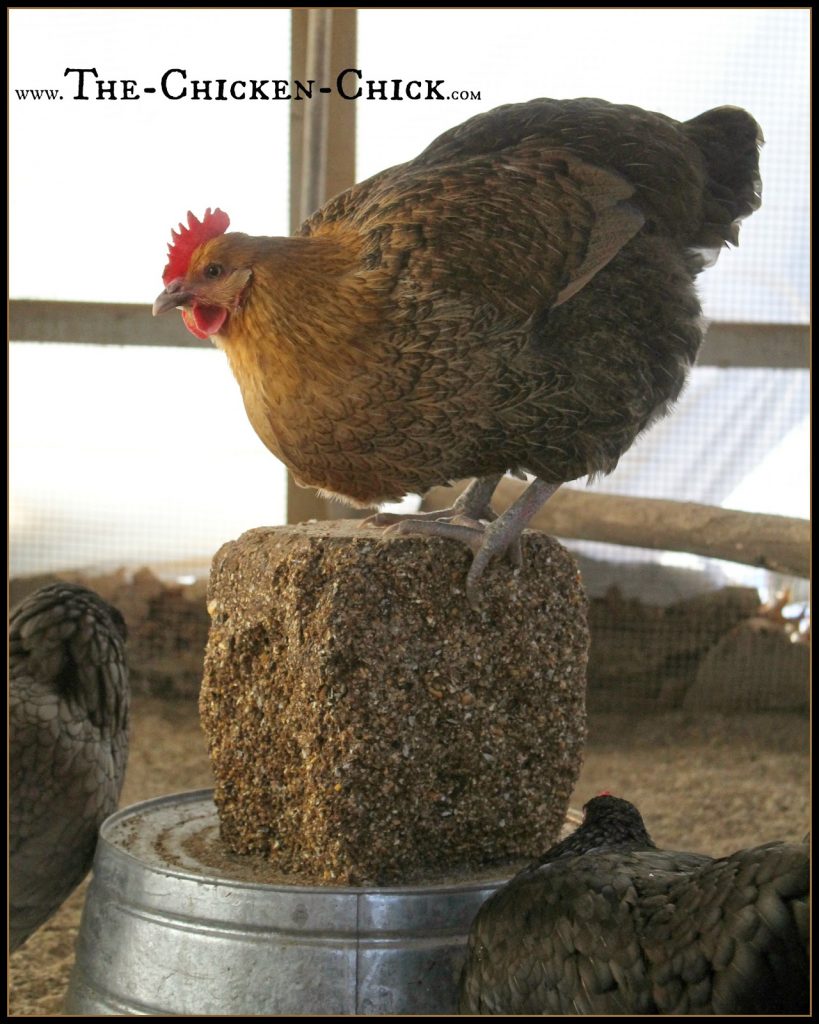 FLOCK BLOCK ON A RISER
Turn a galvanized basin over and place a store-bought Flock Block on top to keep it cleaner. As always, remove all food from the run after the flock has gone to roost to avoid attracting rodents.
HANGING EDIBLES
Different hanging foods can be an occasional boredom buster for chickens in lousy weather.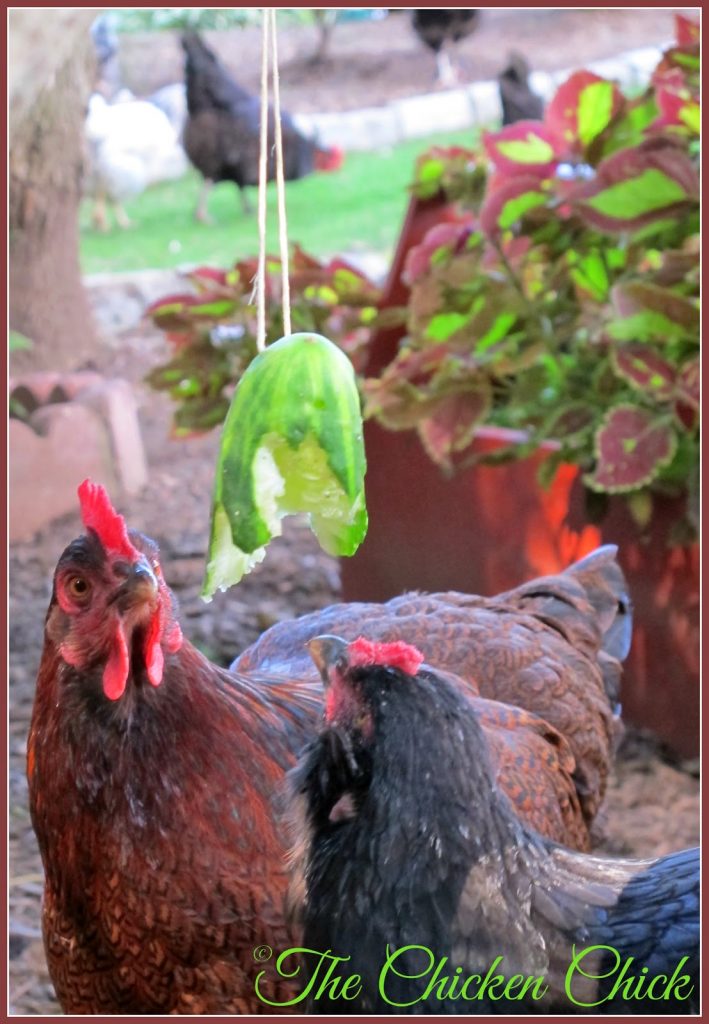 *STRING WARNING*
If a chicken ingests string, it can get tangled up in their digestive tract, creating a medical emergency and death. When offering chickens treats attached to string, always use a thick material such as this sisal string or wire that will not easily break, secure it well so it cannot come loose from the structure it is attached to, remove it from the chicken yard as soon as they're done with the treat and closely monitor the chickens while enjoying the hanging treat- you do not want to miss a minute of it!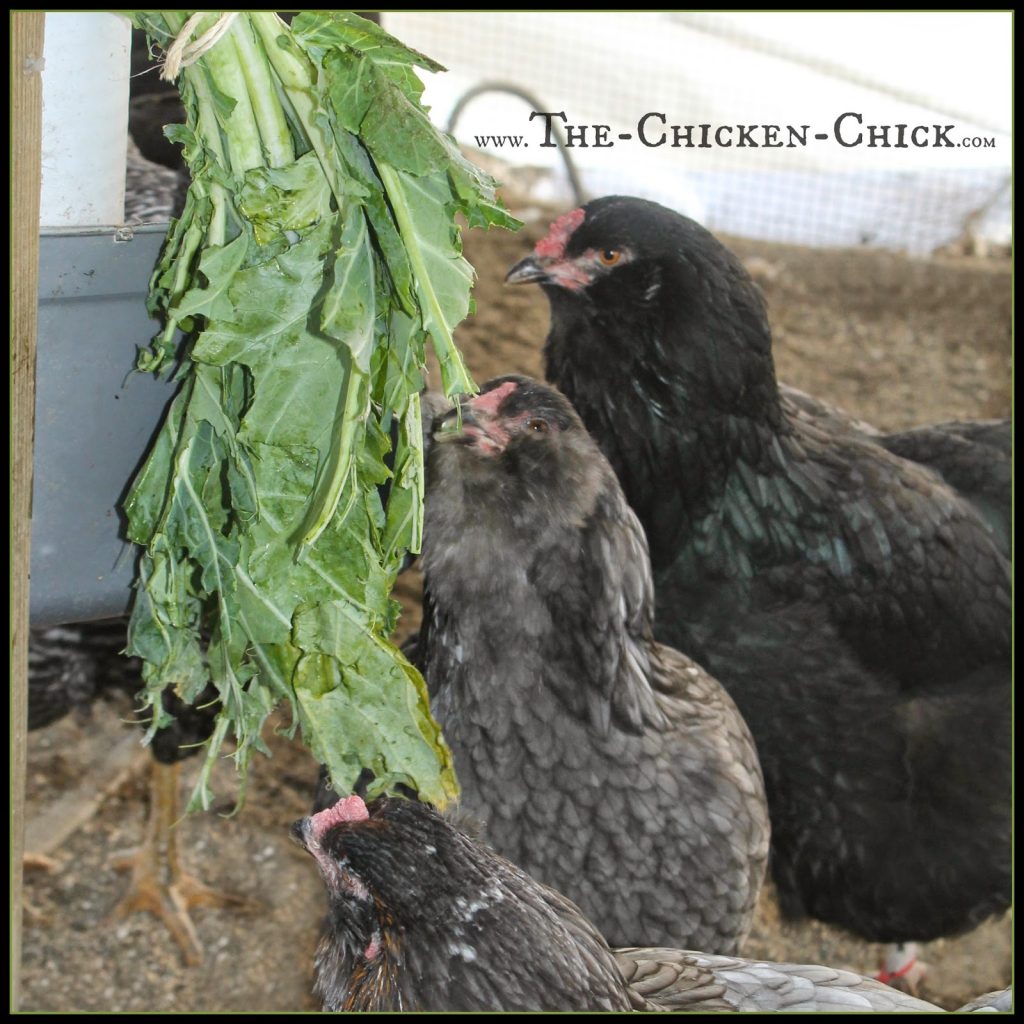 KALE BOUQUET
Tie up a bunch of kale, mustard greens or collard greens and let the chickens have at it!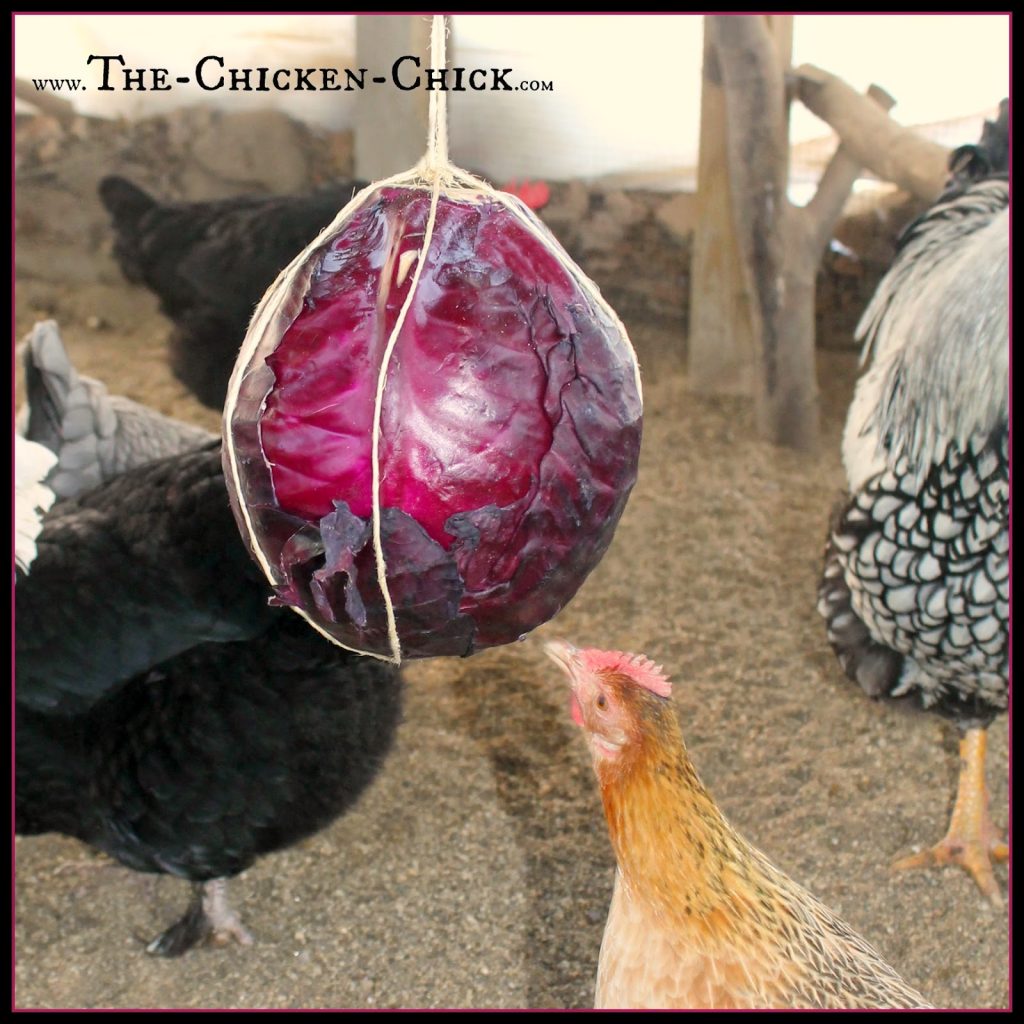 HANGING CABBAGE
Securely tie up a head of cabbage and hang it at chicken eye level for a couple of hours of swinging fun!

---
LET THE GAMES BEGIN!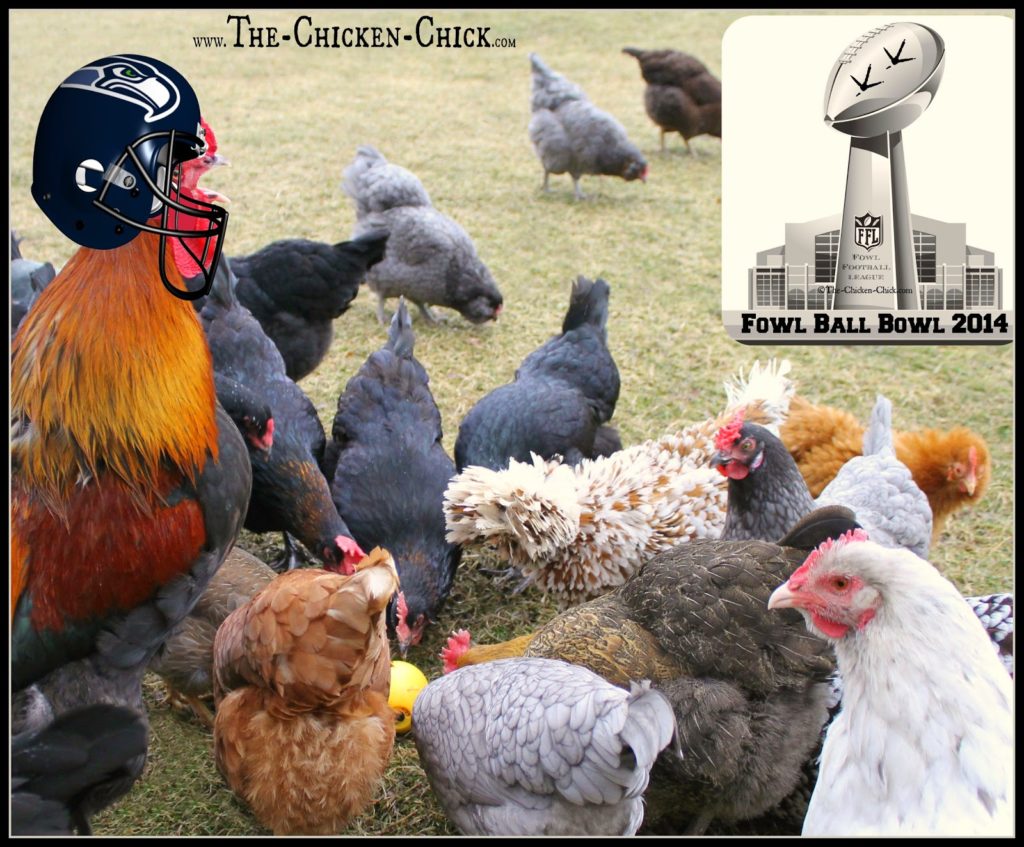 TREAT BALL
Buy a Treat Ball chicken toy, fill it with layer crumbles and let the games begin!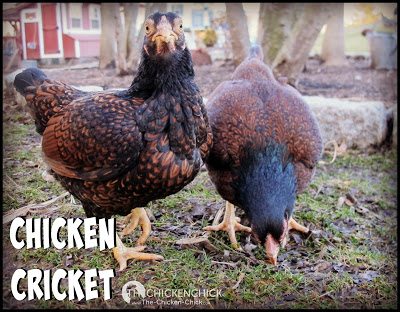 CHICKEN CRICKET
Purchase live crickets online or at a local pet store for a game of Catch-Me-If-You-Can!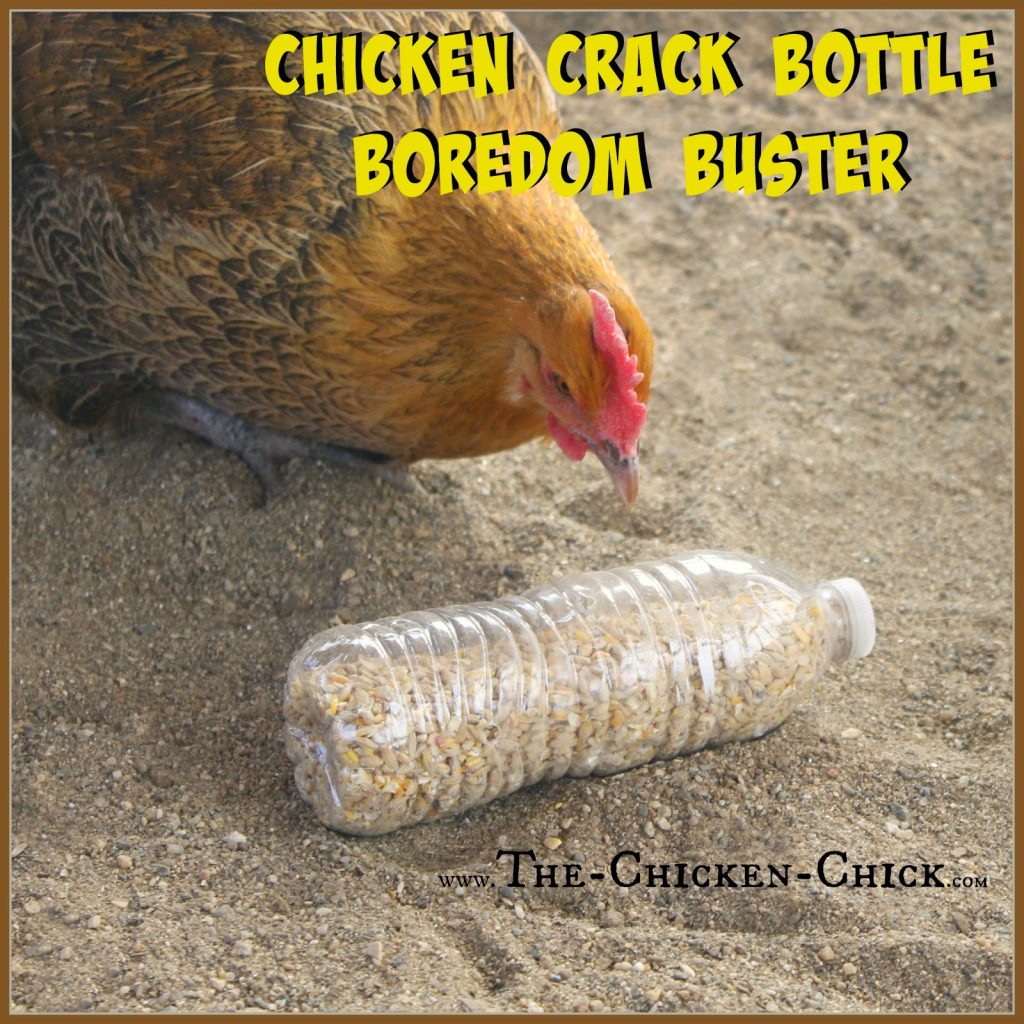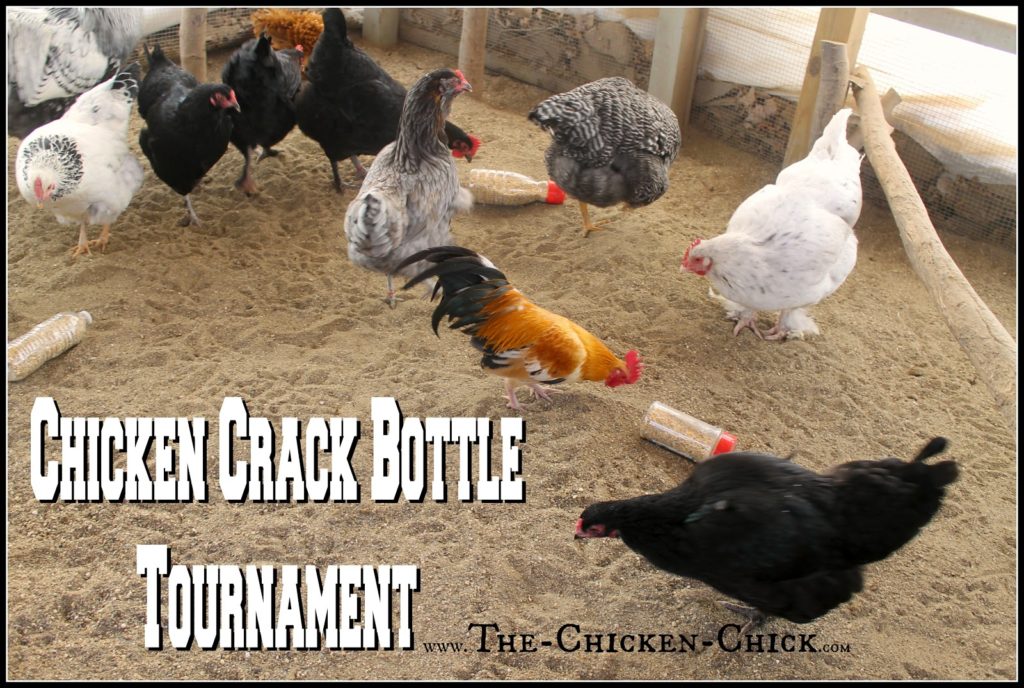 CHICKEN CRACK BOTTLES
Use a 1/2″ drill bit to drill holes in empty plastic bottles, add layer crumbles or pellets, and watch the fun break out! Provide several bottles to the flock at once to avoid conflict & fowl penalties.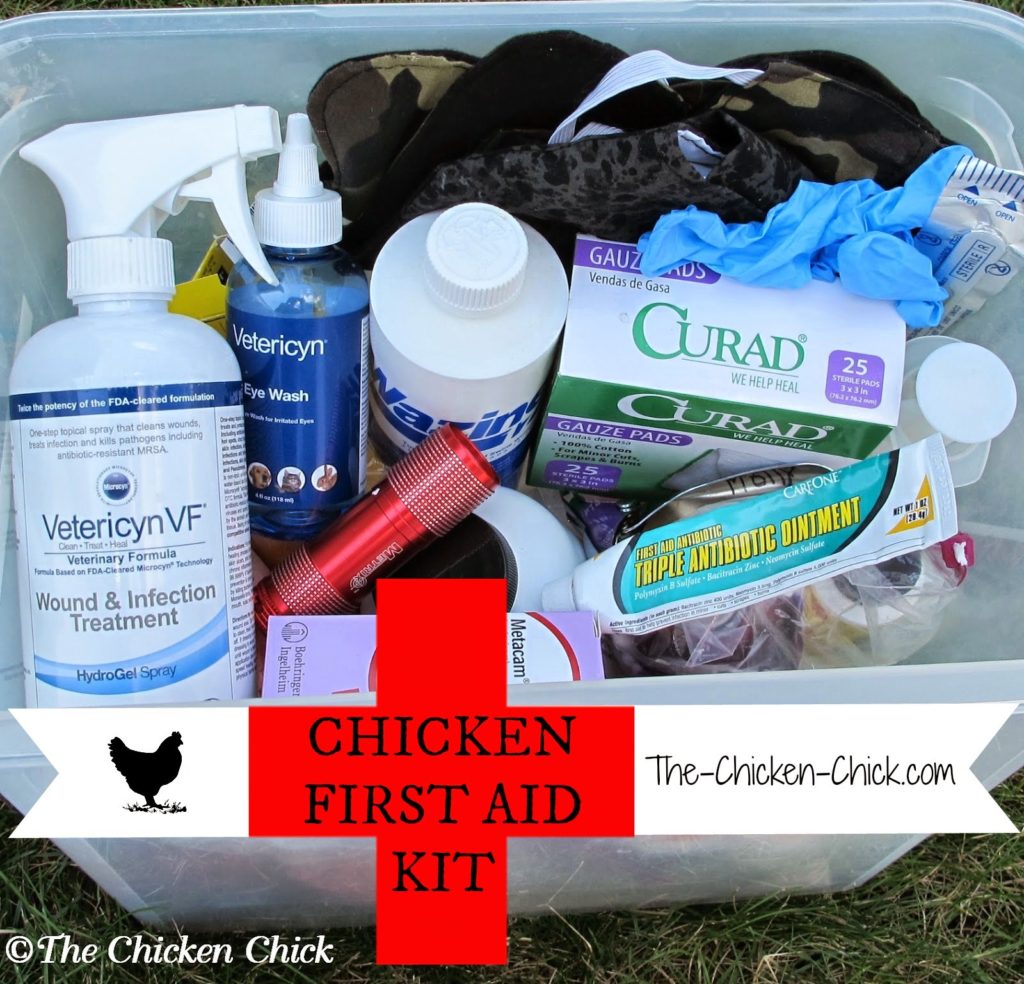 In the event best efforts to keep chickens from turning on one another fail and an injury does occur, separate the bird from the rest of the flock to administer first aid and to protect the bird from being pecked by other flock members. Read much more on this topic here.