Salad Dressing Easter Egg Ingredients
2 cups warm water (MS uses 3)
1 tablespoon vinegar
1 tablespoon olive oil
MS used hard cooked, white eggs and dyed them first in a pale color. I used pre-colored, fresh-from-the-hen eggs in blue, green, white and brown hues, most of which were hand-blown.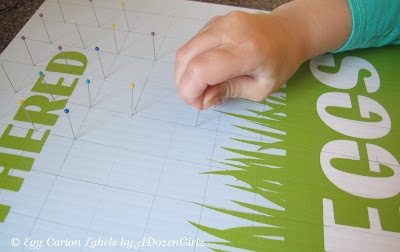 My 4 year old made the MS drying rack with common pins space apart in 1″ blocks.
2 toothpicks bound with masking tape, stuck into an egg carton works great too.
Briefly roll an egg in the salad dressing, remove and dry with a paper towel. Roll or dip in additional colors if desired.
This technique was simple enough for my 4 year old to master.
Dry with paper towel.
Hard cooked eggs do not require additional drying after wiping off with the
paper towel, but the inside of a blown egg will.
The eggs retain a glossy sheen from the oil.
Even the mess at the end was beautiful!