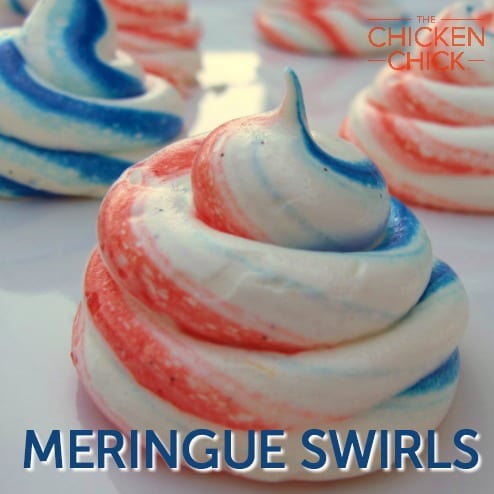 At this time of year, eggs are plentiful and I'm always looking for fun, interesting ways to use them. I came across this recipe for meringues in my Martha Stewart Living Magazine a few months ago and set it aside, knowing precisely when I was going to make them. The pristine egg whites provide the perfect canvas for a Fourth of July treat. They're super easy to make and a big hit with the kids!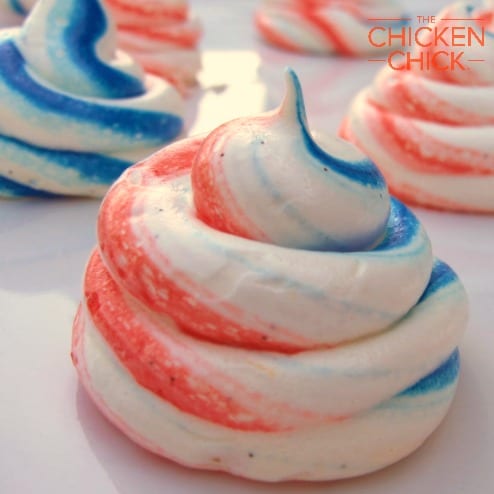 MERINGUE SWIRLS
INGREDIENTS
3 large egg whites, room temperature
3/4 cup sugar
1/2 vanilla bean, seeds scraped
Large pinch of salt
Large pinch of cream of tartar
1 teaspoon finely grated fresh orange zest (I used lemon zest)
Gel-paste food coloring, in orange (I used blue and red instead)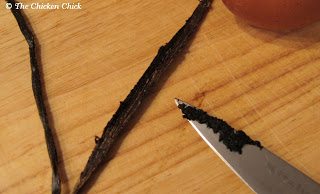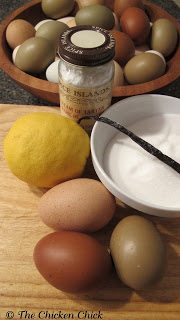 LET'S MAKE IT!
Preheat oven to 200° F. Combine egg whites and sugar in a heatproof bowl or over a double-boiler. Add vanilla bean seeds. Set bowl over a pot of simmering water, and stir until sugar dissolves and mixture is warm, about 3 minutes. Add salt and cream of tartar.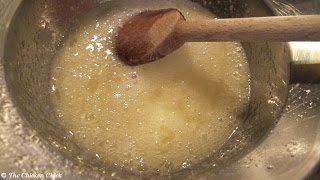 Beat with a mixer on medium-high speed until stiff, glossy peaks form and meringue is mostly cooled, about 7 minutes. Beat in zest.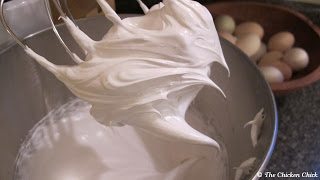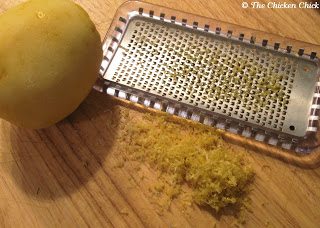 Using a small paintbrush (or toothpick) line vertical stripes of food coloring inside a pastry bag fitted with a round tip (or with the end simply cut off).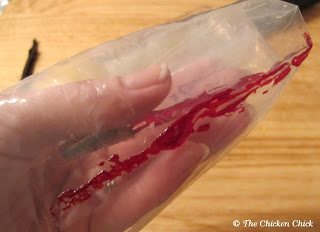 Fill bag with meringue, and pipe 1 3/4-inch circular shapes (they don't need to be perfect rounds) 2 inches apart on 2 parchment-lined baking sheets. As you finish piping each shape, apply less pressure to pastry bag, and swirl the tip off in a circular motion.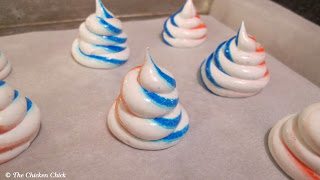 Bake meringues until crisp on the outside but still soft inside, about 1 hour 15 minutes. Let cool completely on a wire rack.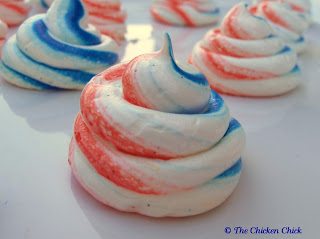 NOTES:
When separating the eggs for this recipe, if any yolk remains in the egg whites, the whites will not whip up properly.
This recipe is best made in low humidity.
Parchment paper is not optional for this recipe, the meringues will stick to anything else.
Don't throw away the vanilla bean after scraping the seeds out, place it in a bowl of sugar and enjoy vanilla flavored sugar for months to come!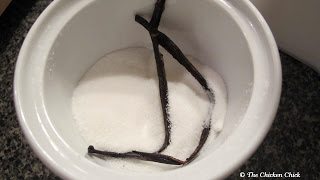 ---