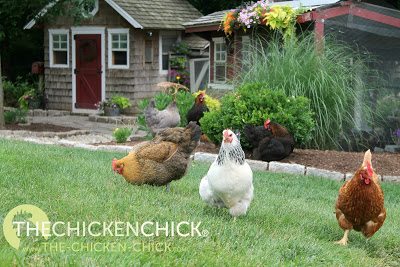 If the health, longevity and ability of your pet chickens to make eggs is important to you, you're going to want to hear what I learned about poultry nutrition recently and understand what it means to you and your flock.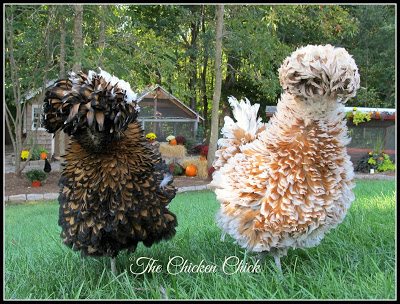 Most of us don't give too much thought to poultry nutrition, which is fine if we are feeding our backyard chickens an age-appropriate, complete commercial feed. Where we can get into trouble and actually hurt our flocks is by tinkering with a complete layer feed by adding unnecessary supplements.
The problem with "adjusted" feeds was made clear to me in recent conversations with poultry veterinarian, Dr. Annika McKillop. Tragically, Dr. McKillop has seen chickens in several flocks become deathly ill and die as a result of incorrect supplement levels added to their diet. If we understand why and heed the lessons from those cases, we can avoid similar heartache in our own flocks.
In seeking to understand how the wrong ingredients can be detrimental to chickens, I had a lengthy conference call with two poultry nutritionists,  Dr. Gordon Ballam and Dr. Patrick Biggs.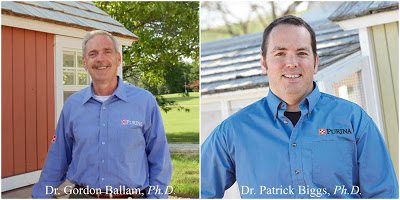 My discussions with Dr. Ballam, Dr. Biggs and Dr. McKillop confirmed two clear points: poultry nutrition is very complicated and laying hens are extremely sensitive to what they are fed.

Why is a balanced diet important to hens?
Hens certainly can survive by eating only what they scrounge up in a backyard; in fact, many of our grandparents raised chickens without the knowledge from 100 years of poultry nutrition studies. But their chickens weren't pets; when they became unproductive or sick, the hens were served for dinner. If we want healthy pet hens that produce high quality, nutritious eggs and live long lives, a correct, balanced diet is imperative.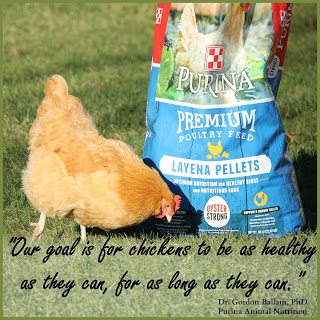 Most complete feeds on the market are formulated to provide the nutrients that hens need- in the correct amounts. When you look at a bag of chicken feed, it may not seem too complex, however, as Dr. Ballam explained, "Hens require approximately 50 different nutrients daily. Hens use nutrients from their feed to maintain their health and produce eggs. Each nutrient plays a certain role, with many of the nutrients working together," he said. "Hens are very sensitive to the nutrient balance. The health of the bird can often suffer long before egg production or egg quality is affected. Each of the nutrients in a complete feed is chosen and provided in specific amounts for its benefit to the hen."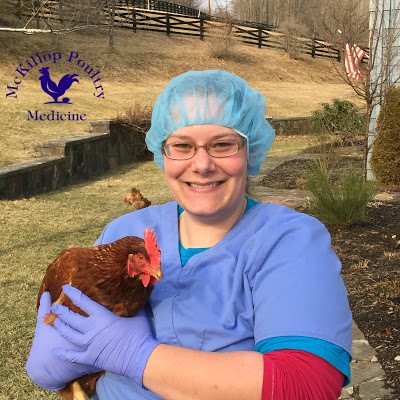 What can happen if we provide the wrong balance?
If the nutrition balance is off, problems can begin occurring long before they are noticed, according to Dr. McKillop who sees flocks in their homes as a practicing poultry veterinarian. When she arrives, she assesses the living conditions, the behavior of each bird, and gathers a flock history from the chicken keeper.
Recently, Dr. McKillop was called out to see a small backyard flock less than 2 years old. Four of the hens had died in the preceding few days, and one hen was exhibiting signs of depression, ruffled feathers, loss of appetite, and bloody diarrhea-all symptoms the deceased birds had shown before dying. The sick hen was humanely euthanized and a necropsy performed on site. The necropsy revealed a discolored intestine that was bloated from gas, filled with mucous and speckled with small hemorrhages. No large
nematodes were seen. Dr. McKillop also performed a fecal test, finding that while there were no parasites or coccidia oocysts, there was an abundant bacterial population of Clostridium perfringens. This is the bacteria that causes gangrene and necrotic enteritis, (aka: rot gut), a bacterial infection in chickens. All of her findings were consistent with her final diagnosis of the deadly necrotic enteritis.
What could have caused these symptoms?
Dr. McKillop looked to the flock history she had gathered. This information included the "feed recipe" from the flock-keeper, which she had begun feeding to the hens several days before they began dying.
Dr. McKillop determined this feed recipe caused the necrotic enteritis and deaths. PLEASE DO NOT FEED THIS TO YOUR CHICKENS!
1 50 lb. bag layer feed

1 large canister old-fashioned oats

2 cups cracked corn

4 cups shelled sunflower seeds

1 lb of a commercial Omega-3 flaxseed feed supplement

1.5 cups brewer's yeast & garlic powder

1.5 cups probiotic powder

1.5 cups food grade diatomaceous earth

1 cup sea kelp

a handful of mixed, dried herbs
Dr. McKillop said that the drastic change in diet changed the bacterial population in the intestines, causing the Clostridium bacteria to multiply. While these bacteria are normal in small numbers in the intestines, large populations produce harmful toxins that damage the intestine, causing malabsorption, bleeding, and death.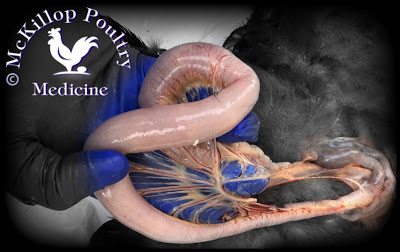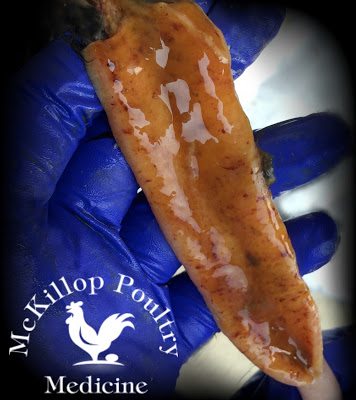 The treatment for the surviving flock members was to return to an unaltered, complete layer feed and a prescription for Chlortetracycline to combat the bad bacteria population in the surviving hens. There were no further problems in this flock, but a second, similarly afflicted flock fed the same "recipe" was advised by Dr. McKillop to return to their regular feed before any deaths occurred.
How can extra nutrients be problematic?
To better understand how altering the nutritional content of layer feed can hurt chickens, I asked Biggs to look at the diet of these flocks and explain the effect the supplemental ingredients have on it.
I would start off by saying that this is a lot of unnecessary work and expense. Most companies that are making and selling complete laying hen feed already contain these ingredients in the correct amounts.
More importantly, Dr. Biggs did a calculation of the unneeded supplements and found that they diluted the necessary nutrients dramatically. His calculations showed:
Overall nutrient dilution by 17%
Reduction of energy or calories in the feed by 5%
Reduction of calcium in the feed by 15%
"Diluting the nutrients in the diet can be detrimental not only to egg production, but also bird health," Dr. Biggs said. "Complete feeds are formulated to provide the correct balance in each bite of feed. When the balance is off, we can start to see problems in performance."
Dr. Biggs explained that decades of research go into each bag of feed to ensure the correct nutritional balance. For example, Purina Animal Nutrition has conducted thousands of trials on their farm in Missouri over the past 90 years.
Nutritionists rely heavily on research to guide us in maintaining a formula that is complete and balanced for the hen," he said. "We know the nutritional content of all the ingredients that we put into a formula, and we change the formula as the nutritional content of the ingredients changes.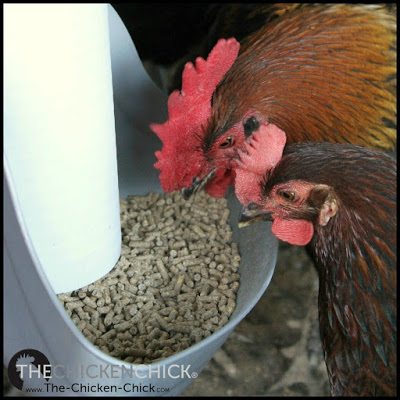 This viewpoint on research-proven chicken feeds is clearly reiterated by several industry resources:
"Most diets used to feed poultry are nutritionally "complete" and commercially mixed, ie, prepared by feed manufacturing companies, most of which employ trained nutritionists. The formulation and mixing of poultry feeds requires knowledge and experience in purchasing ingredients, experimental testing of formulas, laboratory control of ingredient quality, and computer applications. Improper mixing can result in vitamin and mineral deficiencies, lack of protection against disease, or drug toxicity." The Merck Veterinary Manual
"An excess of some minerals can interfere with the absorption of other minerals, and an excess of some vitamins can interact detrimentally with minerals or can themselves be toxic. Instead of making chickens healthier, the unnecessary use of packaged vitamin and mineral supplements can have the opposite of the desired effect." "Never use a supplement, including electrolytes, for more than 10 days (unless advised by a veterinarian)." Gail Damerow, The Chicken Health Handbook, 2ed
"You need a solid knowledge of poultry nutrition to balance a ration properly and avoid nutritional deficiencies. Feeding unconventional feed ingredients does carry some risk because unexpected problems may happen, such as digestive upset, toxicities, or spoilage." Dr. Julie Gauthier, DVM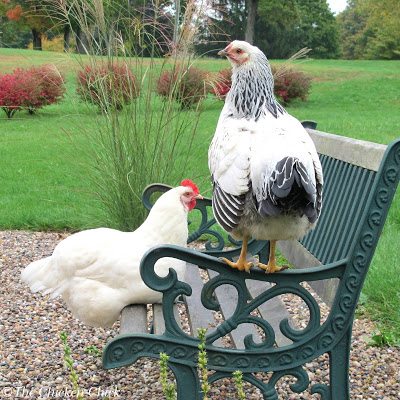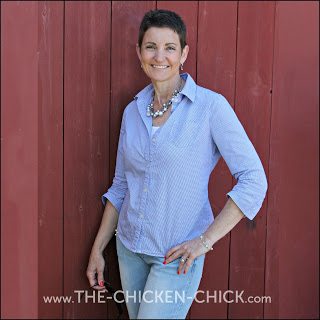 The take-home message: Adding unnecessary supplements to a quality commercial chicken feed can endanger the health and lives of backyard chickens. I feed an unaltered complete layer feed to my flock. When nutritionists have spent decades selecting the proper nutrients for my chickens, there is no need for me to guess which ingredients to include.

Sources & further reading:
Storey's Guide to Raising Chickens, Damerow, Gail
Dr.Julie Gauthier, DVM, MPH, Dipl.ACVPM
The Chicken Health Handbook
The Chicken Health Handbook, 2ed
Overview of Necrotic Enteritis in Poultry, Merck Veterinary Manual, last full review/revision February 2014 by Billy M. Hargis, DVM, PhD
7 Signs of Nutritional Deficiencies in Chickens and Turkeys, Nutrient Requirements of Poultry, 9th Revised Edition, 1994
Feeding and Management Practices in Poultry, The Merck Veterinary Manual, last full review/revision May 2015 by Bruce Stewart-Brown, DVM, DACPV
Avian Digestive System, Dr. Jacquie Jacob, University of Kentucky
To learn more about chicken nutrition and the research behind each bag of feed, visit Purina at this link.