---
CONGRATULATIONS TO THE WINNERS OF THIS MONTH'S GIVEAWAYS!
Prize(s) must be claimed within 14 calendar days of the end of the giveaway by emailing shipping address to: EggsecutiveAssistant (at) The-Chicken-Chick.com
MAY 8: LISA RASHLEY, a 100 foot PoultryNet® Plus portable electric fence, courtesy of Premier 1 Supplies!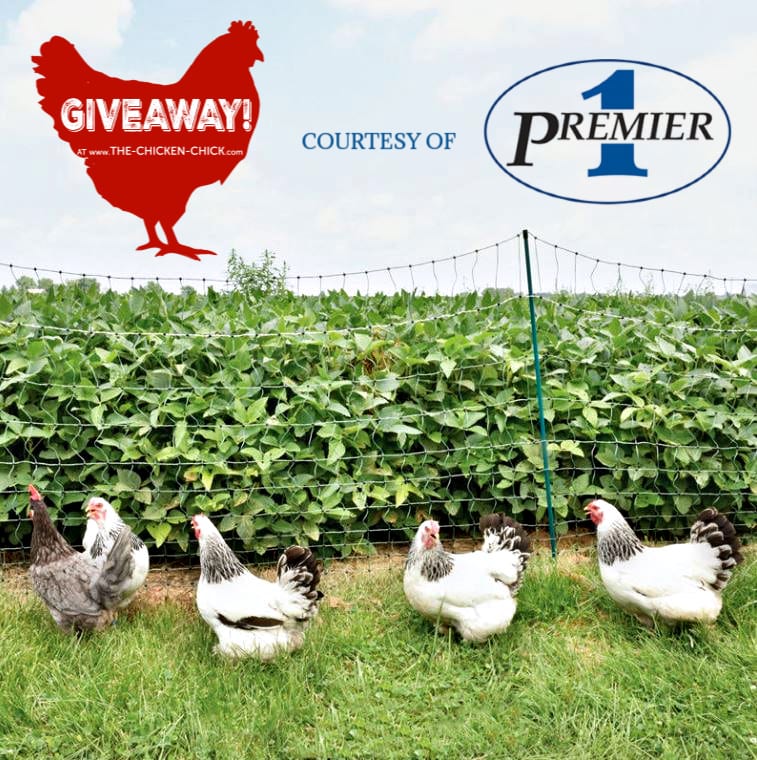 APRIL 21: KARA BLANKENSHIP, a chicken Prize Package, courtesy of Murray McMurray Hatchery!
APRIL 14: JENI FENSTERMAN, a Grandpa's Feeder!
APRIL 7: WENDY POROSTOVSKY, a Brinsea EcoGlow20 Brooder!
MARCH 31: VIRGINIA MCCONNELL, a signed copy of The Chicken Chick's Guide to Backyard Chickens!
MARCH 24: MICHELLE SCHMUS, a fun Henbag Handbag!
MARCH 10: GEORGE UTT, a Brinsea Maxi II Advanced Incubator!
MARCH 3: DYAN RAUTON, a Grandpa's Feeder

FEBRUARY 24: PATRICIA WHEATCRAFT, a Vetericyn Poultry Plus Prize Package
FEBRUARY 17: AMY MCCOY, a Brinsea EcoGlow 20 Brooder!
FEBRUARY 10: PEGGY WOODS,
a Cozy Coop Flat Panel Radiant Heater!
FEBRUARY 3, MAEGAN BEAUDET, a Grandpa's Feeder!
JANUARY 27, LUIS MORALES, a Brinsea EcoGlow 20 Brooder
JANUARY 20: KAREN HAUCK,
a 1lb bag of Spruce The Coop® Herbal Fusion Nest Box Herbs
JANUARY 13: KIM TARWATER,
a Heated Poultry Nipple Waterer from Premier 1 Supplies
JANUARY 6: KAYE AMBURN & GRACE MCCAIN
a coupon for one FREE BAG of Purina® Layer Feed of their choice!
DECEMBER 23: ELAINE PARKER, a Henbag!
DECEMBER 16: SHARON HINSON,
a Vetericyn Poultry Plus Prize Package
DECEMBER 9: ANITA MANLEY,
a 1lb bag of The Chicken Chick's Spruce the Coop Herbal Fusion
Nest Box Herbs
DECEMBER 2: JODI FARM, a Brinsea EcoGlow20 Brooder
---

Congratulations to all the following winners in The Chicken Chick's Photo Contest on Facebook and a HUGE thank you to all of my generous sponsors for their support! **Prizes will be shipped to the addresses provided in the contest entry forms.**