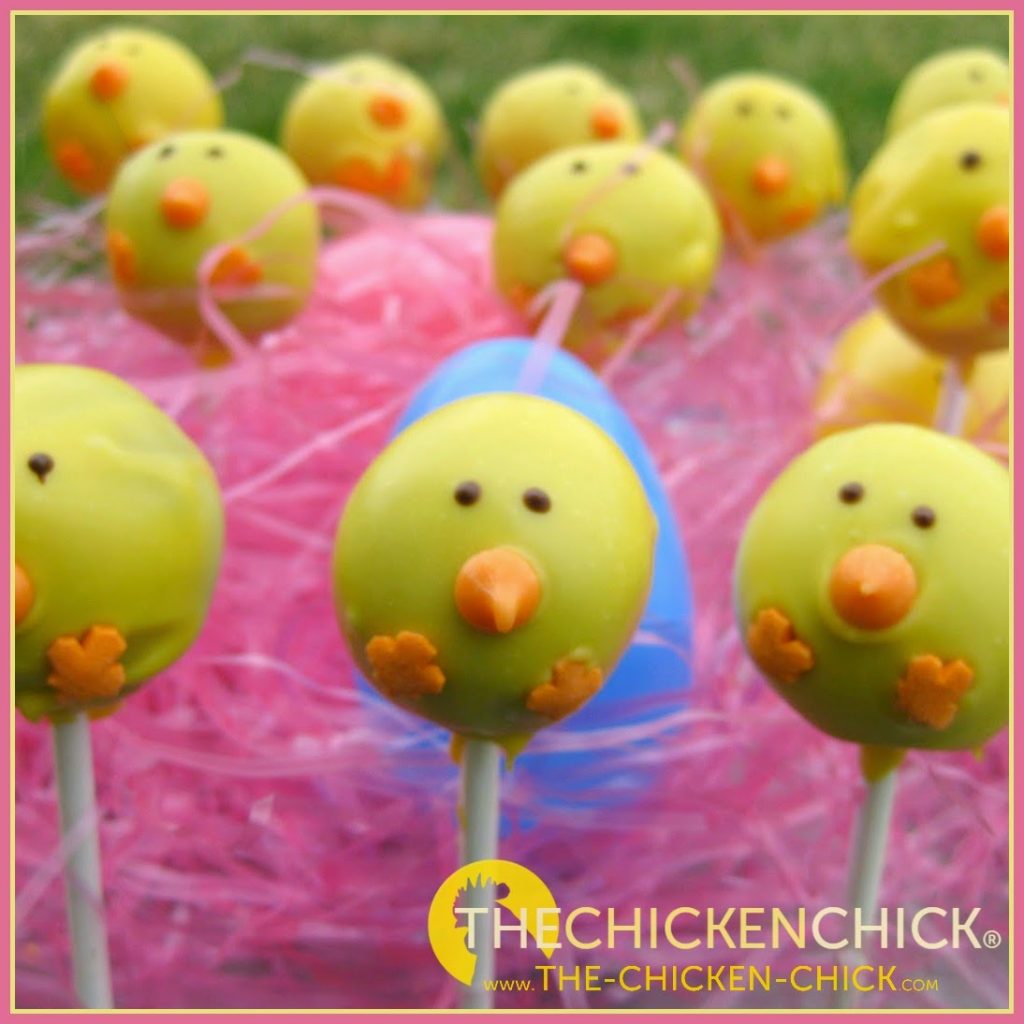 Chick cake pops are an Easter favorite at my house. They're cute, delicious and a big hit with kids of all ages! The recipe and instructions I used originally came from Bakerella, which called for boxed cake and cream cheese frosting and the result is a lot like a truffle. However, I prefer the Oreo cookie recipe below from My Little Cupcake Pop as I find it easier to work with than the cake version. Select either recipe and let the games begin!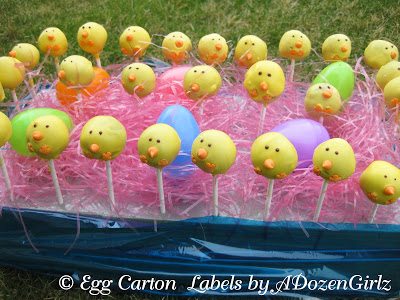 NO-BAKE OREO COOKIE CAKE BALLS RECIPE
8 ounces softened cream cheese
In food processor, grind up cookies then transfer to a bowl.
Add cream cheese and mix BY HAND until it's the consistency of PlayDoh.
Roll into 1″ balls and refrigerate 10 minutes before assembly.
1 box cake mix (bake as directed on box for 9 x 13 cake)
After the cake has cooled completely, crumble into large bowl or in food processor.
Mix thoroughly with 1/2 can of frosting.
Roll mixture into quarter size balls and place on cookie sheet. (Should yield 45-50)
Chill for several hours before assembly.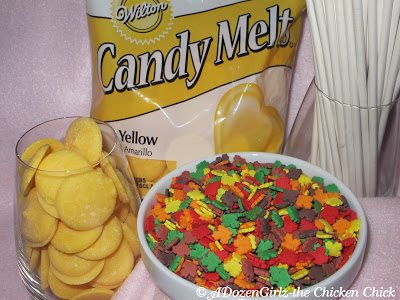 CHICK POP ASSEMBLY
leaf shaped candy decorations
chocolate chips
In a small, deep bowl, microwave, melt yellow Wilton candy melts 30 seconds at a time. Remove, stir and repeat in 30 second increments until liquid.
Dip one end of a lollipop stick into melted candy and insert 1/2 way into cake ball.
Poke cake pop stick into a styrofoam block to dry.
Make Beaks
Melt orange candy melts as described above. When liquid, pour a small amount into a cake decorating bag fitted with a #5 tip and pipe out beaks onto parchment paper or waxed paper. (In lieu of a decorating bag, use a ziplock bag, snipping off a small hole in one corner of the bag). Candy hardens quickly.
Dab a tiny amount of candy melt onto the back of the beak and affix to cake pop.
Apply the feet
Dab a tiny amount of yellow candy melt onto the back of leaf-shaped candy decorations and affix to cake pop.
Make Eyes
Melt a few chocolate chips as described above. Dip the end of a lollipop stick into the chocolate and dab dots onto cake pop.
There are many variations on the cake pop, these are a few I've made.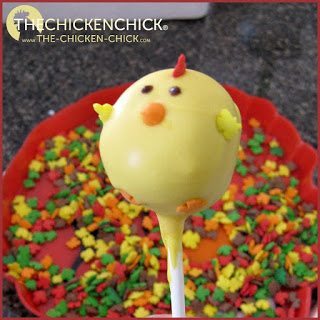 Rooster Cake Pop! (see beaks ready for action on the cookie tray)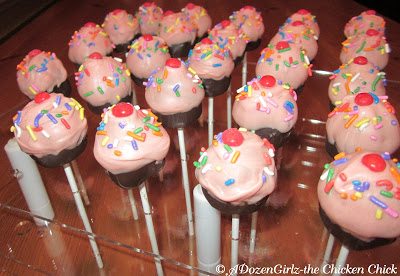 If you really get into making cake pops, these
acrylic pop stands
are terrific!