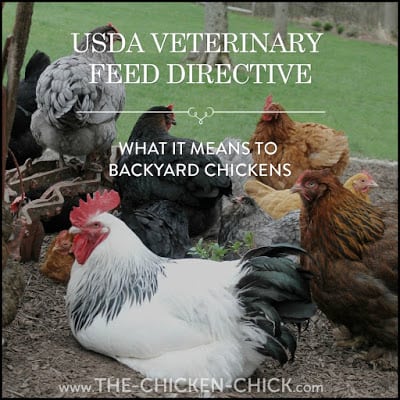 Antibiotics Use Rules Change: What the USDA Veterinary Feed Directive Means for Backyard Chickens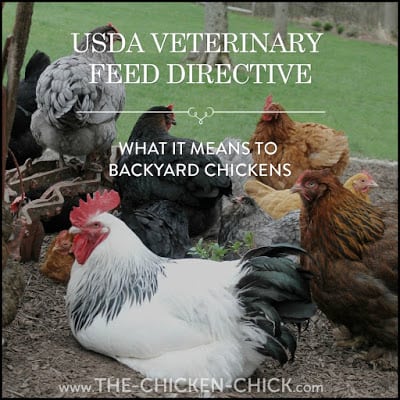 Antibiotics Use Rules Change: What the USDA Veterinary Feed Directive Means for Backyard Chickens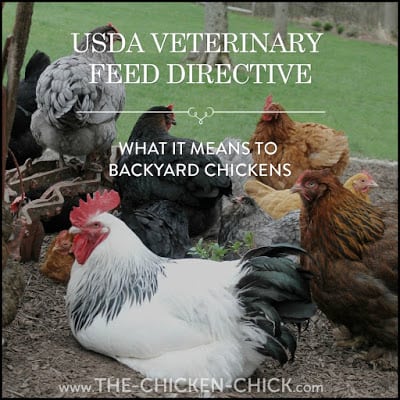 As of January 1, 2017, backyard chicken keepers can no longer purchase water-soluble antibiotics for their flocks without a prescription due to the US Food and Drug Administration's Veterinary Feed Directive (VFD) #213. What on earth is this all about and exactly what does it mean to backyard chickens? A little historical context about how antibiotics have been used in the commercial poultry industry is necessary to understanding how the VFD came about and what it means for small flocks.

MEAT BIRDS VS LAYING HENS IN
THE COMMERCIAL POULTRY INDUSTRY
Meat Birds
The goal of commercial broiler chicken producers is to grow big chickens quickly and inexpensively to make as optimize profits. The more efficiently and faster meat birds turn feed into muscle and reach their goal weights, the more profitable they are.
Broilers live approximately 30-64 days, during which time they are susceptible to bacterial infections from living on litter shared by many previous flocks in crowded, stressful conditions. Sick chickens don't eat, don't grow and aren't profitable, so to keep them healthy and eating, many commercial producers over the past 60 years have administered low levels of antibiotics to broilers during the first several weeks of growth to prevent deadly gastrointestinal bacterial infections.
In the last 15-20 years, public outcry over the widespread use of antibiotics in the broiler industry has pressured producers into discontinuing the use of antibiotics to meet consumer demands for antibiotic-free meat, which is why we suddenly hear the words "antibiotic-free" in advertising. To be clear, "antibiotic-free" does NOT mean that commercial meat producers don't treat sick broilers with antibiotics- they do.
Laying Hens (egg-producing hens)
Commercial laying hens are not treated with antibiotics preventatively- they are only treated with antibiotics when they have bacterial infections. It would not be profitable for egg producers to give hens antibiotics prophylactically. There is a withdrawal time associated with water soluble medications, and eggs would need to be thrown away if birds were medicated with antibiotics. A small commercial layer complex of 100,000 birds can produce an estimated 75,000- 96,000 eggs daily, if eggs had to be discarded for 20 days, that would result in significant financial losses from discarding 1.5-1.92 million eggs in addition to the costs associated with their disposal. (source, Dr. Annika McKillop, DVM, MSpVP, DACPV)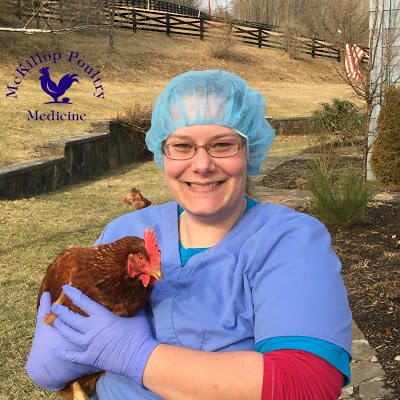 Backyard Chickens
Antibiotics have never been used preventatively in backyard laying flocks. A great deal of confusion in the backyard chicken community has been created regarding antibiotics, fueled by the misleading use of buzzwords such as "natural chicken keeping" and "antibiotic-free." All backyard chickens are naturally raised antibiotic-free! Chicken keepers should not be shamed into avoiding antibiotic use when determined medically necessary by a veterinarian for fear of being judged by some contrived standard of what is "natural."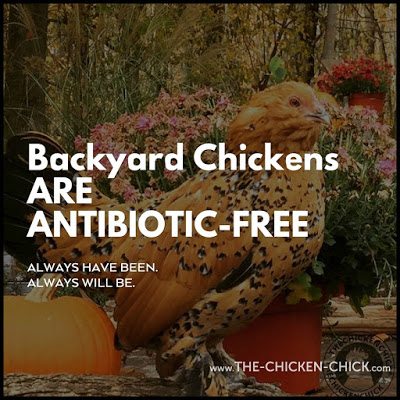 ABOUT THE VFD
The purpose of the Veterinary Feed Directive is to prevent antibacterial resistance in people by restricting the use of "medically important" antibiotics in food-producing animals. As of January 1, 2017, veterinarians became responsible for ensuring that certain antimicrobials are only accessible to sick patients under their care.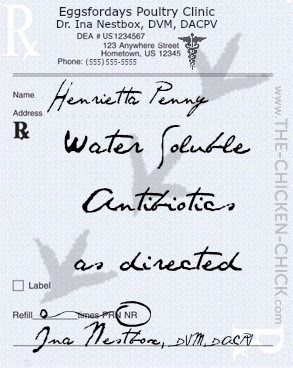 Which medications are "medically important?"
The medications affected by the VFD are primarily water-soluble antibiotics, which, as of January 1, 2017 will no longer be available for purchase without a veterinarian's prescription. Also included in the VFD restriction is the antibiotic hygromycin B, which is found in dewormer medications Strike III and Rooster Booster Multi-wormer, for example.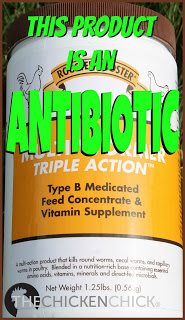 Amprolium, (brand name Corid) the medication in chick starter feed most backyard chicken keepers are familiar with, is not an antibiotic and is not affected by the VFD.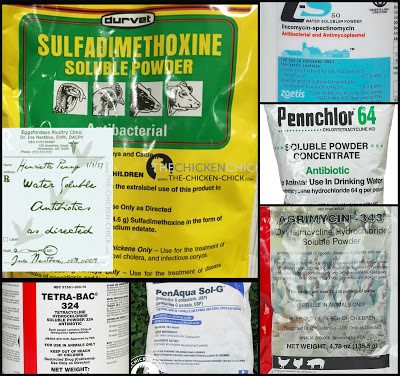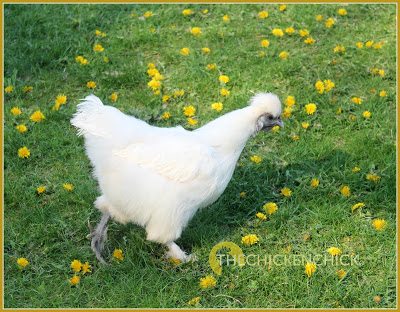 DO NOT MEDICATE BACKYARD CHICKENS RANDOMLY
Sick chickens should not be treated with any medication without knowing the cause of the symptoms; randomly medicating a sick bird can make their condition worse, create new problems and cloud the ability to determine the real problem. While being required to obtain a veterinarian's care and permission to treat backyard chickens with water soluble antibiotics may be inconvenient to some, I think it's a positive development for pet chickens who will no longer risk being unnecessarily medicated. The hope is that more veterinarians will seek the training necessary to care for chickens, but until that time, keep your birds healthy by KEEPING IT SIMPLE: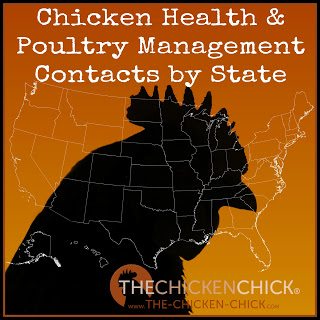 For sick chickens, take advantage of the state and federal resources available to the poultry community that are listed by state AT THIS LINK ; included in the list are: each state veterinarian, each state's Department of Agricultural Extension Service poultry agent and each state's veterinary diagnostic laboratory.