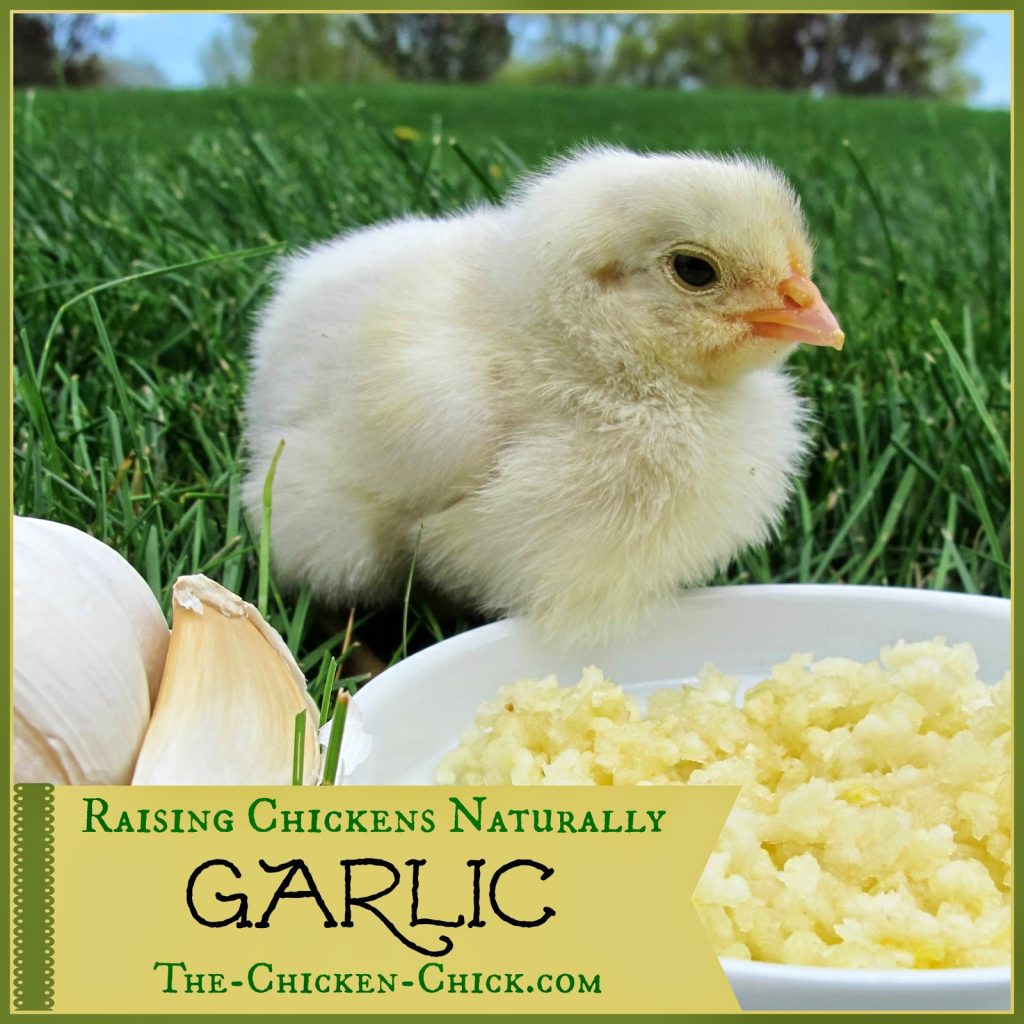 Let's explore the use of garlic in chickens with poultry herbalist Susan Burek. There is much information being parroted around the Internet and in various print publications exploiting the terms "natural chicken keeping" and "holistic remedies" for chickens, however, very rarely is there an individual with the credentials and experience to explain the proper implementation and proven benefits of various natural products.
So, when I came to be acquainted with Susan Burek and learned that she pioneered the concept of natural chicken-keeping, I asked her to clear up some of the misinformation one topic at a time. Susan indicates that garlic should not be fed to chicks or chickens routinely or indiscriminately. Giving chickens garlic is only safe when used properly. When used improperly, in excess, there is a danger of interfering with good gut bacteria and/or causing Heinz anemia, which is a serious blood disorder.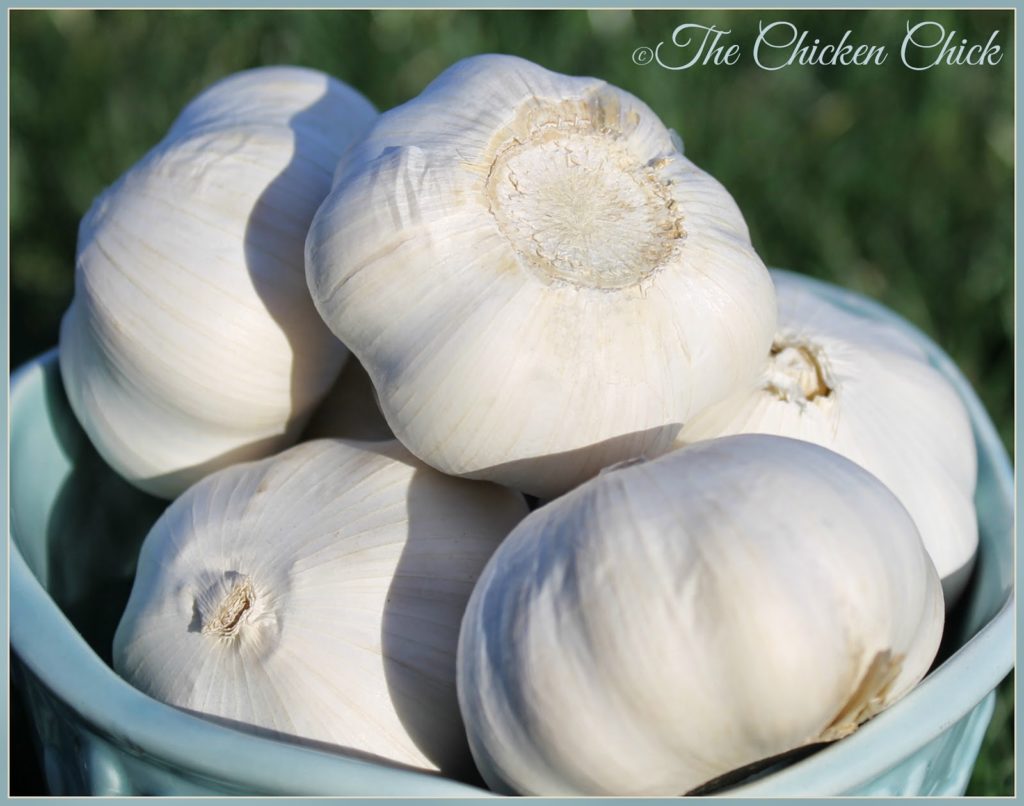 The following is Susan's voice...
Throughout history, garlic has been treasured as a food and as a medicine. After many years as an herbalist I developed a theory that garlic might be effective at addressing some of the most common poultry afflictions such as internal parasites and respiratory ailments.  Garlic's antimicrobial attributes have the ability to kill bacteria, viruses, fungi, mold and parasites, many of which are specific to poultry, the most common bacteria being Aspergillus, Candida,  Salmonella, and Staphylococcus.  (1) Garlic's antimicrobial elements can work on these pathogens inside the body and on the skin. Internally, garlic targets more of the bad bacteria than the good, giving the good bacteria a better chance to regain balance upon recovery.  (2)  Another important function of garlic is as an immune system stimulator.  (3)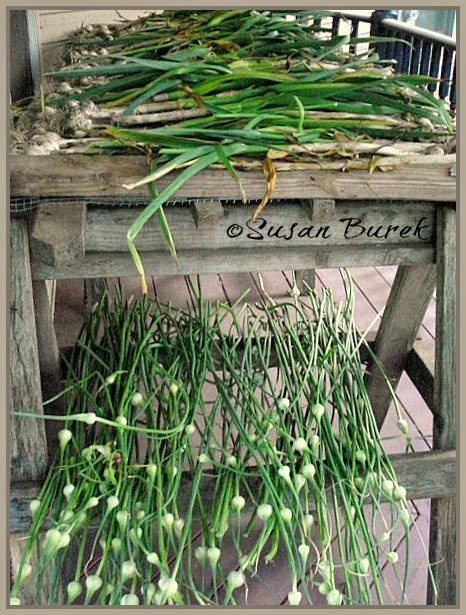 In the early 19th century when medical care began to shift from homeopathic therapies to what would ultimately become today's mainstream medical care, herbal practice and herbalism became nearly obsolete. With pharmaceutical advances and government regulation of the practice of medicine much of the herbal folklore pertaining to humans was lost and herbal folklore as to animal care vanished completely. As a result, I had to start from scratch in my craft as a poultry herbalist.
Using my extensive herbal training and poultry experience I developed protocols over a period of many years for poultry preventative care and treatments of various ailments such as internal parasites, respiratory illnesses, wounds, bumblefoot, and crop problems. The following are the five applications of garlic that I have determined are are effective at addressing common health problems in poultry.
FRESH, RAW, CRUSHED GARLIC
What it Does
Freshly crushed garlic releases the compound allicin, which is effective against bacteria, virus, molds, yeasts and other organisms.(4)
How to use it
When garlic is crushed, it releases allicin, which is a powerful antimicrobial.(4) Crushed, raw garlic is best for use as an antimicrobial agent against bacteria, virus, and fungus and mold internally and externally. Allicin is very unstable , with most antibacterial activity disappearing after 24 hours (5) However, the allicin breakdown produces entirely new sulfide compounds that we recognize by their distinctive stinky smell. I teach chicks to eat garlic as soon as I introduce them to solid food. I add small amounts on top of their chick food and they readily eat it along with the other solid food. I supply one clove at at a time, about 2-3 times a week for the first 3 weeks. You can offer in a separate bowl once you are assured they have learned to eat it. Studies suggest garlic is an immune-system builder in humans. (3)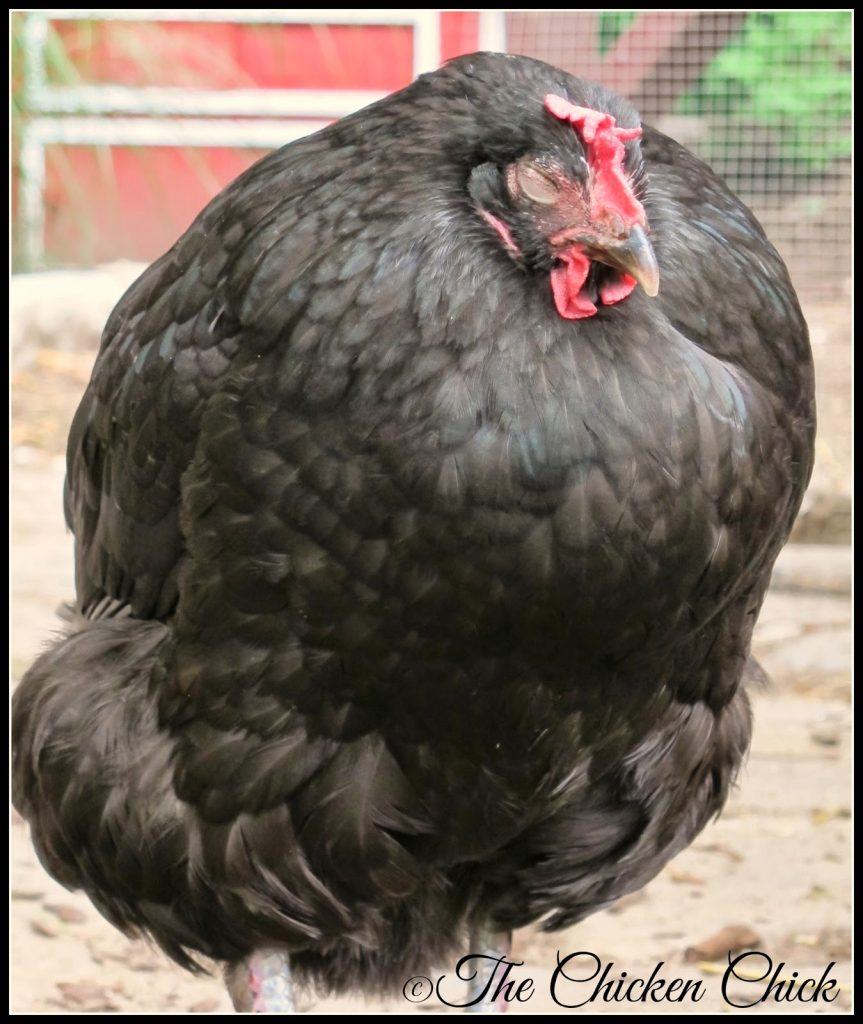 In adult birds, garlic can be offered raw whenever they appear "off". Any changes in eating and drinking, ruffled feathers, etc. Even if the behavior seems slight, that is the time to give a little boost even they might shake off themselves with no help. My experience has shown me an application of 1 clove per quart of water (4 per gallon, etc) is a good standard dose to use. As a rule of thumb, I use any herb until general health is achieved, or until symptoms are gone. Crush the cloves and put inside the waterer or crush and feed raw in a separate bowl free choice.
For a topical use for skin affected by parasites, particularly mites., a juice can be made. Blend 1:10 ratio garlic to water blended in a juicer or high speed blender. Let the juice sit for 3 days before application to reduce skin irritation. Apply until the skin is free of parasites and looks healthy.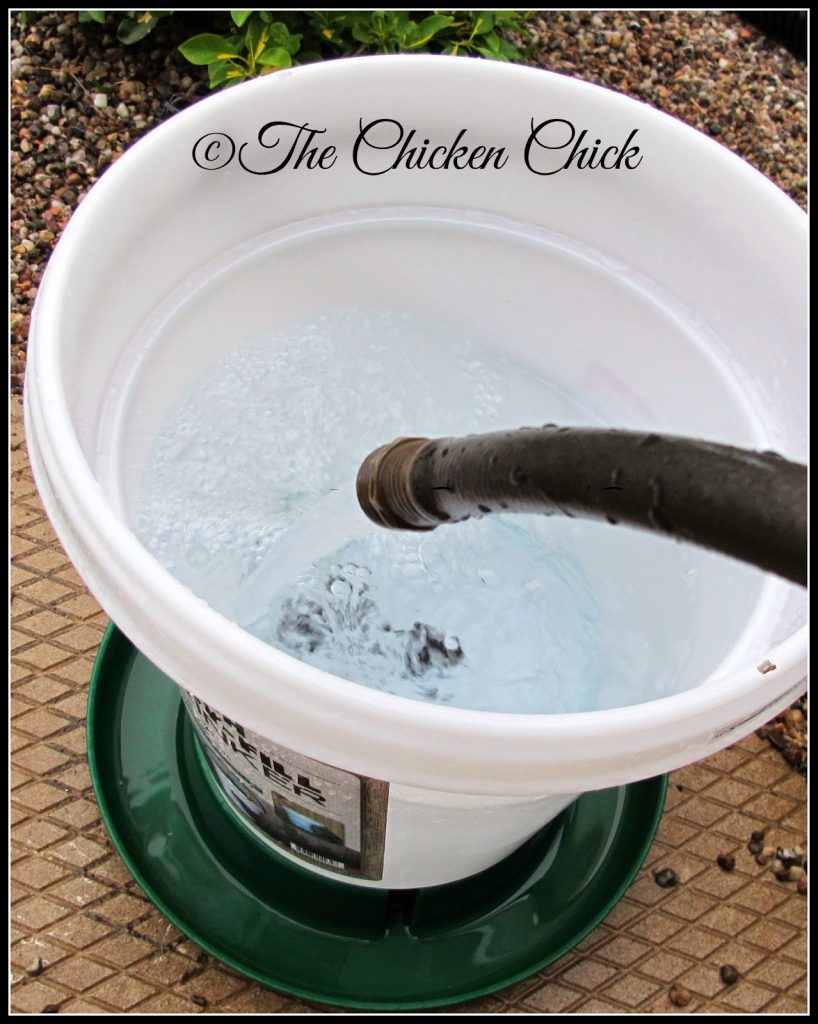 FRESH, CRUSHED, RAW in DRINKING WATER
What it Does
Fresh, crushed raw garlic in drinking water is ideally used for chicks as a parasite preventative and an immune system builder. During the
first 24 hours of a garlic application in the drinking water, this will offer the same benefits as fresh crushed garlic described above. After 24 hours the garlic will possess sulfide compounds that support the immune system and offer anti-parasitic properties for both protozoa (6) and worms. (7)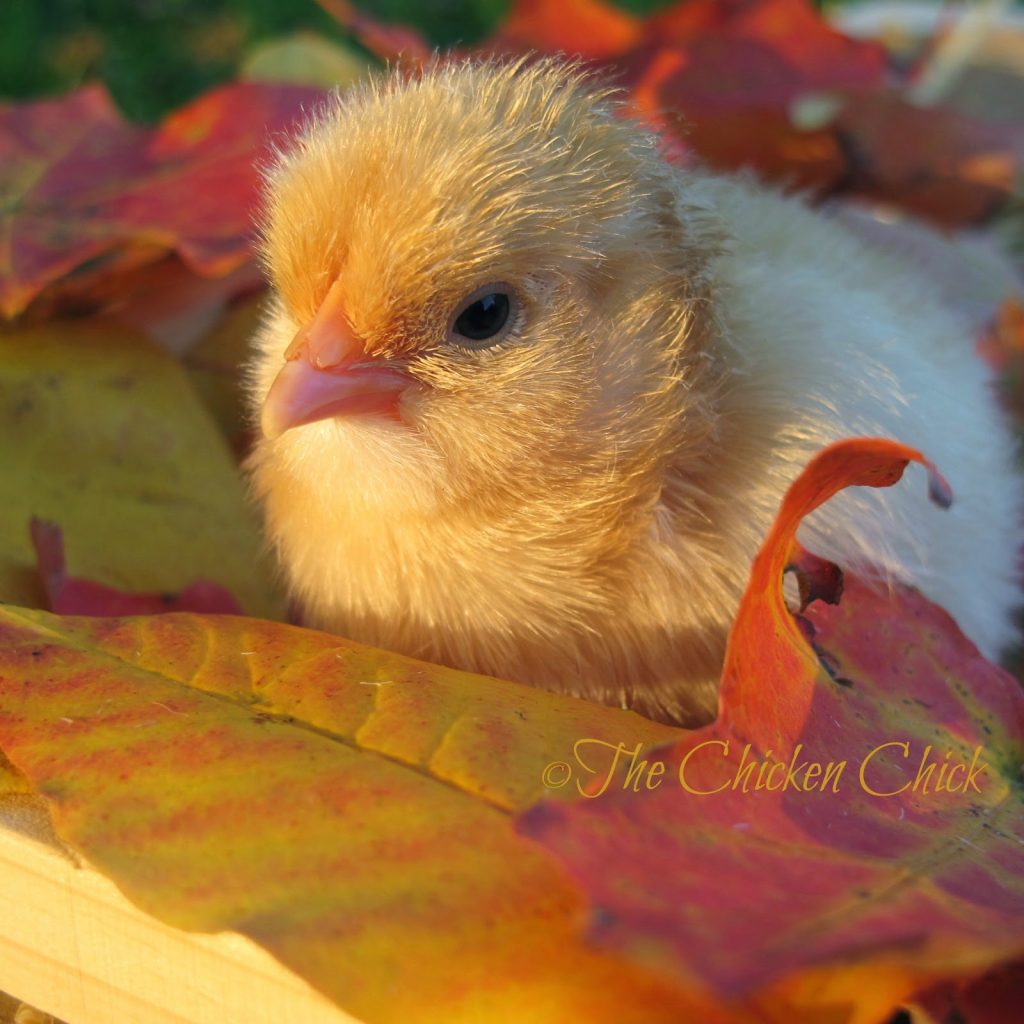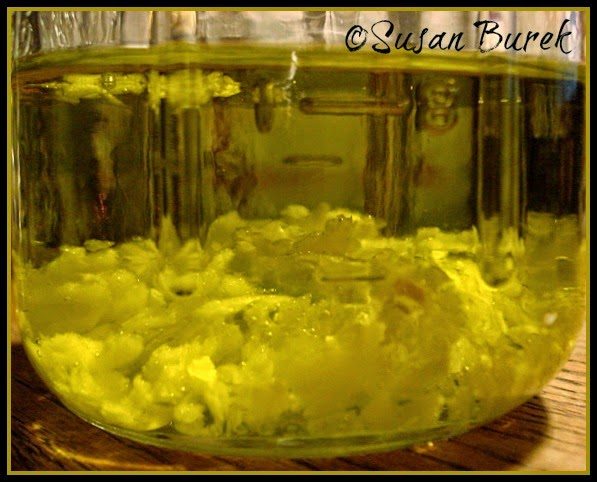 How to use it
This form will not offer the same strong antimicrobial properties as crushed, fresh raw garlic, but the decoction will offer secondary compounds of sulfides and other related compounds. The sulfides bolster the immune system, by stimulating the T-cells. It supports the liver for detoxifying and helps the blood to do its work by enhancing the liver's synthetic functions and it "thins" the blood. (In this form, garlic also offers anti-parasitic properties that research shows is due to the secondary sulfides compounds created (diallyl trisulfide). (8) I have determined that in order for garlic to have this antiparasitic effect, it must be added to the water the ratio of 1 clove per quart of water; 4 cloves per gallon, etc., until your chicken is symptom free, regaining normal eating and activity levels. You should get a fecal float done after treatment at your vet's office to confirm. When anything herbal is added to the drinking water, the birds must be monitored to ensure that they are amenable to drinking the water. Birds trained from a young age to ingest raw garlic more readily accept the flavor of garlic water than those that are not. Chickens unaccustomed to the flavor of garlic should be acclimated to it in small doses in the water, increasing over time. Reduce the dosage by half until your flock will accept the taste, then start increasing the dosage as you refill or change your waterer.

FRESH, RAW, CRUSHED GARLIC IN OIL
What it does
Garlic combined with oil will offer full strength value of fresh crushed garlic up to 36 hours after mixing, and after that with much less value. Different secondary compounds created (different from water) because it will draw different compound. The combination with oil will create the compounds of ajoenes and dithiins instead of sulfides (9). These particular compounds have antiparasitic properties for protozoan parasites.
How to use it
Soaking crushed garlic in olive oil, peanut oil or sunflower oil preserves it in a way that water cannot. Garlic oil not only offers the values of freshly crushed garlic, but in a more concentrated way because of the extraction into the oil.(10) This preparation may be effective to support treatment for poultry protozoan disease including coccidiosis and blackhead. I use the basic ratio 1:4 garlic to oil and soak for 3-36 hours.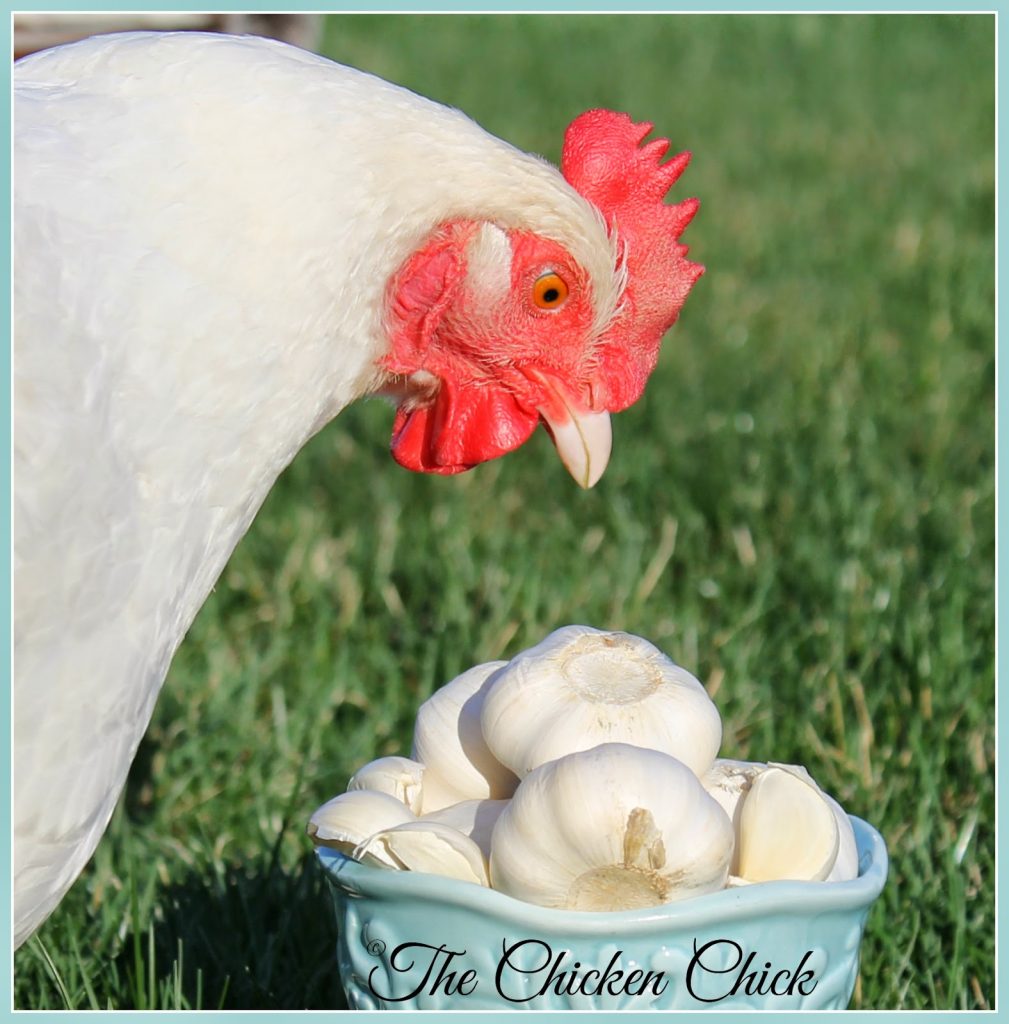 FRESH, RAW, CRUSHED GARLIC HONEY SYRUP
What it does
Garlic honey syrup will offer the same benefits as garlic oil.
How to use it
Garlic infused into honey is an excellent way to treat respiratory infections in poultry. Crush several bulbs of garlic in a clean jar, cover with raw honey and allow it to infuse for 24 hours. Honey itself possesses antimicrobial and antibacterial properties and the garlic will add the full properties of crushed, fresh and raw garlic if used within 36 hours. Make small batches for longer term use. This form is used for moderate respiratory issues and infections. I recommend an application of three – six drop dosage every two hours during the day as a general, starting guideline. Your assessment of the severity of the illness and stress of handling your bird, you should use common sense in application like you would applying any treatment. As your chicken's condition improves, you can lessen the frequency by your determination of the improvement and need. In my experience I see results of improvement within 2-3 days. Treatment should continue until your chicken is symptom free. If you see no improvement, or with more severe infections, you may want to seek veterinary care to get a more precise diagnosis and treatment.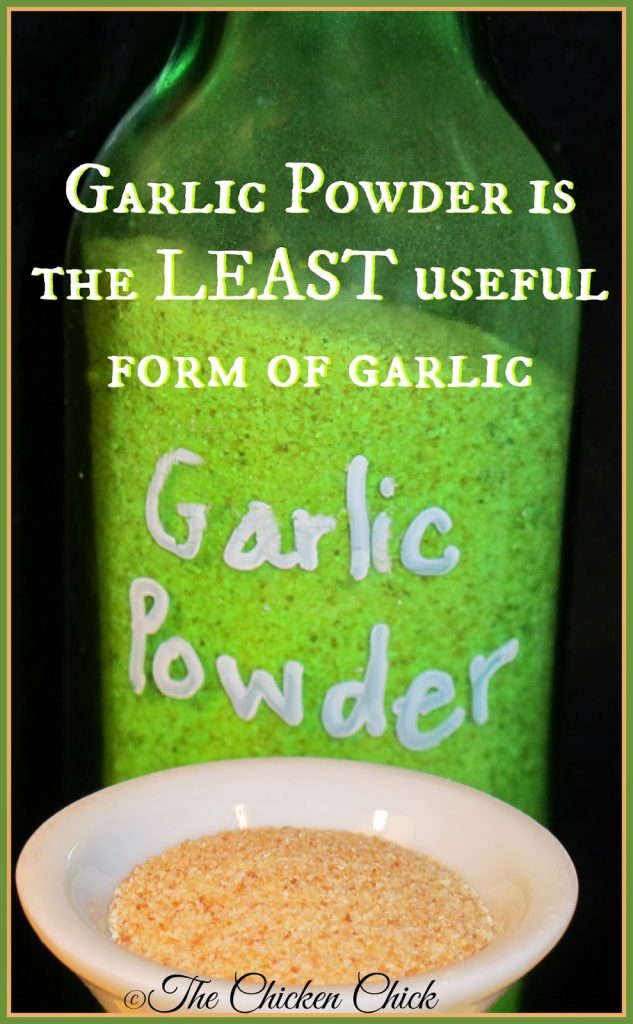 DRIED GARLIC POWDER
What it offers
By nature of preparation (due to heat processing), garlic powder will be weaker than crushed garlic and commercial processing makes the end product of questionable value. Dried garlic will eventually re-introduce allicin to the intestine, but the amount is unknown and likely insufficient for the antimicrobial effects obtained from other forms. This form can offer some antimicrobial properties.(11) Dried garlic powder is my last choice for garlic application.
How to use it
Dried garlic powder will only be potentially useful if homemade. To make, peel and thinly slice garlic, lay on a parchment lined baking sheet and bake at lowest oven setting for 1-2 hours until the garlic is dried. Cool, then store in a covered jar. Grind the garlic when ready to use. A dehydrator will also work.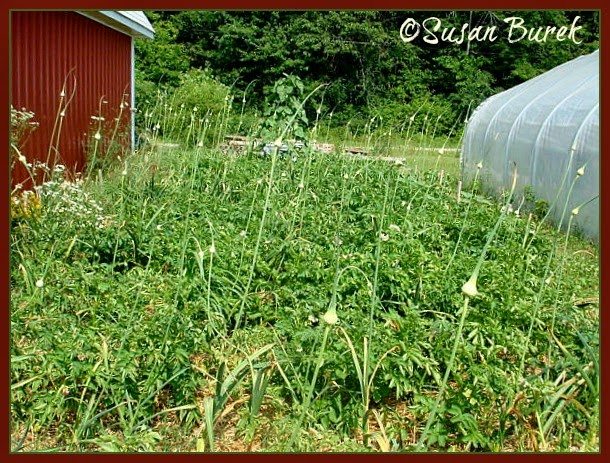 GROW YOUR OWN
Garlic is very easy to grow and doesn't require much room. I plant garlic in the fall, with each clove 4 inches deep approximately 6 inches apart and heavily mulched. I harvest in late summer when the green stalks begin to dry up. Garlic can be cured on a drying rack or hung to dry for two weeks in a ventilated, shaded place. The objective is to dry the outer layers so the bulb inside stays moist and viable for up to a year.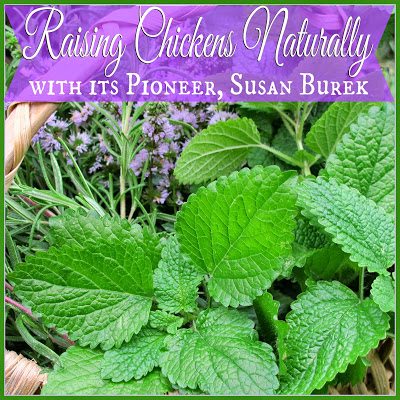 SUSAN'S BUREK'S POULTRY/HERBAL EXPERIENCE
28 years herbal study and training
17 years developing poultry-specific herbal protocols
17 years raising and breeding chickens, guinea fowl, peafowl and ducks
Poultry magazine contributor on healthcare topics since 2008
Blue Moon forum advising herbalist 2008-2011

Guinea Fowl Breeders Association

Advising Herbalist 2006-2008
Guinea Fowl Breeders Association Board Member 2003-2008
Guinea Fowl Breeders Association Member 2001-2008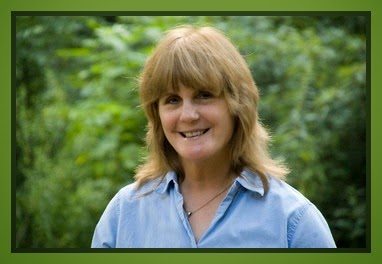 Join Susan on Facebook at Raising Chickens Naturally
GLOSSARY
allopathic
Allopathic medicine is an expression commonly used by homeopaths and proponents of other forms of alternative medicine to refer to mainstream medical use of pharmacologically active agents or physical interventions to treat or suppress symptoms or pathophysiologic processes of diseases or conditions.[1] The expression was coined in 1810 by the creator of homeopathy, Samuel Hahnemann (1755–1843).[2] In such circles, the expression "allopathic medicine" is still used to refer to "the broad category of medical practice that is sometimes called Western medicine, biomedicine, evidence-based medicine, or modern medicine. http://en.wikipedia.org/wiki/Allopathic_medicine
decoction
"Decoction" is a method of extraction by boiling of dissolved chemicals from herbal or
plant material, which may include stems, roots, bark and rhizomes. Decoction involves first mashing and then boiling in water to extract oils, volatile organic compounds and other chemical substances.
Citations & further reading
(1)
http://jac.oxfordjournals.org/content/53/5/832.full
http://aac.asm.org/content/49/1/473
http://ispub.com/IJMB/8/2/3874
http://www.ncbi.nlm.nih.gov/pmc/articles/PMC3217283/
(2)
http://www.gaiaresearch.co.za/garlic.html
(3)
http://www.ncbi.nlm.nih.gov/pubmed/11238818
http://jn.nutrition.org/content/131/3/1067S.long
(4)
http://www.bashaar.org.il/files/6130.pdf
(5)
KIM, MYUNG HEE, YOUNG DONG KANG, and KYU HANG KYUNG. " Effect of Storage Temperature and pH on Stability of Antibacterial Effectiveness of Garlic Extract against Escherichia coli B34"<
(6)
http://www.ncbi.nlm.nih.gov/pubmed/8024350
(7)
http://www.iinr.org/overview/5007.html
(8)
www.ncbi.nlm.nih.gov/pubmed/8024350
(9)
http://www.ncbi.nlm.nih.gov/pubmed/16854181
(10)
http://lpi.oregonstate.edu/infocenter/phytochemicals/garlic/
(11)
http://www.allicinfacts.com/garlic_supplement/