In recent years, diatomaceous earth, (DE) has become a commonly used insescticide with backyard chicken keepers. Because DE is a naturally-occurring mineral, it is mistakenly believed by many to be an environmentally friendly, safe product when used in, on and around chickens. As a practicing herbalist for many decades, I strive to maintain a holistic model on my farm that encourages the native herbs, trees and plants to thrive alongside wildlife and insects- a model that ultimately manages itself when done correctly. After much research, I have concluded that DE is not eco-friendly when used as a poultry pesticide and does not fit into a holistic, natural chicken keeping model.

Early in my poultry keeping experiences I learned that conventional poultry care methods from large, commercial operations housing enormous numbers of birds in confined spaces were being passed down to small, non-commercial farms like mine where poultry is cared for very differently. Intensive poultry farming operations created the need for medications and other products, both naturally-occurring and synthetic, to maintain the birds' health compromised by sub-optimal living conditions. In addition to synthetic chemical products, commercial poultry farms employ diatomaceous earth in a variety of ways, in particular, as an insecticide and in animal feed.

WHAT IS DE?
DE is a fossilized mineral that is mined from the earth. DE was originally used as an industrial abrasive; in the past 55 years, DE has been used as an insecticide. Under microscopic examination, diatomaceous earth looks like broken glass with razor-sharp edges.
HOW DOES DE WORK AS AN INSECTICIDE?
DE works by cutting into the waxy exoskeleton of an insect, absorbing the cuticle, causing death by dehydration. Food grade DE that is used with poultry is made primarily of naturally-occurring, amorphous silicon dioxide that contains low levels of crystalline silicon dioxide, which is even sharper than its amorphous counterpart.

THE PROBLEMS WITH DIATOMACEOUS EARTH:
DE IS RAZOR SHARP
"Diatomaceous earth is very hard and very sharp. Some may think, erroneously, that once it is ingested and in the gut, it loses that. On the hardness scale a diamond is a 10 and DE is a 7. The sharpness is abrasive and can cause irritation and inflammation to the gut."
If one believes DE is cutting up worms in the gut, as some claim, one must also believe that DE is cutting up the digestive tract, delicate eye tissues and the respiratory system of a chicken when airborne. Chickens have enough challenges to meet- they do not need a physical insult to their skin, lungs, intestines or mucous membranes inflicted by microscopic shards of diatomaceous earth.

DE KILLS BENEFICIAL INSECTS
DE is an equal-opportunity killer of both unwelcome insects and environmentally essential insects, namely, bees. The use of DE in the chicken yard to exterminate certain insects also kills beneficial insects, throwing the ecosystem out of balance.

DE will kill any bug that can crawl over it such as maggots, grubs and grasshoppers, all of which are excellent sources of nutrition for backyard chickens. Even more problematic than obliterating valuable, protein rich food sources is the indiscriminate destruction of pollinators. Why should we care about killing bees? Every three bites of food in the world is dependent on pollinators, both wild and domestic. If bees are destroyed, the worldwide food supply is compromised. The colony collapse of honeybees is attributable in part to the worldwide use of pesticides, which includes diatomaceous earth. The Xerces Society for Invertebrate Conservation has listed diatomaceous earth as highly toxic to honey bees.

DE IS HARVESTED BY STRIP-MINING OR OPEN-PIT MINING
DE is a fossilized mineral that is mined from the earth, not from the ocean as some claim. DE is incredibly destructive to environments where is is mined. Strip mining erodes the soil, reduces soil fertility, pollutes water, drains underground reservoirs, alters the landscape, destroys wildlife and the dust from the mining process itself can cause air pollution.
DIATOMACEOUS EARTH HAS NO TRACK RECORD
Most information about DE comes from commercial suppliers with a financial interest in selling it and personal accounts from consumers over a very short period of time. Perhaps if DE had the thousands of years of applied field testing and results that herbalism does, it might be cause for less skepticism, however, it does not and its use is extremely limited, reaching back no more than three generations of chicken keepers.
NO CONCLUSIVE EVIDENCE OF DE's ABILITY TO CONTROL INTERNAL PARASITES IN POULTRY
DE is often promoted as having the ability to eradicate internal parasite infestations in chickens with no scientific research to support that assertion.
NO EVIDENCE SUPPORTING the Claim that DE IMPROVES EGG PRODUCTION
It has been claimed that feeding DE to laying hens can increase feed efficiency and egg production, however, there have been no controlled studies conclusively proving that assertion.
SAFE, NATURAL PEST CONTROL ALTERNATIVES TO DE
There are many safe, natural pest control alternatives to DE that are not harmful to chickens or destructive to beneficial insects. Studies have shown that many plants contain insect-repelling compounds. Insects are very small and quickly become overwhelmed by strong scents. The use of herbs for natural pest control with chickens requires a multifaceted approach, however. Combining several of the following options at the same time will enhance herbs' effectiveness at repelling insects.
PROMOTE STRONG IMMUNE SYSTEMS
An chicken's best defense against parasites is a strong, healthy immune system. Insects such as mites that pierce the skin make animals vulnerable to disease-causing bacteria and pathogens entering the bloodstream. Blood loss caused by mites can make a bird anemic, cause weight loss, a drop in egg production and further weaken a bird. The simple irritation of constant biting and crawling bugs on a chicken's body creates constant stress, which negatively impacts egg production and weakens its immune system. A bird with a strong immune system is well equipped to fight infection and pathogens introduced into the body from biting insects.
Help chickens build strong immune systems with a good, basic diet. Add herbs only when needed to support and bolster a chicken's immunity. One of the easiest herbs to grow and use is garlic. Many years ago, I developed a novel application in poultry that employs garlic in drinking water or feeding it raw, free-choice. My article about how and when to use garlic properly can be found here.

NATURAL, HEALTHY PEST DETERRENCE
DETER PEST INSECTS WITH DRIED AROMATIC HERBS
There are many herb varieties that can repel certain insects, including: dried catnip, lavender, sage, oregano, rosemary, basil, pennyroyal, wormwood and yarrow. The strong-smelling volatile oils create an overwhelmingly unpleasant environment for certain insects' acute sense of smell. Sprinkle dried herbs into the litter and nest boxes, refresh when the scent dissipates.
HERBAL CLEANERS
Many pests, mites in particular, will lay eggs in cracks and crevices in the coop and continue breeding for many months. I make an orange peel/distilled vinegar cleaner by soaking orange peels in vinegar for 3 months, then straining. The limonene in the citrus peels is a known insecticide and is used in many commercial cleaning and insecticide products. Herbs can be added to the cleaner as it brews, but won't make it more effective as a cleaner. Use the citrus cleaner once a month as a preventative, or weekly during an infestation.
DUST BATHING
Dust bathing is an activity chickens innately engage in to keep their skin and feathers conditioned. When chickens are prevented from dust bathing, the stress it causes can contribute to feather picking and body heat loss in the winter due to poorly conditioned feathers. Research has shown peat moss, sand and wood shavings—in that order—are effective at removing stale lipids (oils). A dust bathing option should always be available to chickens.

Sources and further reading:
http://sandcollectors.org/what-is-sand/
http://colbydigssoil.com/2012/07/09/sizing-up-soil-structure/
http://www.planetnatural.com/diatomaceous-earth-bees/
http://ps.oxfordjournals.org/content/90/7/1416.full.pdf+html?sid=1208b50b-9c38-4c31-aba1-752b37d31c1f
http://www.mnwelldir.org/docs/misc/silica.htm
http://www.ncbi.nlm.nih.gov/pmc/articles/PMC3059459/
http://npic.orst.edu
http://www.mtsylviadiatomite.com.au/

Poultry Farming
DE does not have an effect on parasites loads as measured by fecal egg counts in sheep and goats.
Images of DE cutting into insects
Diatomite Mining and Processing
Quarles, W. 1992. Diatomaceous earth for pest control. The IPM practitioner. Monitoring Field Pest Manage. 14:1–11. Quisenberry, J. H. 1967.
Korunic, Z. 1998. Diatomaceous earths, a group of natural insecticides. J. Stored Prod. Res. 34:87–97. Kouba, M. 2003.
Fields, P. G. 2000. Diatomaceous earth: Advantages and limitations. Pages 781–784 in Proc. 7th International Working Conference on Stored-Product Protection. Sichuan Publishing House of Science and Technology, Chengdon, China.
The inclusion of diatomaceous earth in the diet of grazing ruminants and its effect on gastrointestinal parasite burdens. McLean, B., D. Frost, E. Evans, A. Clarke, and B. Griffiths. 2005. Pages 277–280 in International Scientific Conference on Organic Agriculture, Adelaide, Australia. International Society of Organic Agriculture Research, Bonn, Germany.
Effect of diatomaceous earth as an anthelmintic treatment on internal parasites and feedlot performance of beef steers. Fernandez, M. I., B. W. Woodward, and B. E. Stromberg. 1998. Anim. Sci. 66:635–641.
Eshleman, J. C. 1966. Poultry feed containing about 1% diatomaceous earth. US Pat. No. 3,271,161.
Pollinating Birds, Mammals Falling Victim to Extinction
What will Happen if the Bees Disappear?
DE is Unsafe to use around essential pollinators such as honey bees
DE is Highly Toxic to Bees
http://www.science.org.ge/3-1/Bernard.pdfPhoto credit:
DE Pit
"KieselgurNeuohe4-2" by wahrsch. Wilhelm PetersThe original uploader was Hajotthu at German Wikipedia – Transferred from de.wikipedia to Commons by Leyo using CommonsHelper.Alfred Peters. Licensed under CC BY-SA 3.0 via Wikimedia Commons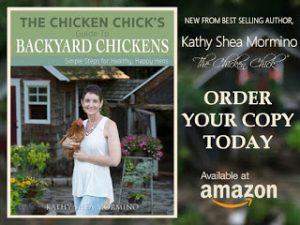 Order your copy of my bestselling book,
Available now on Amazon!