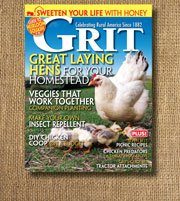 I am so excited to have Grit Magazine as one of my sponsors and want to share the excitement with you!
My peeps at Grit have offered me a subscription to their magazine TO GIVE TO ONE OF YOU! Already subscribe to Grit? Smart, they'll add on a year's subscription to your account!
To Enter:
1. Must be a subscriber to my blog & Facebook page; (easy!)
2. Visit the Grit Magazine website & comment on my blog, telling me what you found! (fun!)
(for example: I just learned that the Rhode Island White is on the American Livestock Breeds Conservancy's "watch" list, which means that there are fewer than 5,000 breeding birds in the United States, with ten or fewer breeding flocks, and estimated global population of less than 10,000.)
3. Must be a US resident. Winner chosen by random drawing from eligible entries on 5/25/12. Winner notified in reply to their comment on 5/25/12 by 9:30 pm EST.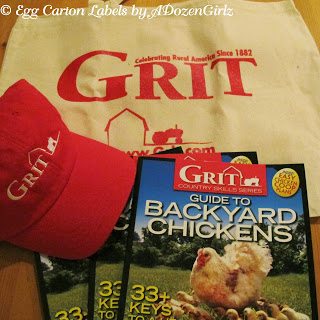 Love to win free stuff? Visit the GRIT GIVEAWAYS page for TONS of contests and giveaways, including an $11,000 prize package in the "Holy Cow! Homesteading Sweepstakes" and a Chicken Coop plus a one year's supply of Purina® Layena® Omega-3 Poultry Feed in the "Chick 'n Coop Giveaway"!