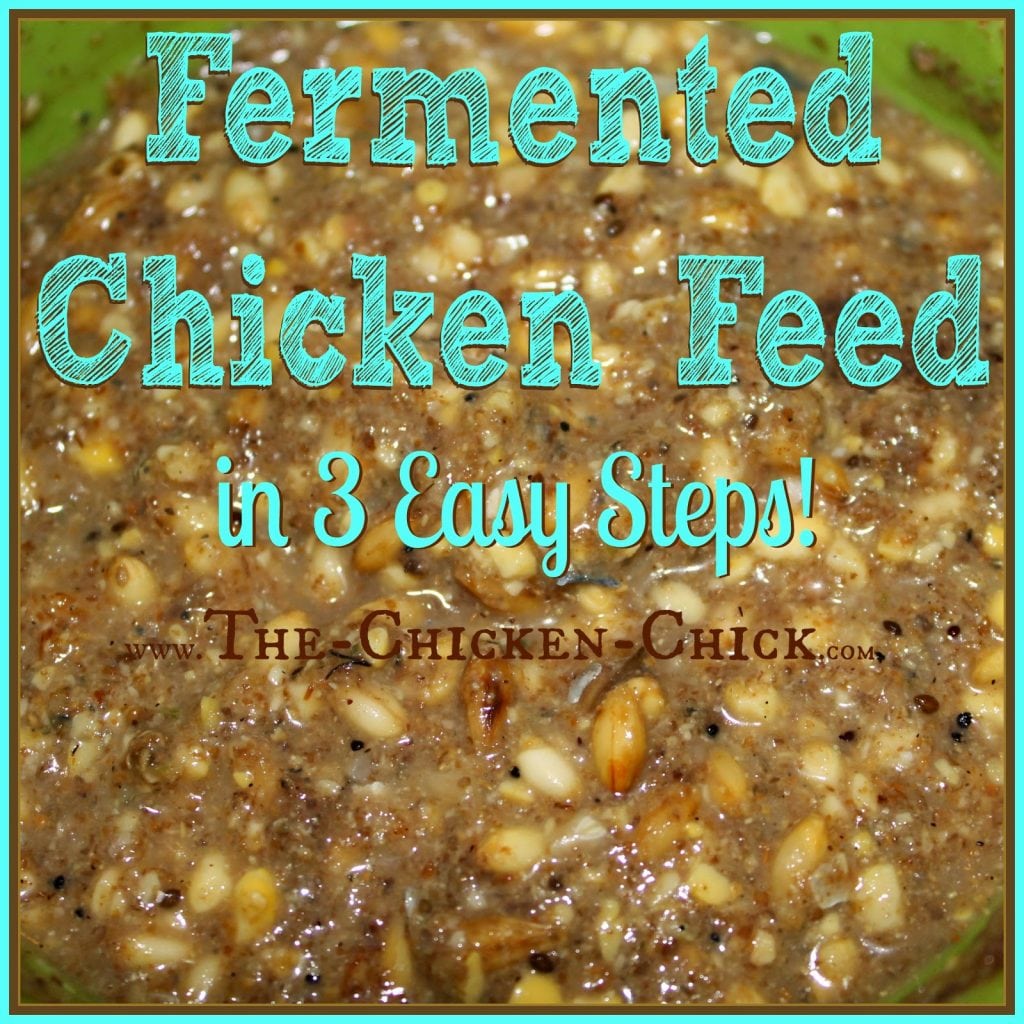 That fermented feed has many benefits for chickens is undisputed; many studies have been done and books and articles written documenting the value of fermentation for poultry, so I'm not going to re-invent the wheel here. (Sources & further reading can be found below.) This article outlines the basic benefits of feed fermentation for backyard chickens and shows how to do it in 3 easy steps. Fermenting chicken feed is easy, money saving and the advantages for chickens, significant.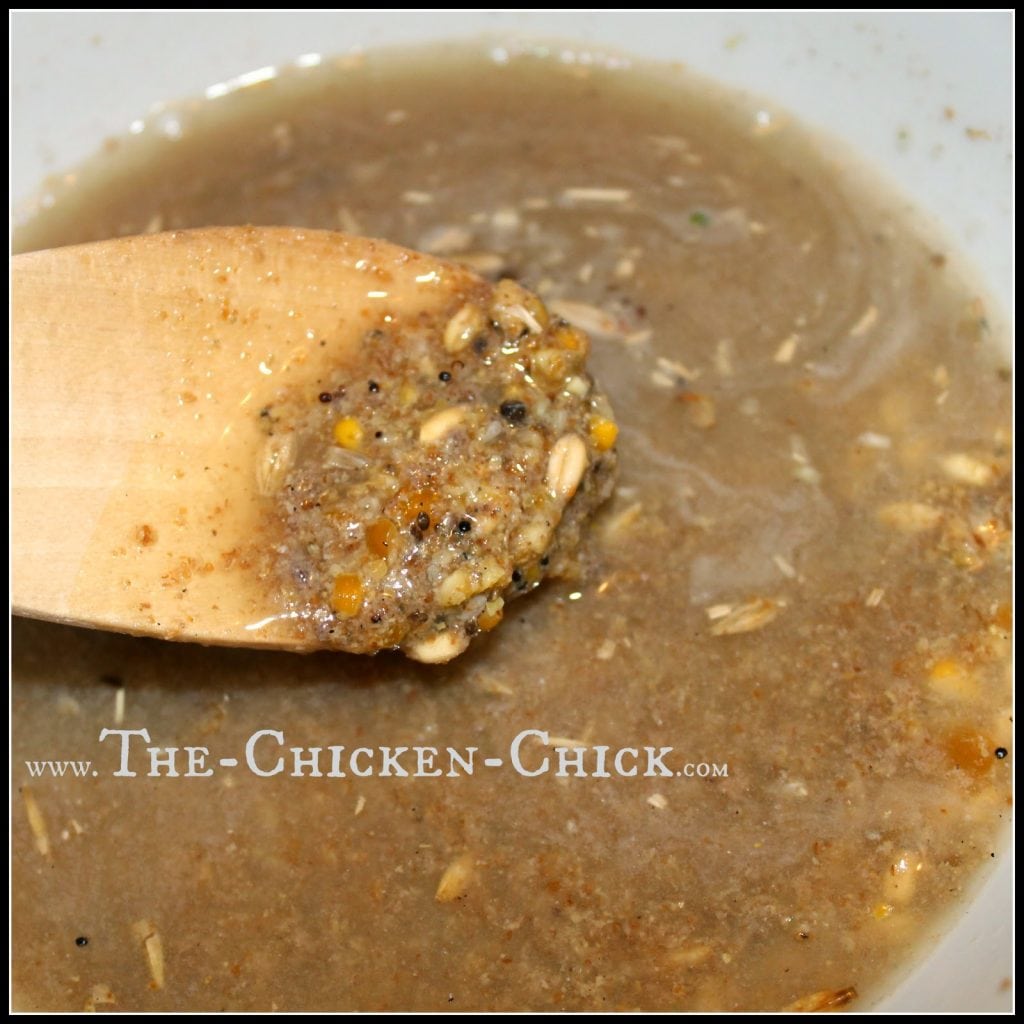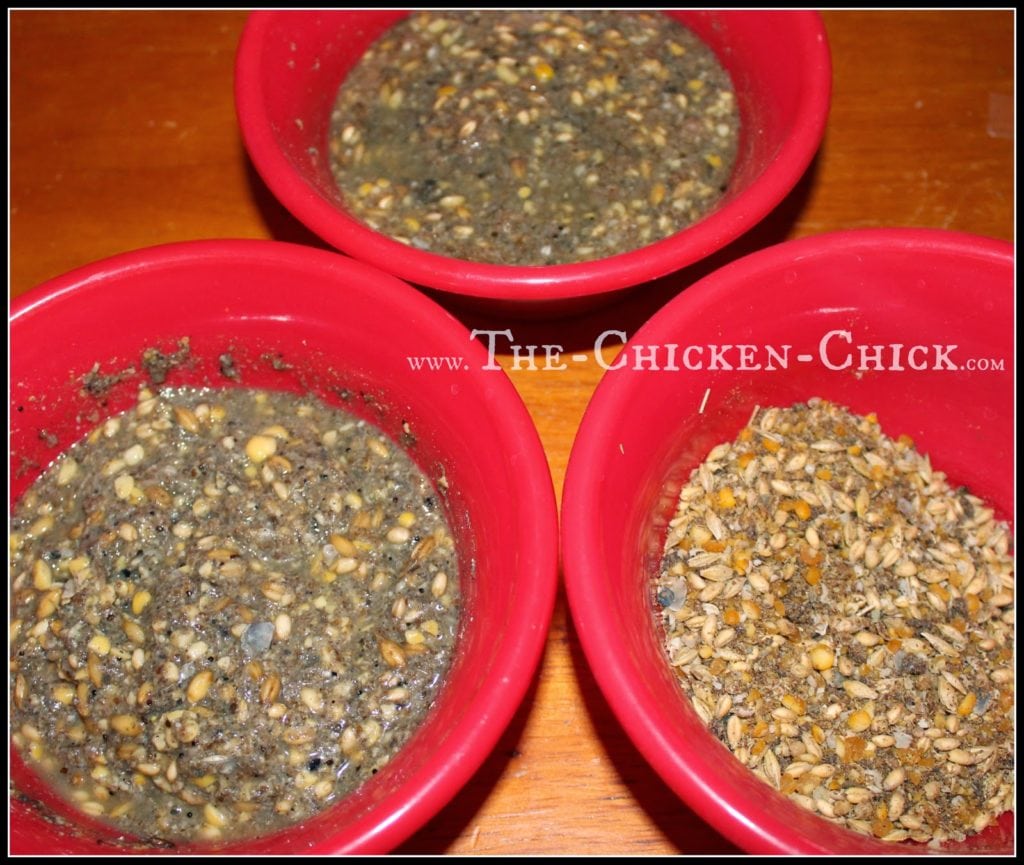 A FEW BENEFITS OF FERMENTING CHICKEN FEED
Improves the nutritional value of feed, making various components more usable (aka: bioavailable) to the chicken and increasing the protein content
Easier to digest
Supports digestive health and immunity with probiotics, reducing bad microorganisms in the gut
Bigger eggs with better quality shells
Money-saving. Feed is nearly doubled in volume after fermenting. Fermented feed fills up chickens faster with a meal higher in nutrition than dry feed, so the flock ultimately needs to consume less feed.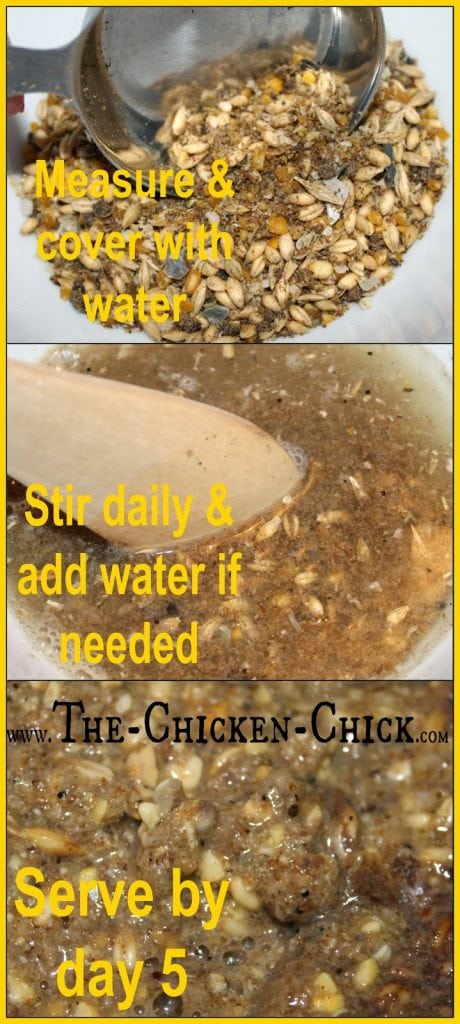 HOW TO FERMENT CHICKEN FEED
3 steps in 3 days!
Portion chicken feed into clean, food-safe, plastic/glass/ceramic container & cover with non-chlorinated/de-chlorinated water (any chicken feed will work!)
Stir 2-3 times per day, keep covered with water, adding as needed
On Day 3, serve in a wide, shallow dish, reserving a little liquid for the next batch.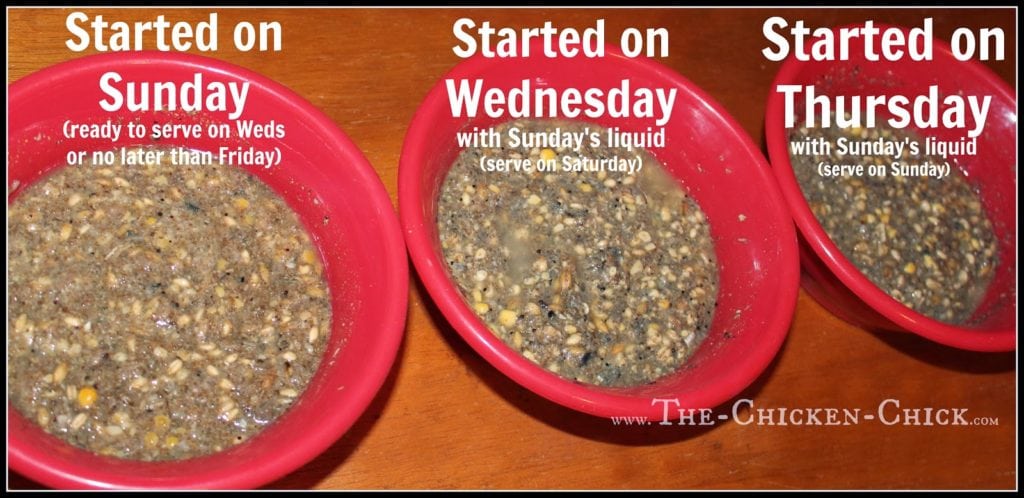 NOTES ABOUT FERMENTING
On Day 3, I start a second batch using some liquid from the first batch and the next day, I start a third batch with some of the liquid from the second batch, so I have three containers working at all times.
Bubbling is a great sign- it means fermentation is at work!
Plan on ~1/3 cup feed per chicken per day. Use the highest quality chicken feed you can afford. It will have all the components necessary in the right proportions for your flock. Pellets or crumbles can be used. Size doesn't matter. 🙂
Don't let the fermented feed brew more than 5 days
The first batch will be required to work a little harder than subsequent batches to get the fermentation process started with natural, wild yeast from the air, but by reserving some liquid from the prior batch, subsequent batches get started much more easily (same concept as making sour-dough bread)
Stirring helps expedite the process and avoids mold forming
Serve the feed as an oatmeal-like consistency, not soup.
Expect a sour, tangy, pungent smell by day 2 or 3. That's normal.
Adding apple cider vinegar with the mother reduces the E.Coli population, leaving more of the amino acids intact.1 Learn how to make your own ACV with the mother for pennies a gallon in

this article

.
Clean up feed containers at the end of the day to avoid risk of mold growth and ingestion.
Chickens naturally distrust change. Be patient with them- they'll learn to love fermented feed.
Fermented feed can be offered to chickens of all ages using the feed appropriate for their age and stage of development.
Offer fermented feed warm, not hot, in cold weather.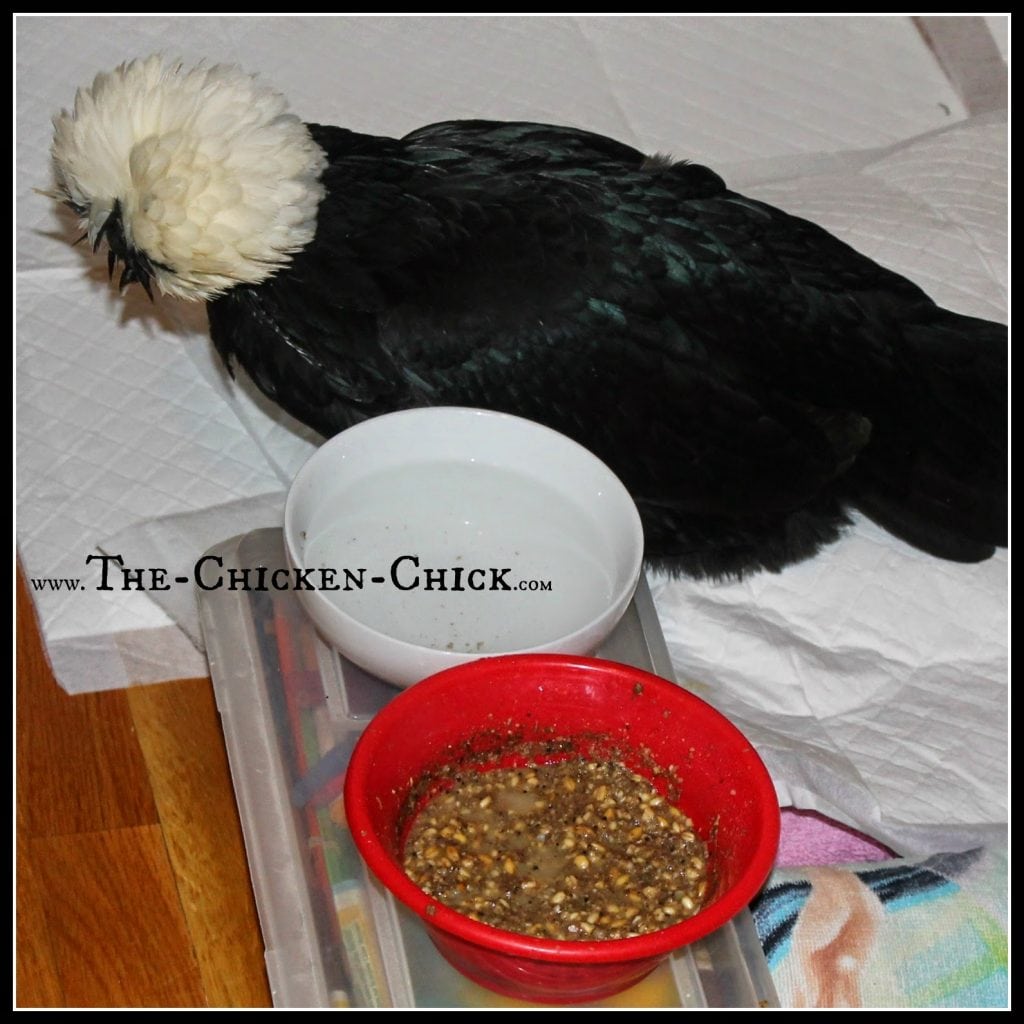 I began fermenting feed at a time when Doc Brown was down-for-the-count with a mystery illness and it was in integral part of her return to health as soon as she was able to eat on her own.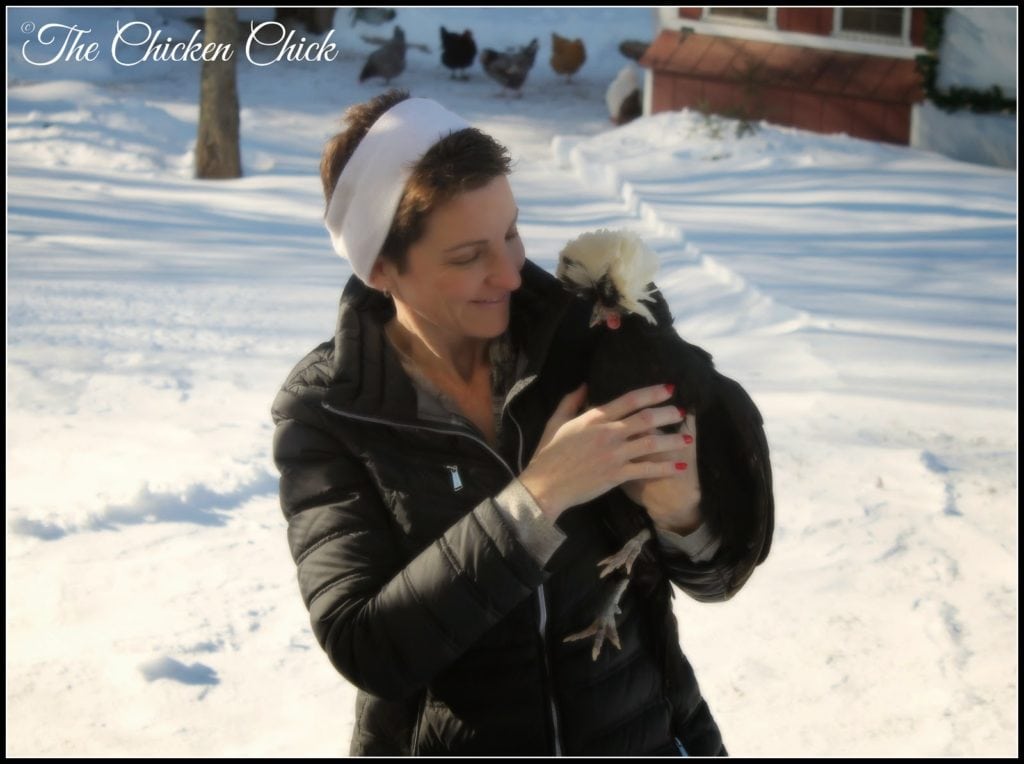 As I write this, we are experiencing the worst winter winter in the history of Connecticut and a fair number of chicken keepers wish to offer their flocks a warm meal on occasion. I encourage you to consider using fermented feed as a warm alternative to much less valuable foods such as oatmeal or other concoctions that may make a pretty presentation and might even taste great to you, but offer little nutritional value to chickens.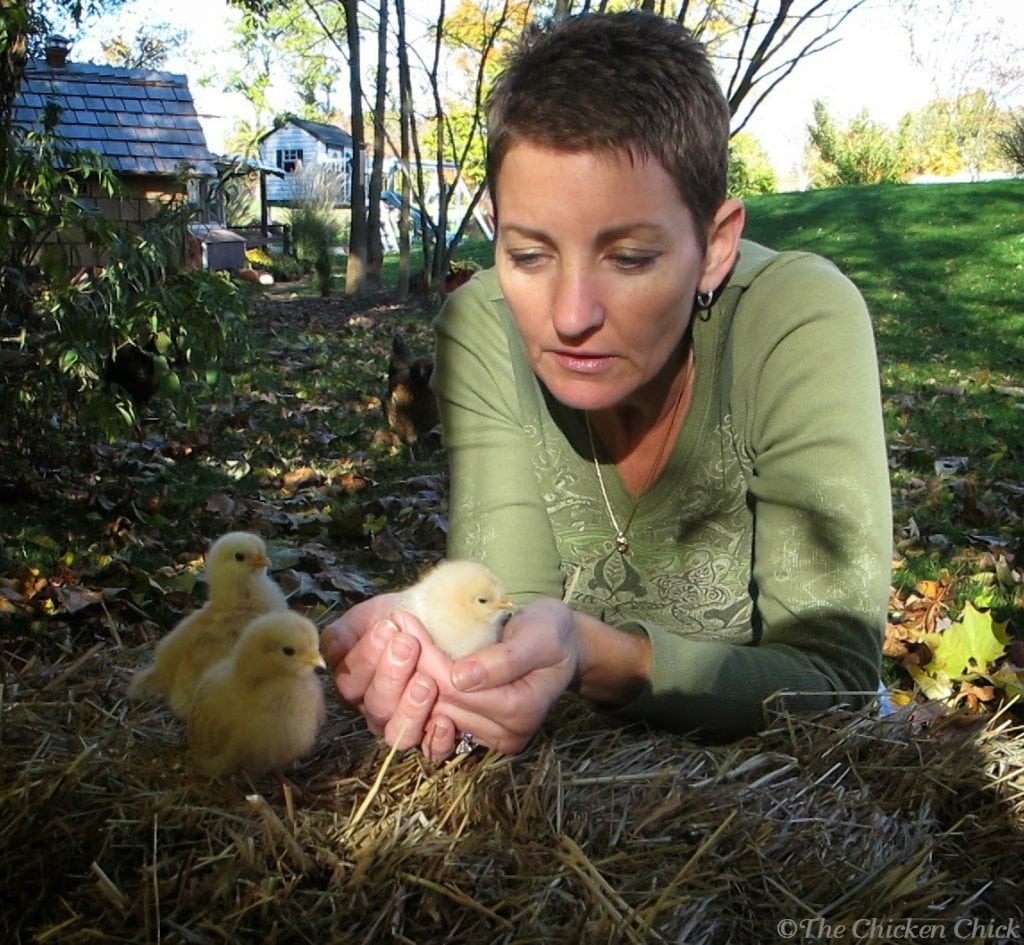 Sources & Further Reading:
1. Fermented feed for laying hens: effects on egg production, egg quality,plumage condition and composition and activity of the intestinal microflora
2. Fermenting Poultry Feed,Poultry Natural Living & Herbal Care.
3. The Art of Fermentation
4. Natural Health Benefits of Fermented Feeds.
5. The Science of Fermented Feed, Scratch Cradle.