As many of you are aware, I have been working to change my town's zoning regulations to legalize backyard chicken-keeping for everyone. The current regulations are interpreted to allow only homeowners with 5 acres or more to keep chickens.
I acquired the acreage to keep my chickens but believe everyone should have that right regardless of their lot size. This has been and will continue to be a costly endeavor and I am selling Rachel & Blaze tee shirts to defray the expenses of fighting the Good Fight. Here's how you can help if you are so moved: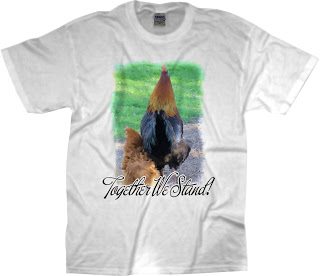 "Operation Home to Roost, Chickens For All" tee shirts
are NOW available
HERE
! This is a PRE-ORDER sale. Shirt will be unisex, white, 100% pre-shrunk cotton. (The ultimate design will contain Operation Home to Roost text, not the text shown on the shirt above). **Estimated shipping date end of July.** Don't need a tee-shirt, but wish to support the mission? The PayPal "donate" button in the top, right-hand sidebar will allow you to do just that.
Thank you for your support regardless of the form! ♥
Some of my favorite posts and/or most viewed posts will be FEATURED on Clever Chicks next week! I will also pin them to my "
Clever Chicks
" Pinterest board.
*
Please be sure to link back to this post in order to be considered as a featured blog
.*
Featured bloggers are invited to brag about how clever they are by posting the Clever Chicks "Featured" button on their blogs!
This Week's Featured Blogs
Featured bloggers, you're welcome to grab the Clever Chicks Featured button!
Clever Chicks Blog Hop #43
You're invited to LINK UP!
Despite the title, this is an equal-opportunity link party!
GRAB MY BLOG HOP BUTTON!
How to Link-up
Share your clever ideas, DIY projects, recipes, tutorials, decorating tips,
stories about your families, chickens, farm animals or other pets!
** No linky parties, giveaways or items for sale please. **
Please use
the direct link to your blog post,
not
to your blog's home page;
we want to be able to find your clever post!
If you have trouble linking up, please email me the URL to your post and I will add it for you:
Kathy@The-Chicken-Chick.com
document.write('