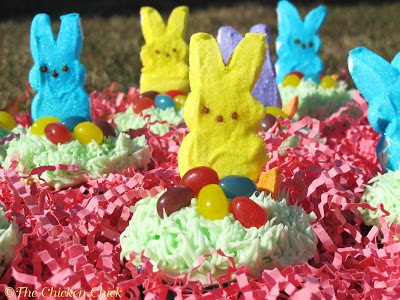 EASTER PEEPS CUPCAKES
Supplies:
cupcakes
butter cream icing (purchased from my grocery store's bake shop)
cake decorating bag
#233 decorating tip & coupler
Peeps marshmallow bunnies (with toothpicks inserted in bottom)
jelly beans
green food coloring
circus peanuts cut into pseudo-carrot shapes
Tint icing green and lightly frost cupcakes- it helps the 'grass' stay in place.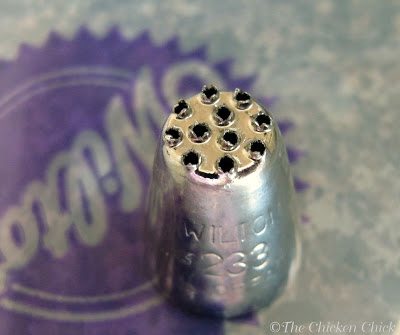 Fit icing bag with #233 tip. Squeeze and release bag to create a grass effect on top of cupcakes.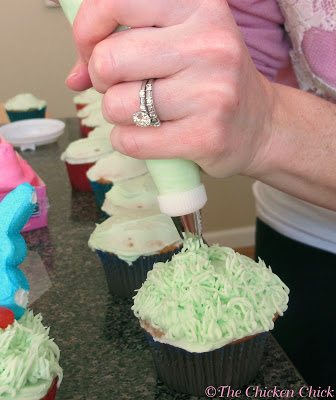 Place marshmallow peeps on top of cupcakes.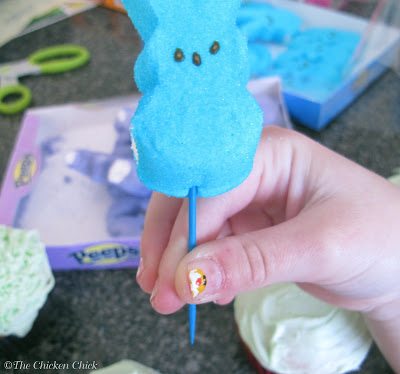 Add jelly beans and carrot.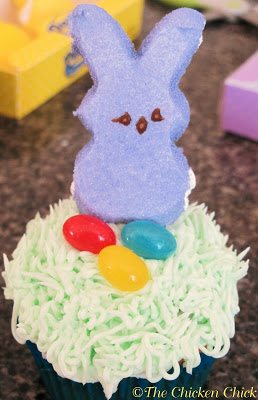 Hoppy Easter!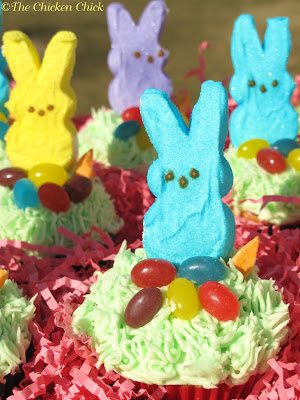 This Week's Featured Blogs
Featured bloggers, you're welcome to grab the Clever Chicks Featured button, below!
Really Moist Lemon Cupkaes for Lemon Lovers, The Alchemist
Egg Vase Centerpiece, Crystelle Boutique
Better than Starbucks' Very Berry Hibiscus Cooler, Just Dip it in Chocolate
Asparagus in Lemon Garlic Sauce, The Redhead Riter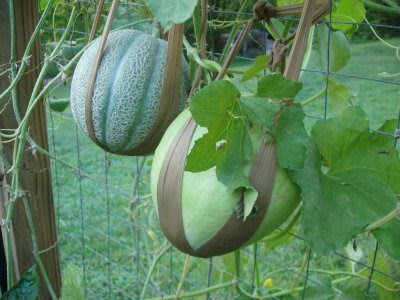 Some of my favorite posts and/or the most viewed posts will be FEATURED on Clever Chicks next week! I will also pin them to my "
Clever Chicks
" Pinterest board. The featured bloggers are invited to brag about how clever they are by posting the Clever Chicks "Featured" button on their blogs!
Clever Chicks Blog Hop #28
You're invited to LINK UP!
Despite the title, this is an equal-opportunity link party!
GRAB MY BLOG HOP BUTTON!
How to Link-up
Share your clever ideas, DIY projects, recipes, tutorials, decorating tips,
stories about your families, chickens, farm animals or other pets!
** No linky parties, giveaways or items for sale please. **
Please use
the direct link to your blog post,
not
to your blog's home page;
we want to be able to find your clever post!
document.write('