Ingredients & Materials Needed
1 package Oreo cookies
8 ounces softened cream cheese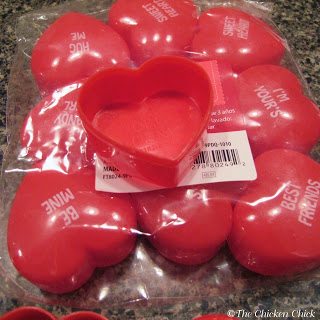 HEART
POP
ASSEMBLY
In food processor, grind up cookies then transfer to a bowl.
Add cream cheese and mix BY HAND until it's the consistency of PlayDoh.
Press into bottom half of a heart-shaped candy container. Top should be level.
Un-mold and refrigerate 10 minutes before dipping.
In a small, deep
bowl, microwave fountain chocolate in 30 seconds increments, stirring in between, until melted.
Dip one end of a lollipop
stick into melted chocolate and insert 1/2 way into heart. Dip heart into bowl of chocolate to coat, allowing excess to drip off.
Quickly press heart(s) onto front of Heart Pop.
Poke lollipop
stick into a styrofoam block to dry.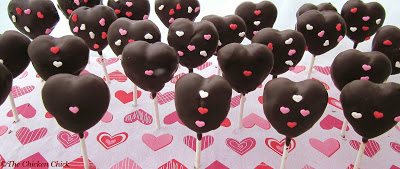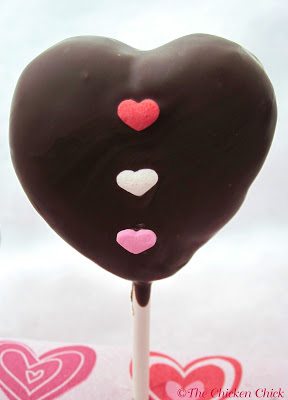 ______________________
This Week's Featured Blogs
Thanks to everyone who linked up last week. With the blizzard we had here this weekend, I had time to enjoy reading all 293 posts! Your imagination and creativity never cease to amaze me!Featured bloggers, you're welcome to grab the Clever Chicks Featured button!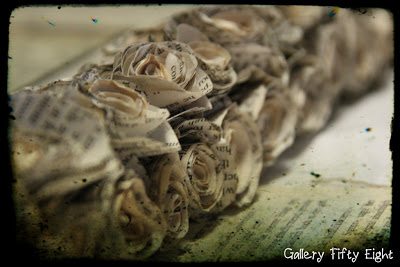 I will be making these Felted Pocket Handwarmers from Melissa at Tilly's Nest soon! I had made neck roll warmers as gifts years ago using whole corn inside, but I like Melissa's idea to use rice and aromatics much better- I always feel that I smell like a movie theater lobby after using mine!
This Muffaletta recipe from Soup Spice Everything Nice makes my mouth water.
If you care for any animals, you'll appreciate Joan, The Chicken Mama's post, The Love of Chores.
The next featured blog post is shared as a public service for mothers of small children everywhere, courtesy of One Organic Mama: The Poop Maker Smoothie. If you have ever been a parent, but are not currently dealing with such pressing issues, do read this post- KT is hysterical!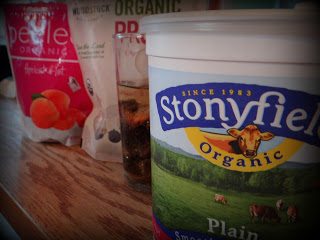 My favorite posts will be FEATURED on Clever Chicks next week! I will also pin them to my "
Clever Chicks
" Pinterest board. The featured bloggers are invited to brag about how clever they are by posting the Clever Chicks "Featured" button on their blogs!
Clever Chicks Blog Hop #21
You're invited to LINK UP!
Despite the title, this is an equal-opportunity link party!
GRAB MY BLOG HOP BUTTON!
How to Link-up
Share your clever ideas, DIY projects, recipes, tutorials, decorating tips,
stories about your families, chickens, farm animals or other pets!
** No linky parties, giveaways or items for sale please. **
Please use
the direct link to your blog post,
not
to your blog's home page;
we want to be able to find your clever post!
document.write('