This Week's Featured Blogs
With 230 entries this week, I was in blog visitor heaven! Thanks to all of you who linked up; I am inspired by your creativity, resourcefulness and very often, wit.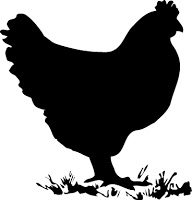 Sadie is destined to become a burlap ornament on my Christmas tree!
Clever Chicks Blog Hop #11
You're invited to LINK UP!
Despite the title, this is an equal-opportunity link party!
How to Link-up
Share your clever ideas, DIY projects, recipes, tutorials, decorating tips, Etsy store creation, stories about your families, chickens, farm animals or other pets, whatever you like!
Please use
the direct link to your blog post,
not
to your blog's home page;
we want to be able to find your clever post!
If you have trouble linking up, the following two tips should help OR, feel free to email me the URL to your post and I will add it for you!
Kathy@The-Chicken-Chick.com
1. Add the link to this Clever Chicks Blog Hop to your blog FIRST, before submitting your link to the hop or the link tool won't work.
2. Utilize the 'Try here" option if you have done #1 without success.
3. Changing browsers may help.
document.write('