Please join me in welcoming my new sponsor, Chickens for Backyards with a fantastic giveaway!
Enter to WIN one of the following THREE prize packages:
25 paper egg cartons in assorted colors AND one container of Egg Wipes
A 'Fresh Eggs Laid Daily' sign AND a container of Egg Wipes
A 10″ egg basket AND Happy Hen Coop Cleaner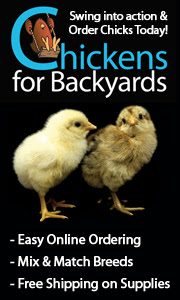 To enter:
1. Must be a fan of Chickens for Backyards and The Chicken Chick
2. Must be a subscriber of my blog (subscribe by email, Networked Blogger or RSS feed in left-hand sidebar)
3. Leave a comment on this blog post, stating how long you have kept chickens and what inspired you to begin keeping chickens.
Please visit Chickens for Backyards to see their huge assortment of chickens, ducks, turkeys, guineas, hatching eggs and poultry-keeping supplies!
Giveaway runs 7/6/12-7/12/12 Winners will be notified by reply to their comments on 7/12/12 at 9pm EST. Include your email address if you would like to be notified by email as well. GOOD LUCK!