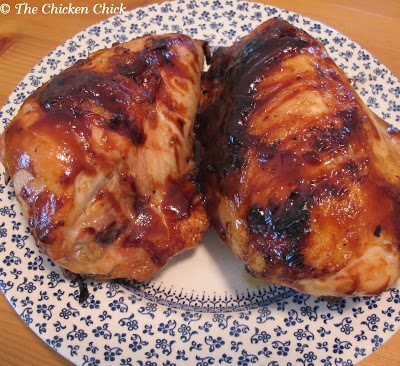 I love cooking and am quite clear about my culinary strengths and weaknesses; I can rock it out in the kitchen from tiramisu to dirty rice and decadent chocolate cake to chicken piccata, but my Achilles heel is and always has been cooking most meats well. Patience not being one of my virtues, I tend to cook it too quickly at too high a temperature and I just don't have the attention span to change my ways. As luck would have it, my husband is also an avid cook, has the patience of a saint and, thankfully, his forte is meat. A marriage made in heaven. ☺
Regardless of the type of meat, he cooks it to perfection every time. Every Christmas he makes a legendary rib roast that our family eagerly looks forward to the remaining 364 days of the year.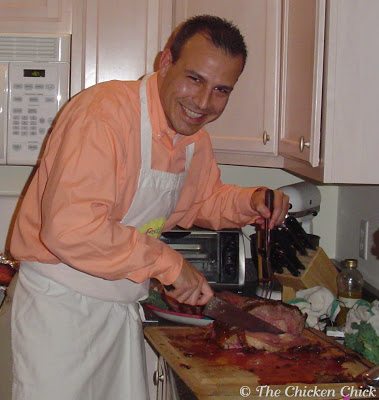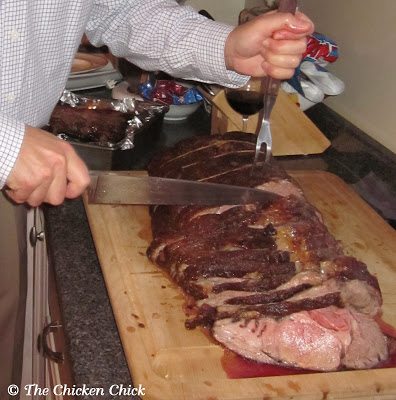 So, when it's summertime, it's grill time and the Meat Master is On Duty. This brine is his original recipe and while I took a photo of the chicken in the brine to share with you, I found it too repulsive to post. (Yes, this from the woman who shared chicken droppings pictures with you in the name of chicken health.)
The BBQ sauce is my original recipe, which I developed for my pork ribs. My ribs are a meat dish I can handle as it doesn't involve precise timing and cannot be overcooked very easily
The Chicken Chick's Secret BBQ Sauce
1/2 cup molasses
1/2 cup ketchup
1/4 cup dijon mustard
2 tablespoons white vinegar
1/8 tablespoon chili powder
1 garlic clove, crushed
a pinch of cayenne pepper for a little heat
Mix all ingredients thoroughly and refrigerate for several hours before using to allow flavors to marry.
Mr. Chicken Chick's Brined Grilled Chicken serves 4-6
(I'm going to get some heat for that, but I can take it!☺)
3 quarts water
1/2 cup brown sugar
1/2 cup kosher salt
1 tablespoon whole black peppercorns
1 tablespoon whole cloves
2-3 dried bay leaves
1 tablespoon dried thyme (or one sprig fresh)
5-6 Dried Juniper berries (if available)
5-6 pounds of bone-in, split chicken breast or bone-in thighs
The Chicken Chick's BBQ sauce
Combine water, herbs and spices in a large stock pot over medium-high heat. Stir and bring mixture to a boil. Add salt and sugar, stirring until dissolved.
Remove from heat and transfer to a large bowl. Allow brine to cool. Place bowl in refrigerator to cool completely. The temperature of the brine should be no warmer than 34-38° F before adding the chicken pieces. When brine is cold, add chicken, cover and refrigerate for 24 hours.
Preheat grill to medium heat. Spray grill with non-stick, high-heat cooking spray. Remove chicken from brine and pat dry with paper towels.
Place chicken, bone-side down on grill and grill covered for 15 minutes.
Turn chicken, baste with BBQ sauce. Grill 10 minutes, skin side down.
Turn chicken baste skin side with BBQ sauce and grill 5-8 minutes more.
Remove from grill and cover with aluminum foil. Allow meat to rest for at least five minutes before service to allow juices to absorb into the meat.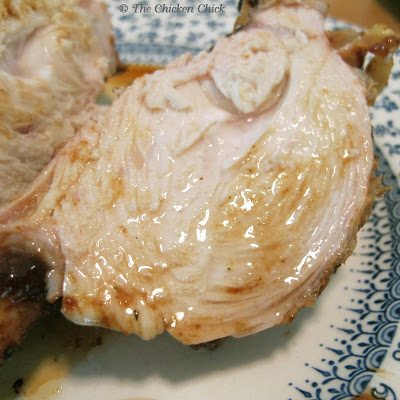 Pork Ribs
Preheat oven to 325°F
Place 2-3 pounds pork ribs on a shallow, foil-lined baking sheet.
Bake, uncovered, for 45 minutes.
Remove ribs from pan, drain off fat and cover with BBQ sauce.
Return pan to oven, bake 45 minutes more. Baste with BBQ sauce before serving.