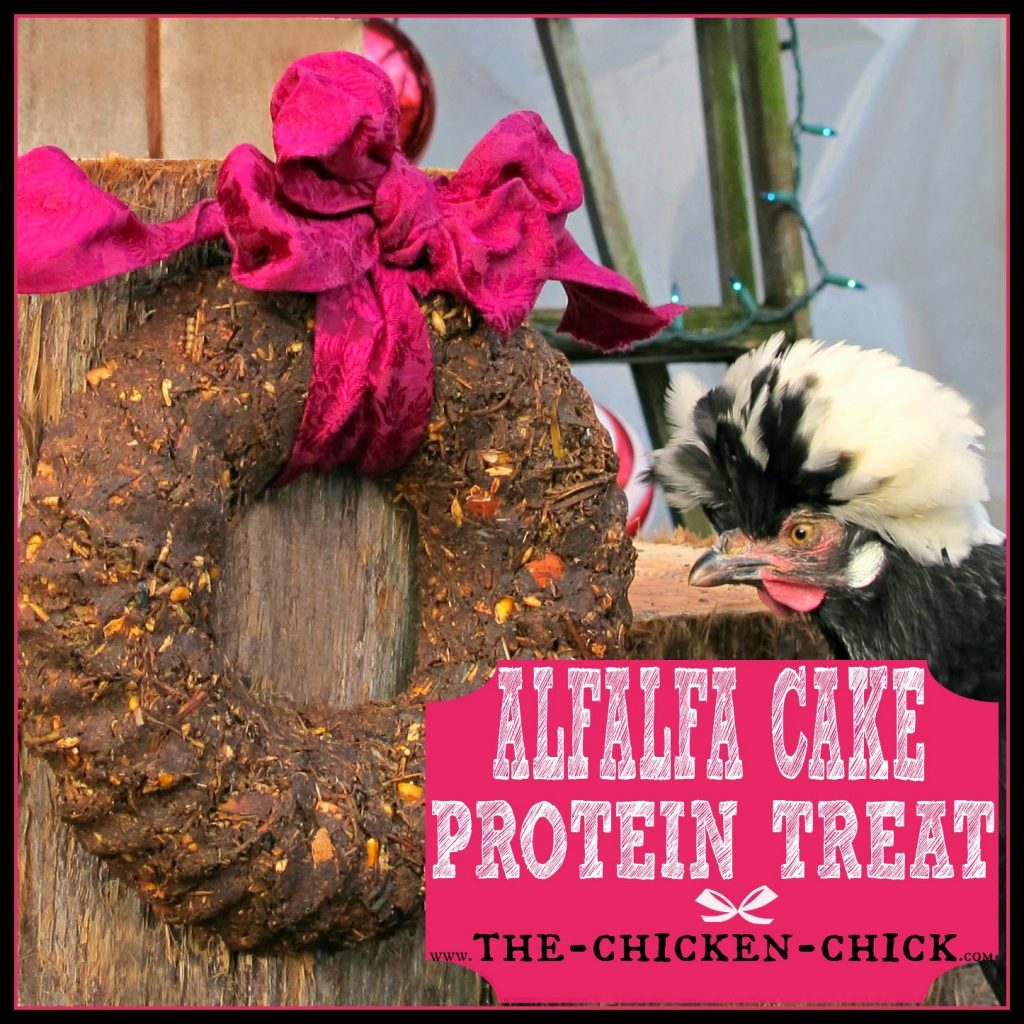 Alfalfa Cake Protein Treat for Molting Chickens & Boredom Buster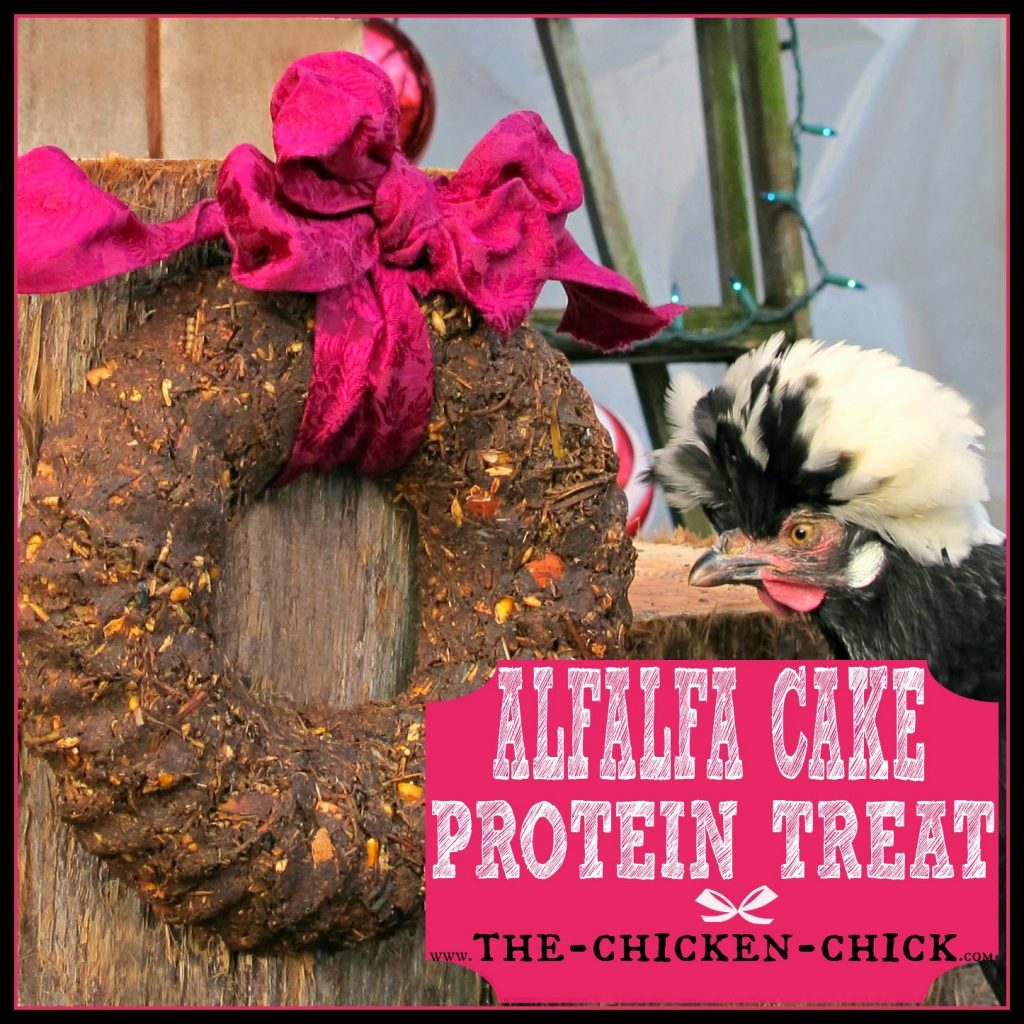 Alfalfa Cake Protein Treat for Molting Chickens & Boredom Buster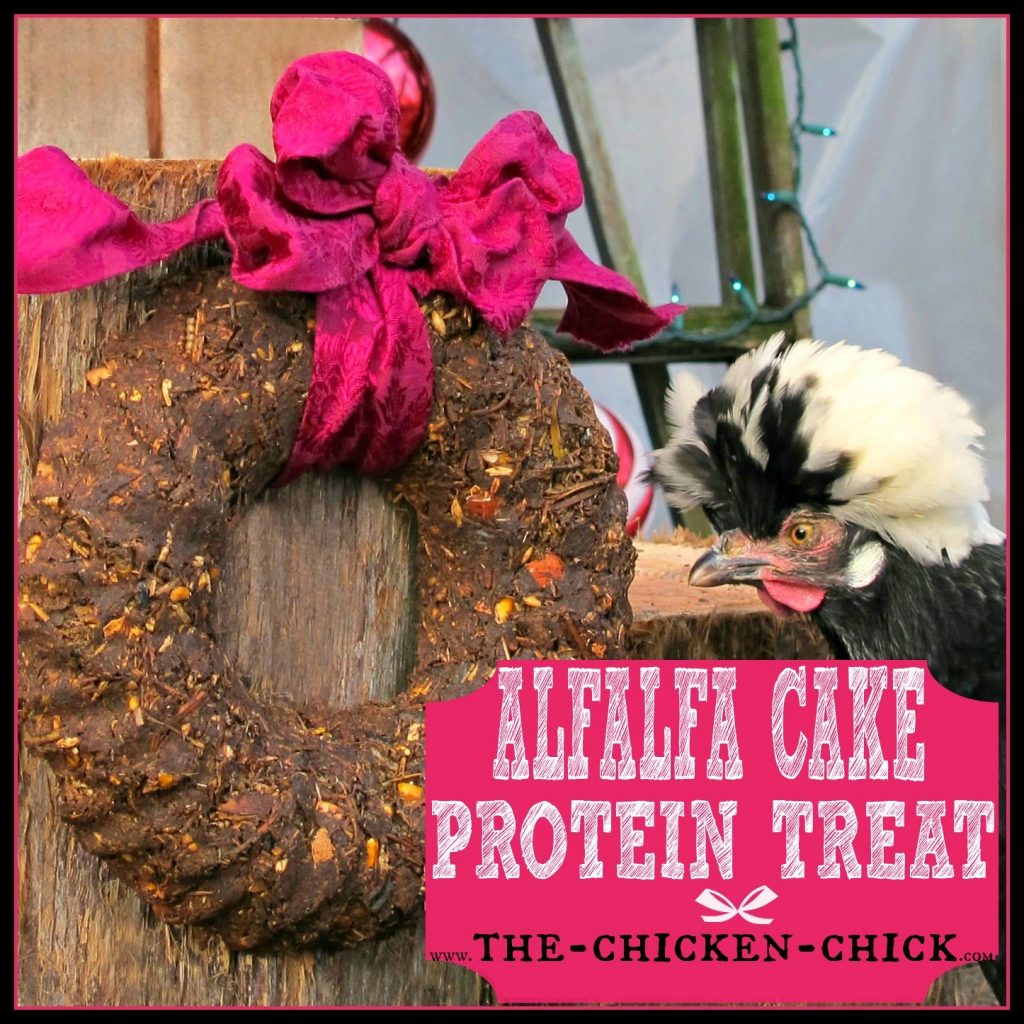 During a molt, chickens lose their feathers and grow new ones, which places great demands on their energy and nutrient stores. Since feathers consist of 85% protein, supplementing chickens' diet with additional protein can help them get through the process. This protein-packed alfalfa cake recipe is a fantastic way to provide molting chickens with a variety of protein sources in one treat while keeping them entertained and active.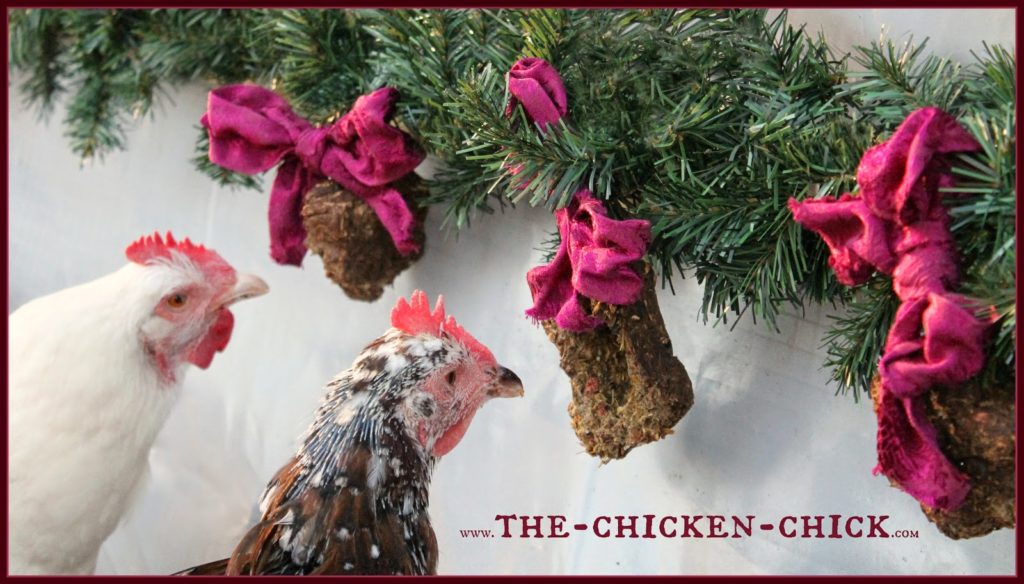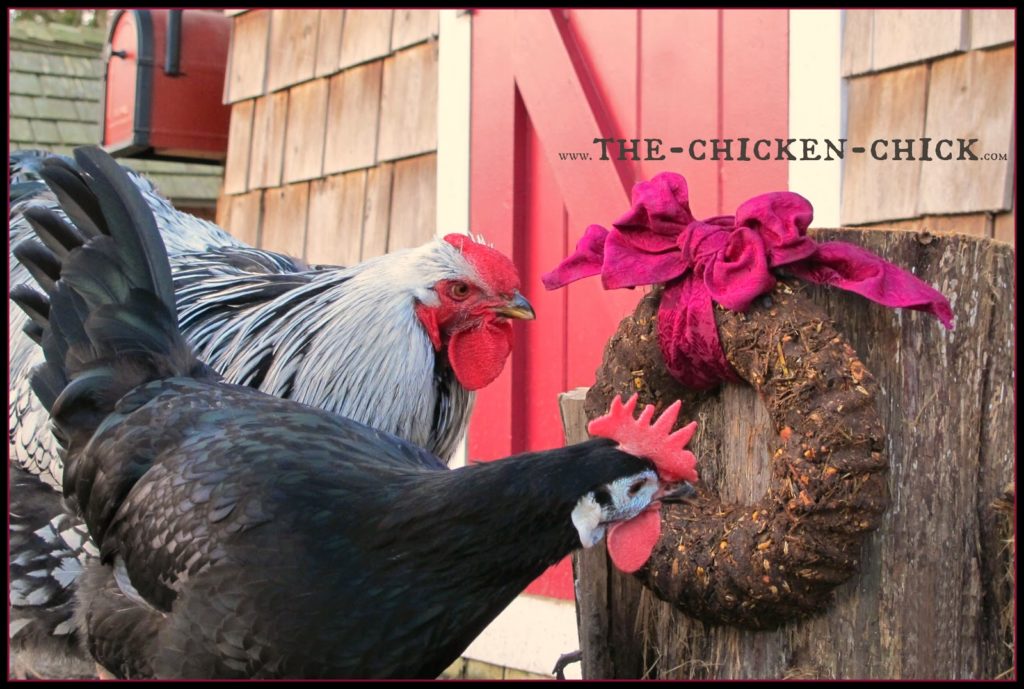 Dehydrated alfalfa cubes must be re-hydrated and broken apart into small shreds before using in this recipe. Place approximately 12-14 alfalfa cubes into a baking dish in a single layer. Add water to the dish until it comes half way up the cubes. The alfalfa will begin to soften and may need to be turned over & more water added before it is soft enough to break apart. When completely softened, break apart FULLY by hand, removing any especially long, tough pieces. Once the cubes are shredded, it's fine if they dry out prior to using in the recipe.They should not be wet when added to the mix. Moist is fine, wet is not.

RANDOM, INTERESTING INFO ABOUT ALFALFA 
Dehydrated, chopped alfalfa is an excellent source of supplemental protein for poultry. While it contains 17-20% protein, it should only be fed in small amounts occasionally.
Alfalfa should not exceed 5% of a laying hen's daily diet for reasons beyond the scope of this article.
Alfalfa is a good source of carotenoids, which makes egg yolks deeper, darker orange.
Alfalfa is a plant in the legume family. (who knew?)
Since it is high in dietary fiber, it moves through the digestive tract slower than other feed ingredients.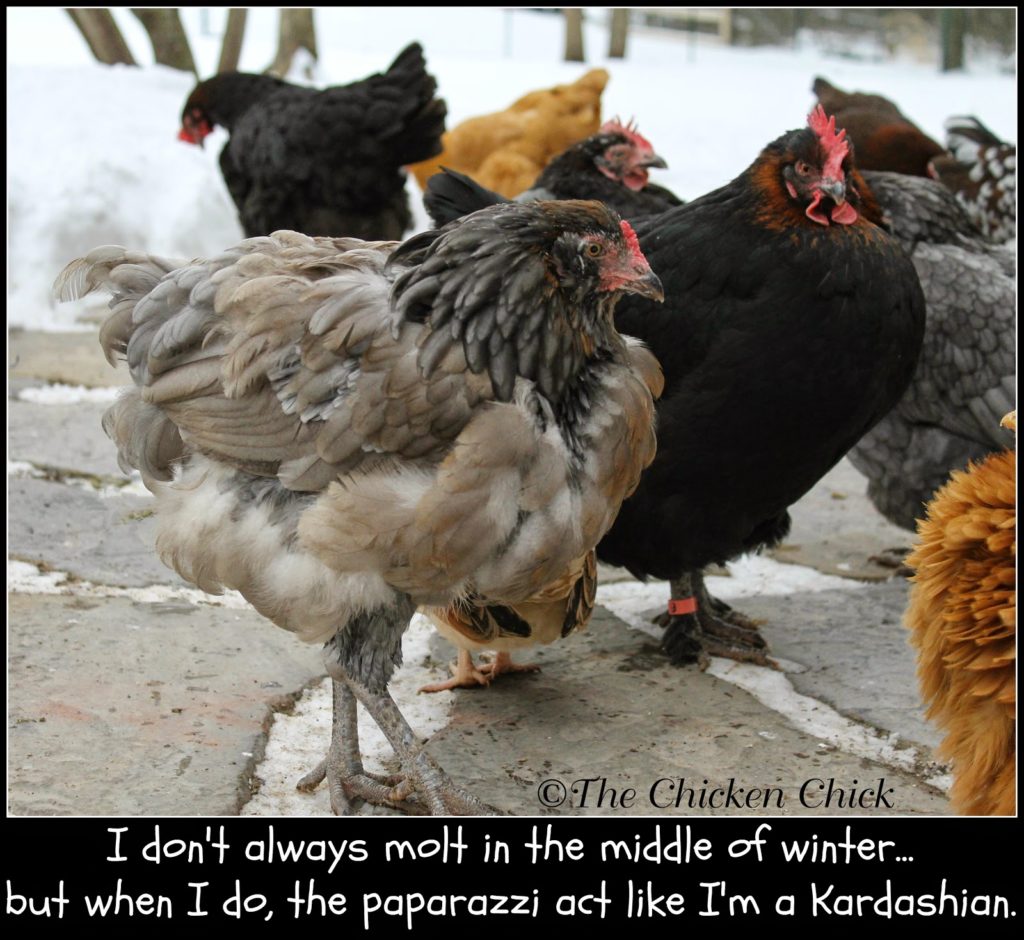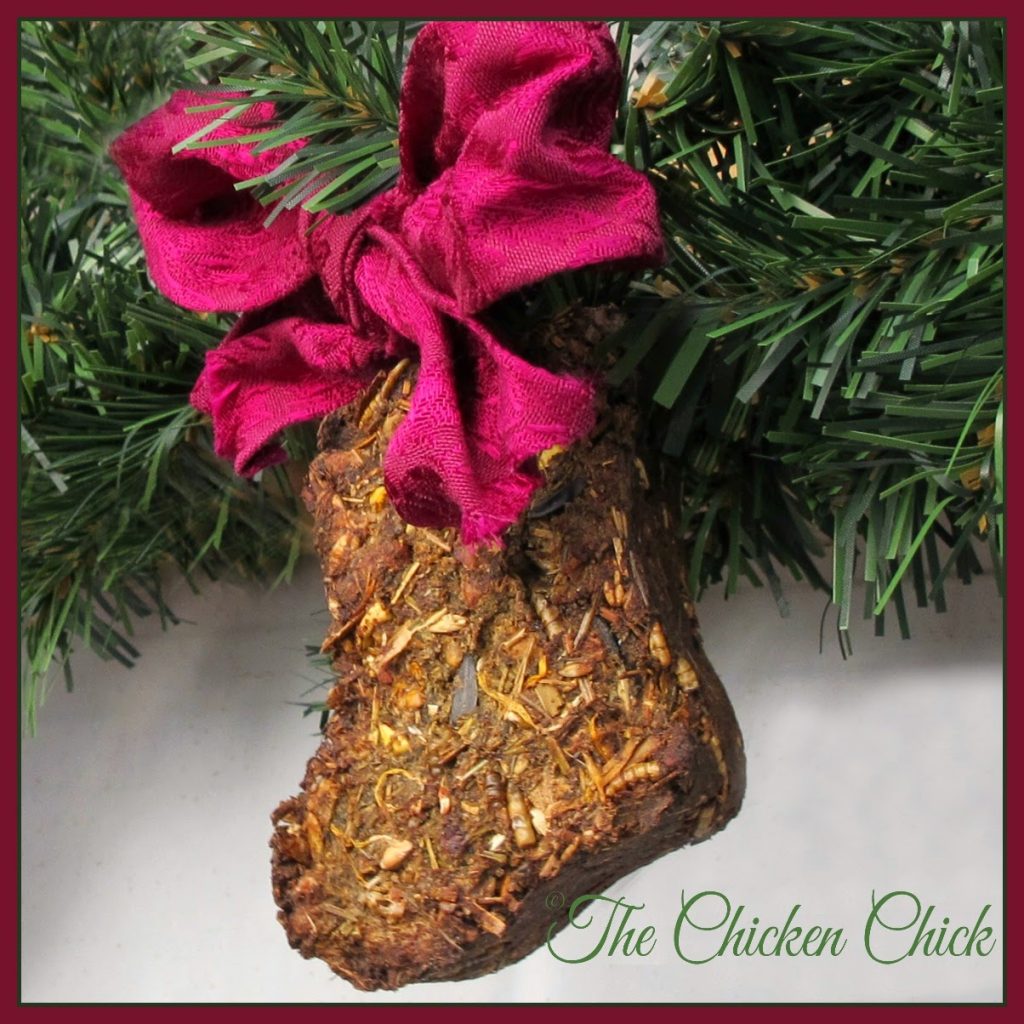 I made two bundt-pan sized wreaths and 8 cupcake sized ornament shapes with this recipe. The smaller treat cakes allow more chickens access to the goodies at the same time. Both shapes/sizes lasted all day. The key to the success of this recipe is to make sure the mixture is moist enough to stick together in the end without being too wet that it never hardens. It can be doubled or halved and should be stored in a cool, dry place if not used immediately.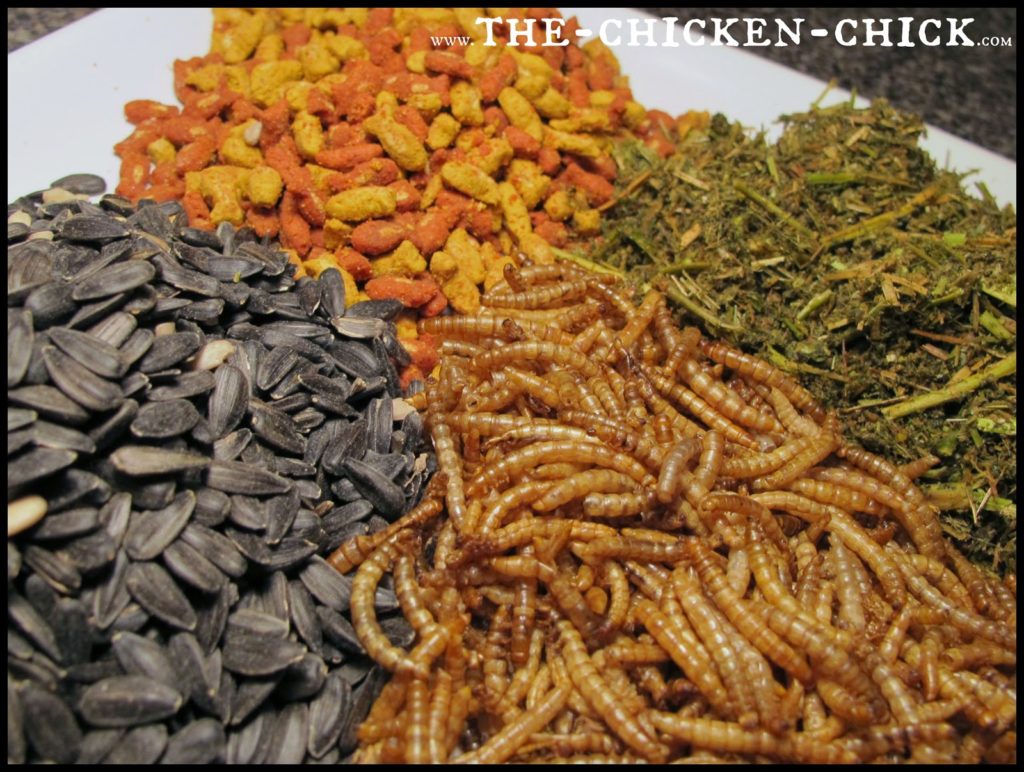 ALFALFA CAKE PROTEIN TREATS
Yield: two wreaths plus 6-8 cupcake-sized treats
The ingredients can all be substituted with other items.
4 cups Alfalfa cubes measured AFTER re-hydration. (see above)
1 cup scratch
1/2 cup of Omega3 feed supplement such as Omega Egg Maker, Omega Ultra Egg or Nutrena Feather Fixer
1/2 cup Black Oil Sunflower Seeds
1/2 cup dried mealworms
1 cup dried cat food
1 1/2 cups oatmeal
3/4 cup wheat germ
3 teaspoons cinnamon
1 cup Calendula petals
3 bananas, mashed
5 eggs, beaten well with shells, finely crushed
1 cup molasses
1/2 cup melted coconut oil
LET'S MAKE IT!
Preheat oven to 325°F. Grease 2, ~9″ fluted cake pans and one cupcake-sized treats pan well.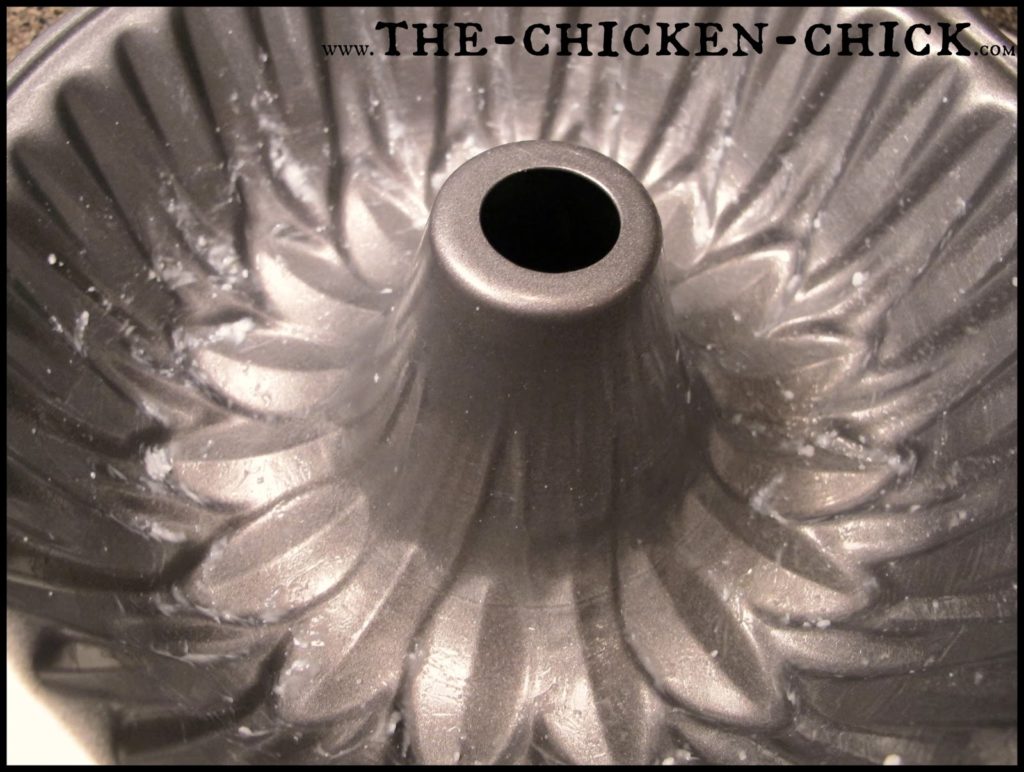 Mix all dry ingredients together. Add wet to dry ingredients, mix well. The mixture should hold together when squeezed without being wet.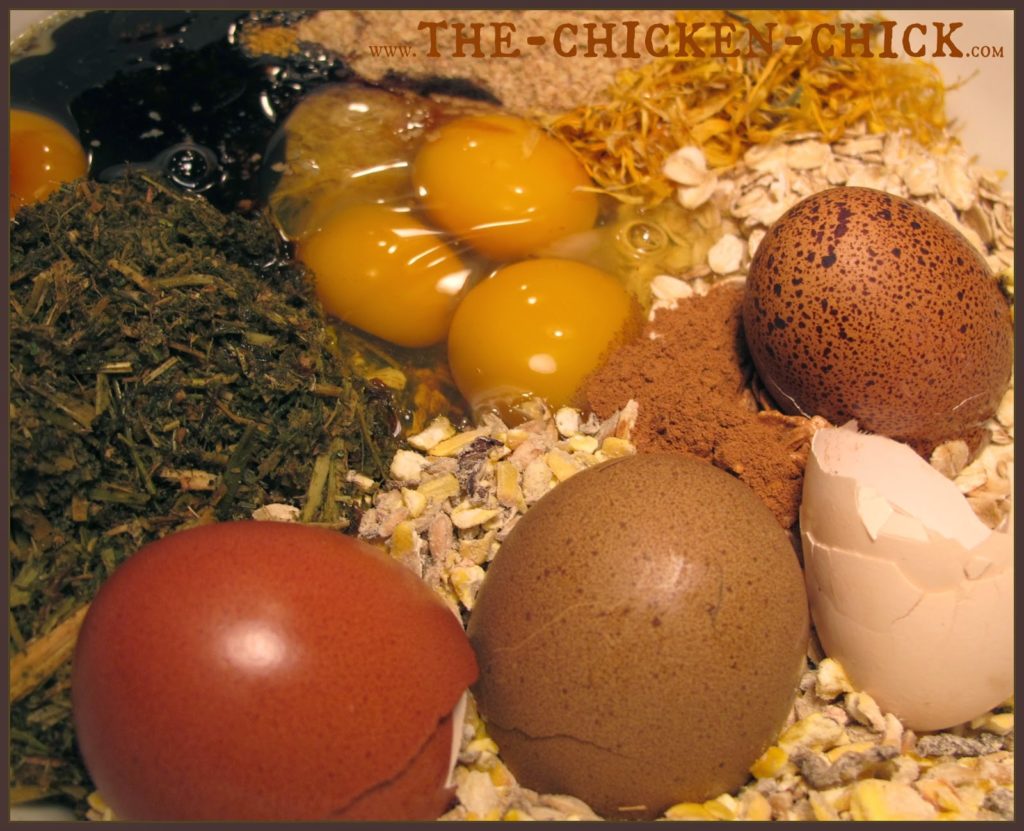 Spoon mixture into prepared pans and press down firmly, packing well. Create a small hole in the top for hanging (or drill a hole in the cooled, dried cake later)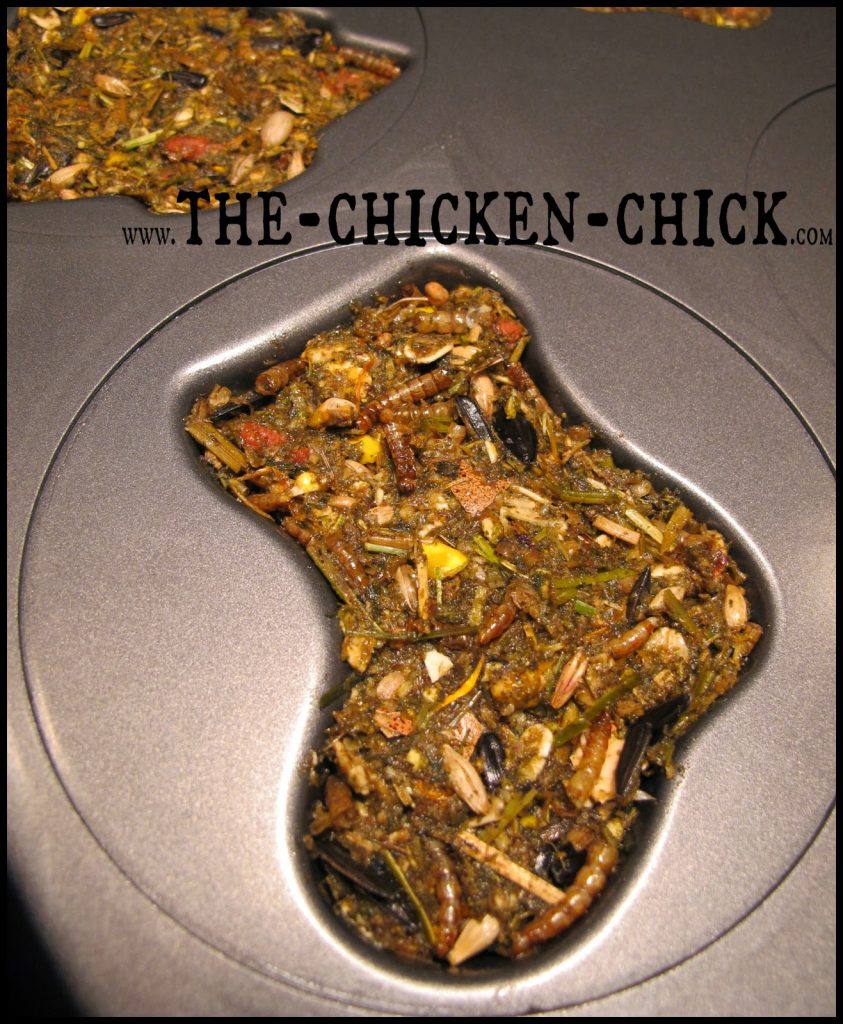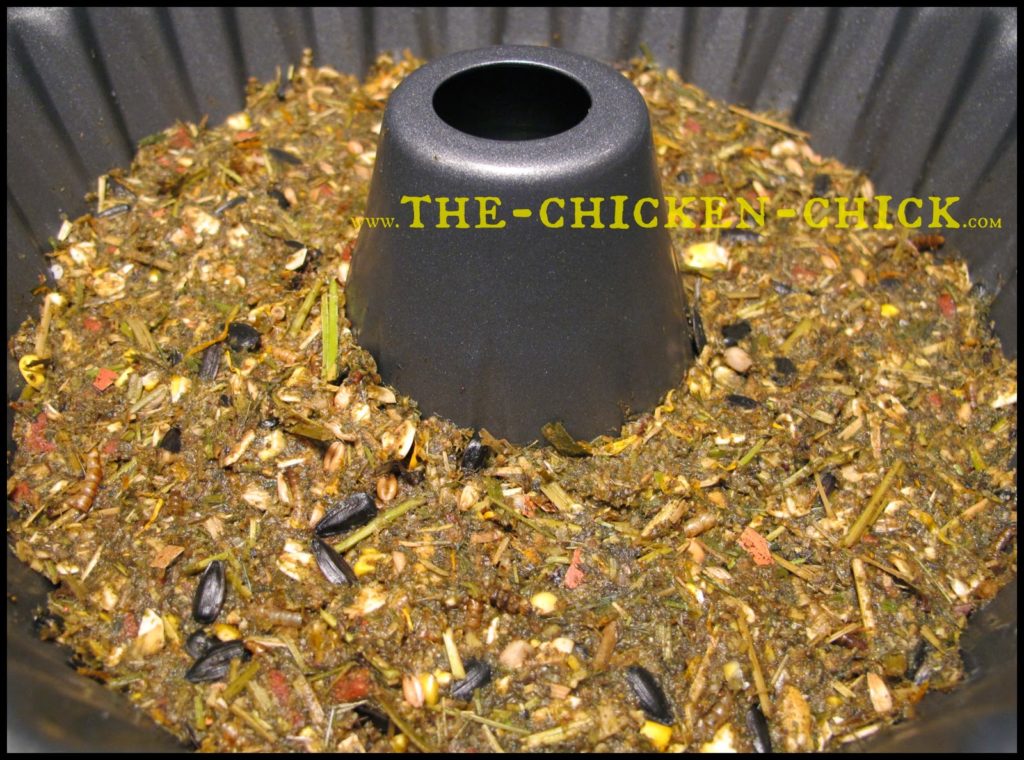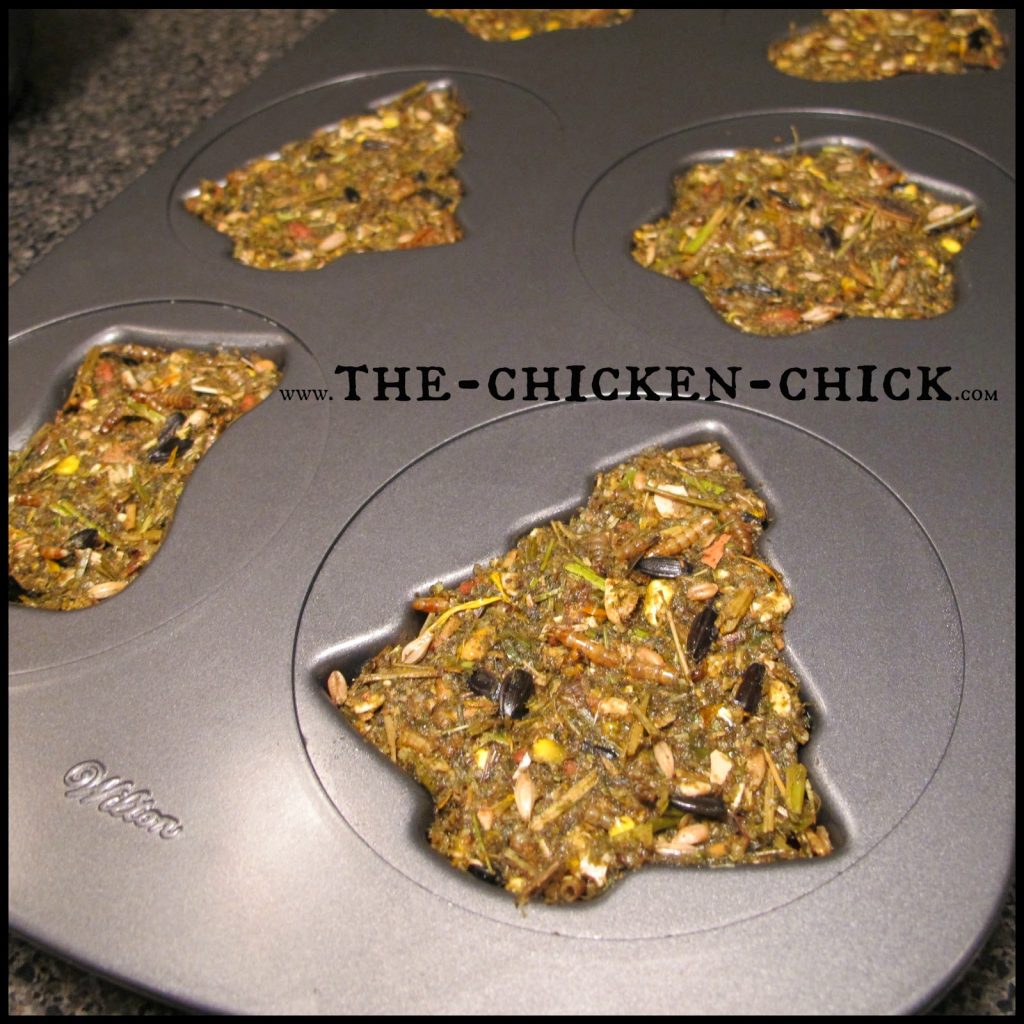 Bake cake pans for 60-90 minutes, cupcake sized pans will bake in approximately 45 minutes. Turn off oven and allow alfalfa cakes to cool completely. It doesn't matter if the cakes break or fail to hold together- the chickens will enjoy them just as much in a dish as they would have otherwise.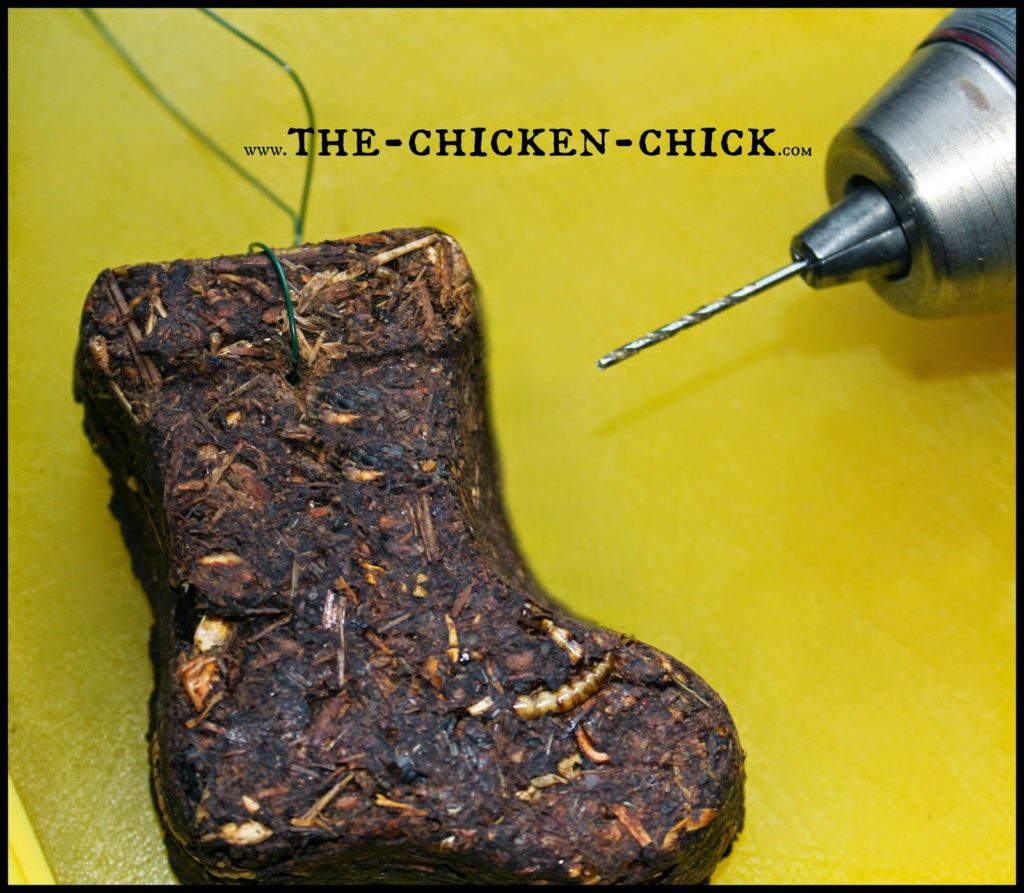 When cooled, drill holes in ornament cakes if necessary.
Give family members a heads-up that these treats are not for human consumption. (although…the mealworms on the surface should be a sufficient advisory for most)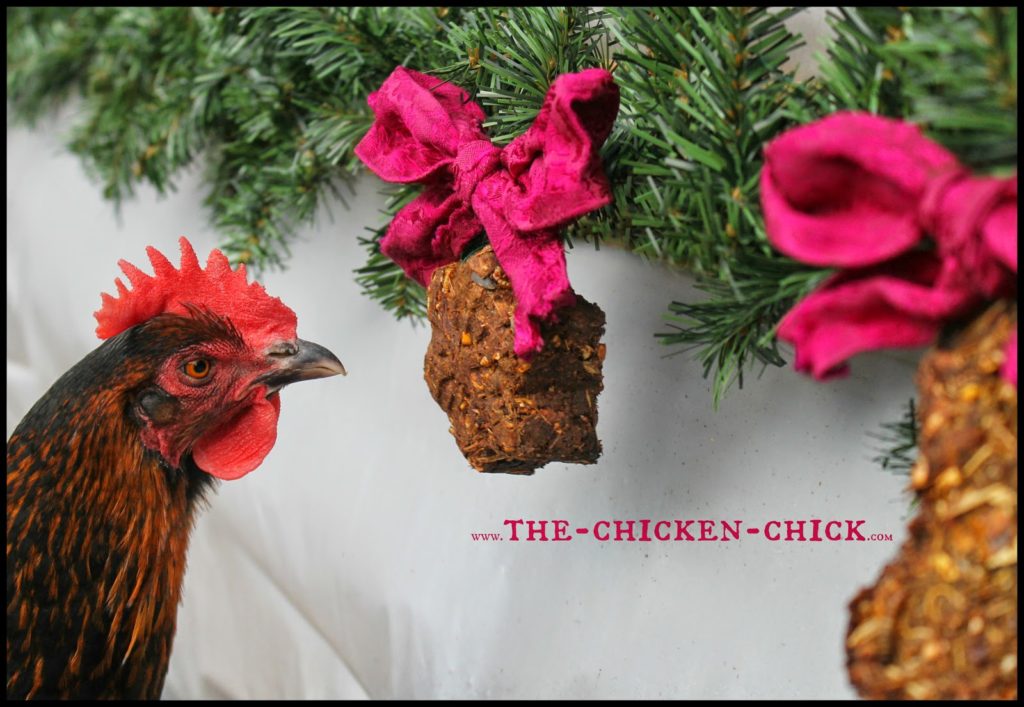 An abundance of caution should used to hang alfalfa cakes. I recommend a thick, cotton, wired ribbon for the wreaths. For alfalfa cake ornaments, I use a 24 gauge floral wire, which is then securely attached to a solid structure (such as wood) so that it cannot be dislodged and ingested.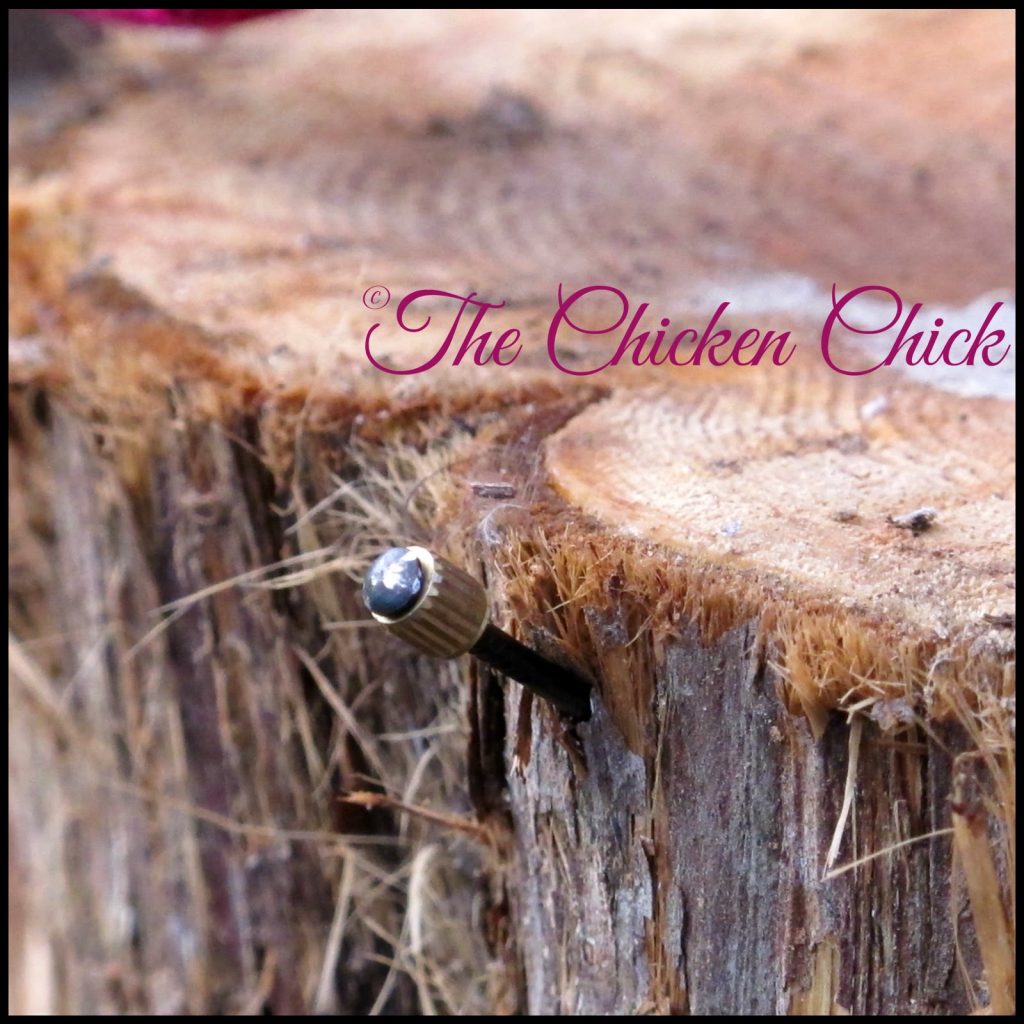 STRING DANGER
If a chicken ingests string, it can wreak havoc in their digestive tract, potentially causing death or creating an emergency situation requiring professional veterinary intervention. When offering chickens treats attached to string, always use a thick material such as sisal string that will not easily break, secure it well so it cannot come loose from the structure it is attached to, remove it from the chicken yard as soon as they're done with the treat and closely monitor the chickens while enjoying the hanging treat.
EXCESS PROTEIN ADVISORY 
Caution should be exercised when supplementing the chickens' diet with protein. Large amounts of protein can lead to diarrhea and other, serious problems. "Excess protein in a chicken's diet is converted to uric acid and deposited as crystals in joints, causing gout. The excess use of meat scraps as a source of protein can also result in an imbalance of phosphorous."1 "Incorrect diets that contain excessive levels of protein causes wetter droppings since the extra protein is converted into urates. This causes your chicken to drink more therefore you will see an increase in urates leading to wet, damp bedding."2
NOTE ABOUT CAT FOOD
Cat food should be fed to chickens in moderation only for a limited period of time due to the potential for consuming excessive amounts of methionine, which can result in Heinz-body anemia 4 and death.
Sources available upon request.  Sources & further reading:
1 The Chicken Health Handbook, Damerow, Gail 1994 (pgs 27-28)
Mineral Deficiencies in Poultry
2 Treatment & Management of Diarrhoea
4 Heinz Anemia